Barack and Michelle Obama top list of world's most admired men, women in 2020
- Barack Obama deposed Bill Gates from his position as the world's most admired man for the first time since the ranking by YouGov began in 2014
- Michelle retained her position as the world's most admired woman, having beaten actress Angelina Jolie in 2019
- Jolie who was ranked third in 2019 poll rose to second position while Queen Elizabeth II who was in fourth place became the world's third most admired female in 2020
- Obama was closely followed by Gates, who was trailed by Chinese President Xi Jinping
- Cristiano beat Messi in the ranking, scooping the sixth position of the world's most admired men compared to his competitor's 11th
PAY ATTENTION: Click "See First" under the "Following" tab to see Briefly.co.za News on your News Feed!
Former President of the US Barack Obama and former First Lady Michelle Obama have separately topped the list of world's most admired men and women according to a survey by YouGov, a popular London-based opinion data analytics firm.
Obama and Michelle were separately lined up against other world's top leaders, celebrities and entrepreneurs and were side by side voted as the most admired in their respective gender categories.
The former American head of state faced off with prominent figures among them the incumbent President of the US Donald Trump, Bill Gates, Russian President Vladimir Putin.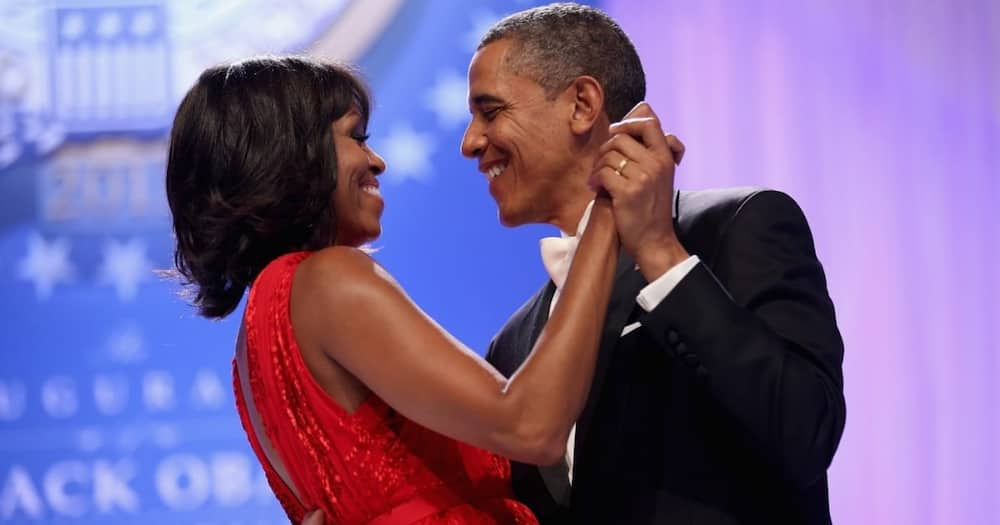 According to YouGov, Obama deposed Bill Gates from his position as the world's most admired man for the first time since the pollster began its survey in 2014.
Michelle retained her position as the world's most admired woman, having beaten actress Angelina Jolie in 2019.
Jolie who was ranked third in 2019 poll rose to second position while Queen Elizabeth II who was in fourth place became the world's third most admired female in 2020.
German Chancellor Angela Merkel was ranked 12th, former United States Secretary of State Hillary Clinton 13th, Greta Thunberg at 18th, and First Lady Melania Trump at 19th.
On the other hand, Obama was closely followed by Gates, who was trailed by Chinese President Xi Jinping.
Business magnate Elon Musk was ranked ninth, Russian President Vladimir Putin 12th, and President Donald Trump who ranked at 15th.
"Gates has only slipped one rank, with his fall potentially coming as a result of rumours that he is in some way involved in the spread of COVID-19. Chinese President Xi Jinping finds himself in third place once again, having previously held that position from 2015-2017," said YouGov.
India's Prime Minister Narendra Modi was fourth while Jackie Chan scooped fifth position.
A number of sports stars and celebrities were also named on the list of most admired men including Cristiano Ronaldo, Lionel Messi, Michael Jordan, Jackie Chan, and Keanu Reeves.
Cristiano beat Messi in the ranking, scooping the sixth position of the world's most admired men compared to his competitor's 11th.
"Ronaldo ranks higher than Messi in 32 of the 42 countries and territories surveyed, and has led his opponent in the last three global studies," noted the pollster.
Obama and Michelle also continued their dominance as YouGov's most admired men and women lists for America.
The 44th president earned an admiration score of 18.81% while Michelle Obama carried an admiration score of 14.53%.
President Trump followed Obama on the most admired men list for the second year, with a score of 11.41%.
"Justice Ruth Bader Ginsburg, who died after the study was conducted, is the second most-admired woman in America with a score of 9.70%, followed by First Lady Melania Trump with a score of 8.67%. The First Lady is trailed by Queen Elizabeth II, America's fourth most-admired figure. Oprah Winfrey takes the fifth spot, up one placement from last year," said YouGov.
The poll surveyed over 45,000 people in 42 countries and territories with Obama beating Trump in all the countries apart from Russia.
Respondents were asked two questions; who do you admire? Where respondents were allowed to make multiple selections, then asked again who do you most admire? Where they could only pick one.
"By asking respondents two questions, we can understand both the breadth (i.e. global reach) and the intensity of a person's support," explained YouGov.
Enjoyed reading our story? Download BRIEFLY's news app on Google Play now and stay up-to-date with major South African news!
Source: Briefly.co.za