Covid update: SA records 188 new coronavirus deaths after data delay
Over the past day, South Africa recorded 903 new Covid-19 cases with 188 new fatalities, pushing the death toll to 16 586.
PAY ATTENTION: Click "See First" under the "Following" tab to see Briefly.co.za News on your News Feed!
South Africa now has 671 000 confirmed Covid-19 cases after 903 people tested positive in the past day. However, 188 new deaths have also been reported despite a steady recovery rate of 90%.
Briefly.co.za took a look at some of the latest coronavirus updates:
1. SA's death toll rises to 16 586 following 188 new recorded fatalities
On Monday evening, Dr Zweli Mkhize released the latest Covid-19 statistics, which showed 188 new fatalities.
The country recorded 903 new coronavirus cases which brings up the total amount to 671 000. However, 604 000 people have so far recovered, putting the recovery rate at just over 90%.
Take a look at the stats below: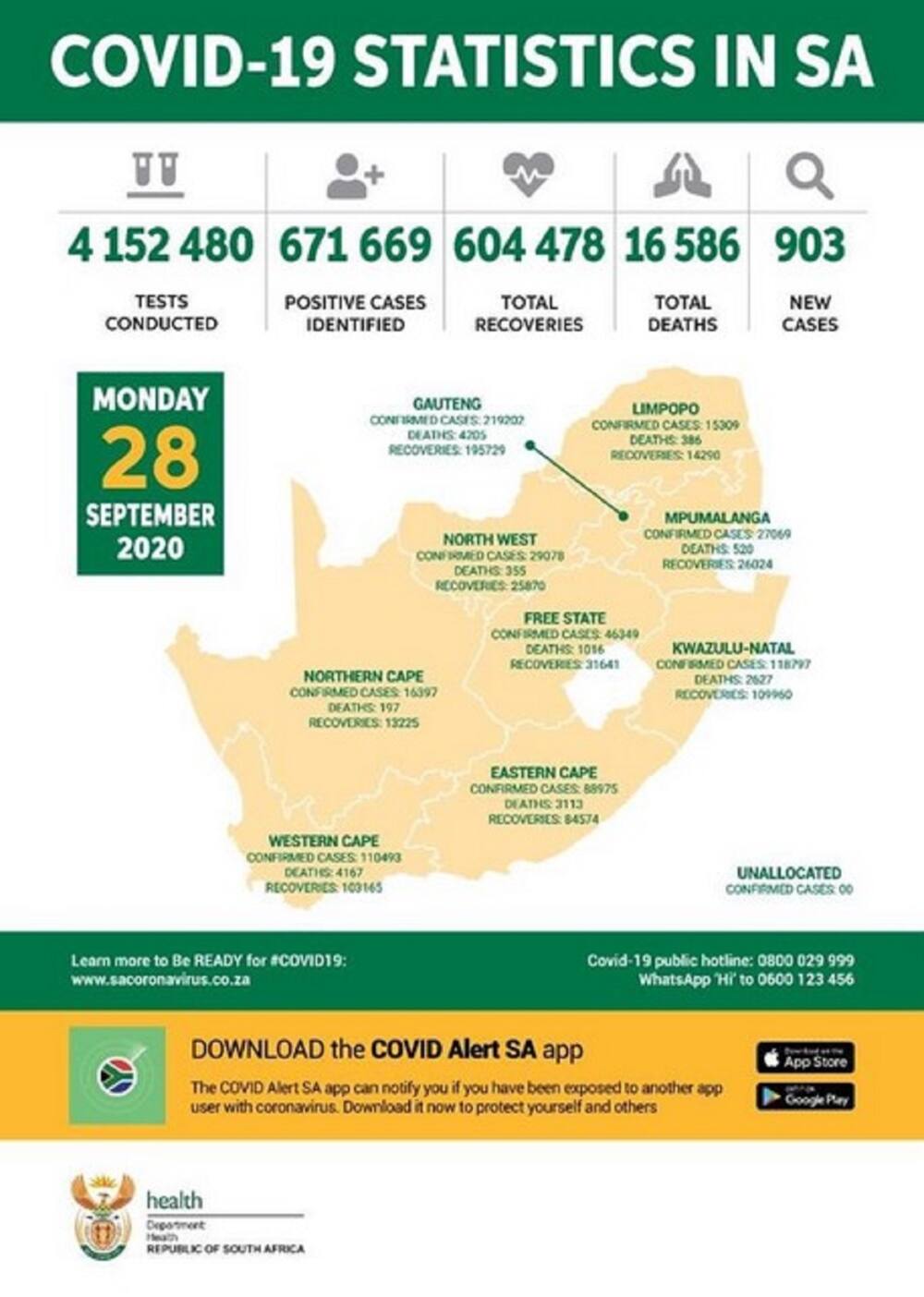 2. South Africa is over the surge
In a media statement, the Department of Health announced that Mzansi has passed its surge after hitting a plateau for several weeks.
The statement read:
"We have now confirmed, both with the NICD and World Health Organization Surge Team reports, that we are now past the surge and that our epidiomelogical curve has demonstrated a plateau for several weeks. Therefore, based on the conduct of the South African pandemic, we have re-evaluated our national response and identified new challenges that require new approaches."
3. Mkhize denies dismantling the Ministerial Advisory Committees (MAC)
Earlier, reports surfaced claiming the minister of health disbanded the MAC without warning to its members. However, Mkhize's latest statements denied these reports, adding:
"We therefore wish to clarify that the MAC on Covid-19 is not disbanded - the minister has merely strengthened the entity in line with developments of South Africa's Covid-19 pandemic. The MAC on Covid-19 was established on 30 March 2020 with the best intentions: consisting of pathologists; laboratory practitioners; clinicians; public health practitioners and researchers.
"As we find ourselves in an extremely fortunate position of achieving effective trans-mission control, the true test lies in our ability to maintain low transmission rates. This requires a more wholistic approach to case management, preventive measures and public policy. It therefore became necessary to strengthen the MAC on Covid-19 so that it falls in line with its mandate to advise on effective mechanisms for the prevention of onward transmission of Covid-19."
4. Johnson & Johnson's experimental Covid-19 vaccine produced a strong immune response
The coronavirus has thus far claimed over one million lives worldwide and companies are working around the clock to find a vaccine. According to TimesLIVE, Johnson & Johnson's experimental Covid-19 vaccine is producing promising results.
The vaccine, called Ad26.COV2.S, has shows a strong immune response in the early-to-mid stage clinical trial.
However, scientists are not sure whether it will protect the elderly to the same degree as young, healthy people. The trial has been conducted on about 1 000 healthy adults after the J&J vaccine showed strong protection in a single dose to monkeys in July.
In other news, embattled airline South African Airways (SAA) owes its technical staff R90 million and is currently waiting for funding to pay them. Staff members held a demonstration on Monday in Kempton Park, claiming they had only received half of their pay.
The staff members said that management had gotten their pay in full. The staff also claimed that they were informed at the very last minute that they would only be receiving 25% of their salaries when they usually received 50%.
In December, the airline put a pause on all operations and proceeded to seek bankruptcy protection. Administrators for SAA said they needed R10.5 billion to recommence activities, while Finance Minister Tito Mboweni is only prepared to provide guarantees on R4 billion to R5 billion on the amount given.
Enjoyed reading our story? Download BRIEFLY's news app on Google Play now and stay up-to-date with major South African news!
Source: Briefly.co.za