Richard Mdluli, Mthembeni Mthunzi given 5 years by High Court
- The Gauteng High Court has sentenced ex-crime boss Richard Mdluli and his former cohort, Mthembeni Mthunzi, to five years' imprisonment each
- Mdluli and Mthunzi were charged and convicted in 2019 of kidnapping and assault after committing the crimes against Oupa Ramogibe in 1999
- Mokgoatlheng, the judge on the case, said that retributive justice needed to carry weight in the matter
PAY ATTENTION: Click "See First" under the "Following" tab to see Briefly.co.za News on your News Feed!
Richard Mdluli, the former crime intelligence boss, was sentenced to an effective five-year prison sentence on Tuesday, September 29th. Mthembeni Mthunzi, accomplice and former colleague of Mdluli's, received the same sentence.
The pair were charged for crimes which they had committed in 1998, which had involved tracking down Oupa Ramogibe and Alice Manana and beating them after Mdluli learnt that Oupa had secretly been involved in an affair and then a subsequent elopement with his wife, Tshidi Buthelezi.
The judge who was tasked with presiding over the sentencing hearing, Judge Ratha Mokgoatlheng, mentioned in his judgment that the two ex-officers abused the power afforded to them by their positions in the South African Police Service.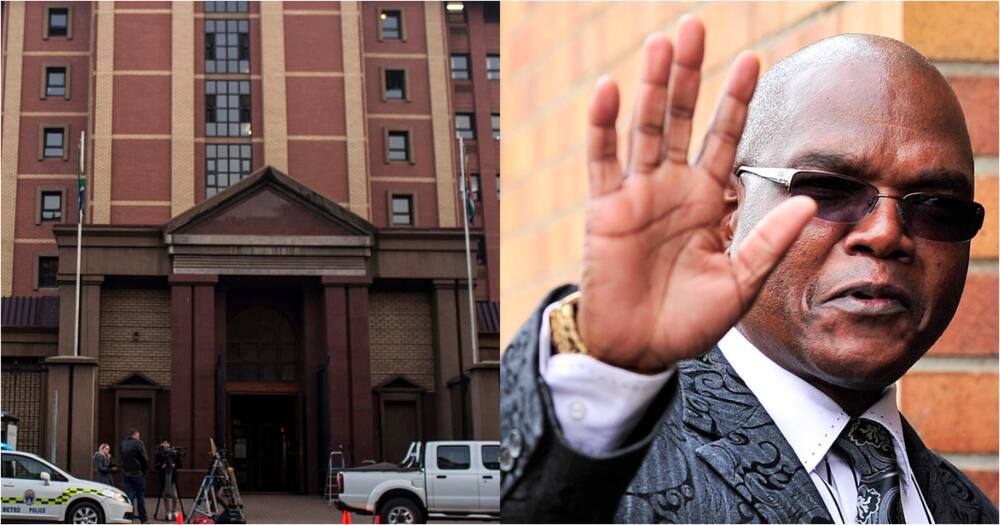 READ ALSO: Update: Former president Jacob Zuma addresses Zondo in letter
Richard Mdluli was given a three year sentence for kidnapping, and then a further two years for assault with intent to cause grievous bodily harm. There was also a concurrent one year sentence added for assault. In total, this means the two corrupt officials will be in prison for five years.
As he handed down the sentence, Judge Ratha Mokgoatlheng mentioned that the case had been dealing with two senior police officers who abused the power that those positions afforded them. He mentioned that the appropriate nature of the sentence was because those powers were misused to such an extreme extent.
Mdluli had implored the judge that he was too frail and old for jail and that he suggested penance for his crimes to be in the form of community service, but Mokgoatlheng was not moved as he decided retributive justice was the answer to the severity of the infractions.
There were comments flying in on social media, with many relieved that there was justice being delivered, not only for the victims, but for the belief in a system that is designed to protect its citizens.
There were many tweeps who added their opinions on the case, Mandy Wiener was one who mentioned that five years ago she never thought she'd see this day, but that justice was served, his power was stripped and now Mdluli is going to jail.
Others were not so easy to convince. Many Twitter users highlighted how long it takes the judicial system to adequately prosecute those who are corrupt, and that even when they do, there are loopholes and higher powers who intervene.
Briefly.co.za reported on the conviction of Mdluli and Mthunzi when the legal judgment was handed down last year and convicted the two of being guilty as charged.
The court, located in Johannesburg then found Mdluli guilty on charges related to the 1999 kidnapping and assault of Ramogibe. Mzansi was grateful that abuse of power was being punished but did wonder how deep the rotten roots really were.
A spokesperson for the National Prosecuting Authority at the time was said to have welcomed the verdict, saying that the saga had been an extensive process for the criminal justice system as well as for the victims' families.
Enjoyed reading our story? Download BRIEFLY's news app on Google Play now and stay up-to-date with major South African news!
Source: Briefly.co.za