EFF's Shivambu and Ndlozi come at Mboweni after he shares 6-egg snack
- Tito Mboweni recently took to Twitter to share a picture of his "snack" that was made with six eggs
- EFF party members Floyd Shivambu and Mbuyiseni Ndlozi quickly criticised Mboweni for eating that many eggs while SA's poor were starving
- South Africans shared their thoughts in the comments section
PAY ATTENTION: Click "See First" under the "Following" tab to see Briefly.co.za News on your News Feed!
Tito Mboweni recently got more than he expected after he shared a picture of the food he was preparing which consisted of what looked like six fried eggs. He captioned the Twitter post, "You see a snack."
The EFF's Floyd Shivambu, as well as Mbuyiseni Ndlozi, quickly grabbed the opportunity to criticise the Finance Minister on his decision to publicly share pictures of what most people would consider a big meal and further calling it a snack.
"I really don't know what is worse; your indifference to the fact that 2 million more people are unemployed today or you bragging about cooking gibberish. How unaffected must you be to break half a dozen eggs all for yourself & display for us all to see how full your belly is?" wrote Mbuyiseni.
Later on, Mbuyiseni also compared Mboweni to the children storybook figure 'Humpty Dumpty', stating:
"With half a dozen eggs in a single belly, all at once, you might become Humpty Dumpty - the Egg Man who fell from a wall. They couldn't put him together ever again... poor Humpty Dumpty!"
Meanwhile, Floyd Shivambu simply questioned Mboweni's decision to call the quite big meal a snack, "Snack of 6 eggs?" he asked. Meanwhile South African's shared their thoughts on the rather public squabble.
Replying to Shivambu, @Alex82327377 wrote:
"You worried about him eating 6 eggs yet you walk around with designer shoes and belt."
Replying to Ndlozi, @MaqPaulM wrote:
"You probably eat more expensive meals daily than Tito's but you are outraged by 6 eggs worth less than R30. I think you guys wanna complain to be seen to be closer to the masses. You have said nothing about politicians being given millions by tender recipients. Sies!"
While @MakopoK responded to Mboweni's post:
"Minister of Finance of a country with over 42% unemployment parading his useless cooking skills when he fails to push for the implementation of policies that will rescue the people of this country out of abject poverty."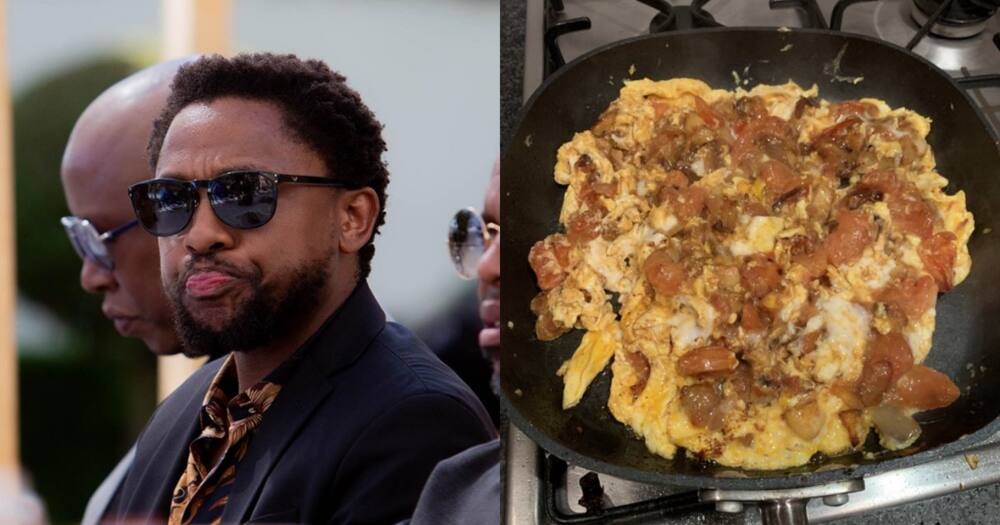 Meanwhile, Briefly.co.za also reported that Mmusi Maimane has been adamantly tweeting at both President Cyril Ramaphosa and Finance Minister Tito Mboweni with regards to the country's economic recovery plan. In a recent tweet, Maimane fired shots at Mboweni's cooking.
Mboweni has been showing off his cooking skills throughout lockdown, slowly creating a fan base of followers who love to see what he's doing next. Mboweni posted about the pork ribs he cooked a few days ago.
Maimane was quick to follow up with a sassy response to Mboweni's pork ribs. Maimane said: "Let's hope the economic recovery plan does not look like this." Saffa tweeps quickly took to the replies to share what they thought about Maimane's tweet.
Enjoyed reading our story? Download BRIEFLY's news app on Google Play now and stay up-to-date with major South African news!
Source: Briefly.co.za