SA teachers in dire straits due to job stress, survey report uncovers
- An OECD Teaching and Learning International Survey reports SA teachers as being far more stressed because of their work than counterparts overseas
- The Department of Education released the report, which mentioned a quarter of SA educators suffer from work-related stress
- The issues were related to work overload and class overcrowding as well as feeling responsible for their learners' achievements
PAY ATTENTION: Click "See First" under the "Following" tab to see Briefly.co.za News on your News Feed!
The Department of Education has released a report published by OECD.org that found that one in four South African teachers are struggling with acute stress as a direct result of their working environments in SA schools.
The report is contained in Volume 2 of the Teaching and Learning International Survey (also known as TALIS) which is run and organised by Organisation for Economic Co-operation and Development (OECD).
The OECD interviewed dozens of countries but South African teachers reported being significantly more stressed than their counterparts from other nations. The statistic released was that a quarter (25%) of SA educators mention being stressed at work "a lot", which was higher than the recorded average of 18% in other countries.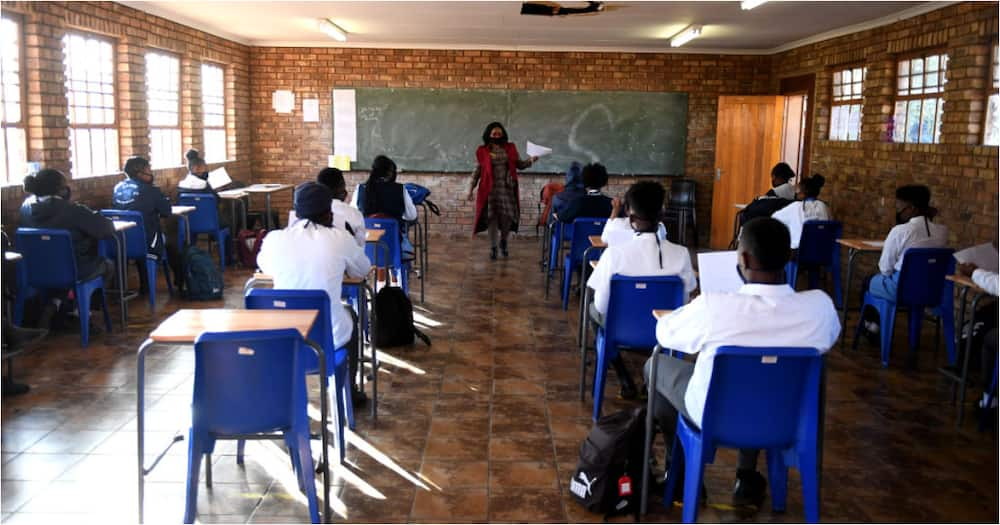 READ ALSO: Maimane says enough dancing and garlic, need to see economic plan
The survey report also found that most teachers attribute the stress to 'work overload' and that there was a significance in where the teachers were located. Teachers' stress 'at work' when they were assigned to rural or village schools was at 15%, which came in at a lower number in comparison to those working in city or urban schools which was a reported 28%.
The work stress itself had multiple sources and reasons which were all higher than the reported percentages of overseas teachers.
"... the three most prevalent sources of stress teachers experience at work 'quite a bit' or 'a lot' are being held responsible for learners' achievement (75%, in contrast to the OECD average of 44%), having too much marking (73% in contrast to OECD average of 41%) and administrative tasks (63% in contrast to the OECD average of 49%)"
The report credited overcrowding in urban schools with the amount of marking expected of teachers and the curriculum with the amount of administrative work.
Most concernedly, TALIS reported that over 40% of teachers who experienced stress at work then harboured intentions of leaving the profession over the next five years.
Ostensibly, stress over too much marking had to do with overcrowding in urban schools. Stress over too much administrative work was linked to the curriculum.
Briefly.co.za previously reported on the numerous challenges that South African schools have faced as a result of the Covid-19 pandemic.
Just a few weeks after schools had reopened following the national lockdown, over 700 schools had reported cases of the virus. The Department of Education had called for calm in the face of the news, but many were concerned as it followed the return of only Grade 7 and Matric learners back into classrooms.
Teachers had to adapt to the new variety of education but one can only hope that they are being supported following, undoubtedly, the most erratic school year for both students and educators.
Enjoyed reading our story? Download BRIEFLY's news app on Google Play now and stay up-to-date with major South African news!
Source: Briefly.co.za