Michelle Obama sympathises with Americans angered by Trump's behaviour
- Michelle Obama urged Americans angered by Donald Trump's behaviour during the presidential debate to vote him out
- The ex-first lady sympathised with them saying she was equally angered but asked them not to be discouraged
- Michelle asked Americans to vote for her friend Joe Biden in order to bring the chaos at White House to an end
- She called on then to ensure they were registered to vote, know how to vote and where to vote
PAY ATTENTION: Click "See First" under the "Following" tab to see Briefly.co.za News on your News Feed!
Former First Lady of the United States (US) Michelle Obama has expressed her disappointment in the first presidential debate between President Donald Trump and former Vice President Joe Biden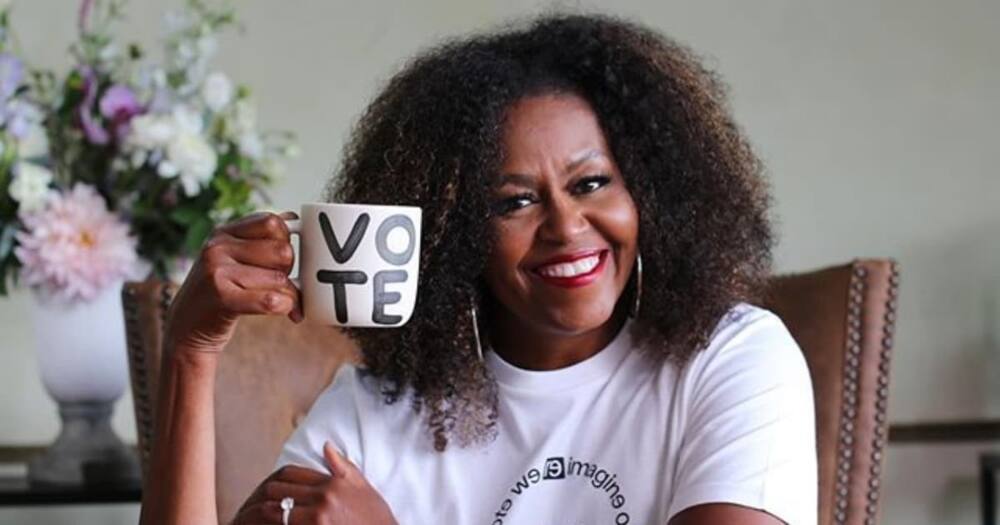 Michelle sympathised with fellow Americans who were angered by the infuriating debate that was full of unintelligible comments that drew attention away from the questions asked.
The former first lady shared the concerns on her Instagram account on Wednesday, September 30, where she asked those "turned off" by the president during the debate to vote him out.
"If you were turned off by the president's behaviour last night, I feel you. Believe me, I do. But we can not let him win by tuning out altogether. That is what he wants," she posted.
Michelle who was recently voted world's most admirable woman alongside her husband Barack Obama as most admirable man also seized the opportunity to beat the drums for Joe Biden.
She urged Americans not to be discouraged by the lack of effective information presented during the 90-minutes long debate and asked them to turn the emotions into actions by voting.
"So turn those feelings into action—turn them into votes for my friend, Joe Biden. It is the only way we can get out of this chaos and restore some stability to this country," she added.
She further advised them to reach out to everyone they knew and ensure they were registered to vote, know when and how they were going to vote.
"And then follow up with them, every day, to make sure they cast their ballot. Because in this election, we have got to vote for Joe in numbers that cannot be denied," she concluded.
The first of the three presidential debates between Trump and Biden, which took place on Tuesday, September 29 in Cleveland, was described as chaotic, headache-inducing and infuriating
The debate saw the incumbent and his Democratic challenger go head-to-head on topics like the economy, racial injustice in the United States, the Covid-19 pandemic, and more.
Factual inaccuracies ran rampant as Fox News anchor Chris Wallace moderated — or at least attempted to.
The next debate will be held on October 15 in Florida while the final one will be at Belmont University in Nashville, Tennessee on October 22.
Enjoyed reading our story? Download BRIEFLY's news app on Google Play now and stay up-to-date with major South African news!
Source: Briefly.co.za