Fake news: "R56 million bridge" built in the Philippines, not SA
- An image posted by a South African Facebook user insinuated that the ANC built a bridge using a R56 million tender for no substantial reason
- The picture turned out to not be from South Africa after fact checking, but was rather from a bridge built in the Phillipines a number of years ago
- The photo caused a stir on social media with users being outraged at the ANC wasting resources
PAY ATTENTION: Click "See First" under the "Following" tab to see Briefly.co.za News on your News Feed!
A meme posted on Facebook in South Africa caused quite a stir and began to trend. The picture shows a bridge on the road, extended over nothing.
The caption of the meme read: "River to be added later, 56 million rand tender viva ANC."
The image suggests that South Africa's ruling party, built a useless bridge where there is no river or anything of the sort with a tender worth R56 million.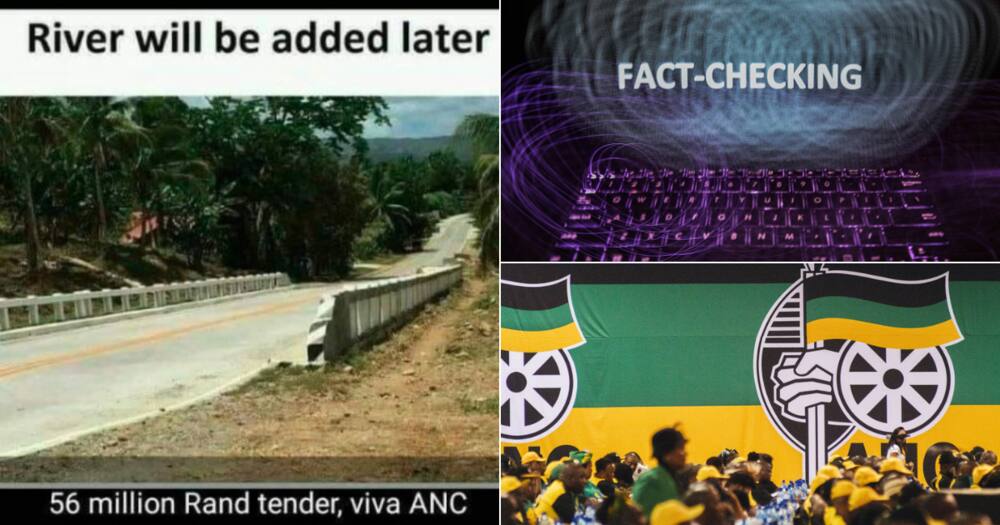 The picture was posted by a South African Facebook user on 22 September 2020. However, a Tineye reverse image search reveals that the photo has been online since 2016. A Google reverse image search also indicates that the photo was taken in the Philippines and not South Africa.
The photo in question first originally appeared in an article on the Star Philippines news site. The bridge was built in 2013 to cross a fault line and underground water source. It can be seen on Google Streetview that the bridge was indeed built in the Philippines and not in South Africa.
The image also went viral in 2019 which prompted the Philippines' GMA News TV channel to share a video on social media which explained why the bridge was built.
In other news, Briefly.co.za reported that Cape Town could be in for a big earthquake in the future. Professor Andrzej Kijko, director at the University of Pretoria's Natural Hazard Centre, believes that Cape Town could imminently experience yet another earthquake and this one is going to be big. According to Kijko, the quake will cost the Mother City at least R10 billion.
Although he can't say exactly when it will happen, he does believe the strength of the earthquake will rock Cape Town - literally. He made the conclusions following recent seismic activity in the region of the city, which could be an indicator of rising tectonic stresses.
Enjoyed reading our story? Download BRIEFLY's news app on Google Play now and stay up-to-date with major South African news!
Source: Briefly.co.za