Trump raises eyebrows after leaving hospital to greet supporters
- Section of netizens have accused Donald Trump of being careless and selfish after driving from the hospital to wave to supporters
- Those who supported Trump's drive said the president was just appreciating followers who had showed him a lot of love
- A Secret Service agent who chauffeured Trump across the streets as he waved to supporters was draped in PPE
- Trump revealed that he had tested positive for COVID-19 alongside his wife Melania on Thursday, October 1
PAY ATTENTION: Click "See First" under the "Following" tab to see Briefly.co.za News on your News Feed!
Hardly three days after Donald Trump revealed he had tested positive for the dreaded coronavirus, the US president has once again stirred a heated conversation after he left his isolation room just to greet his supporters.
Aboard his motorcade, Trump left the Walter Reed National Military Medical Center on Sunday, October 4, and was driven across the streets as he waved to jubilant followers who stood by the road.
Inside his official vehicle, Trump, who wore a black mask, could be seen waving and showing his supporter's thumbs-up sign.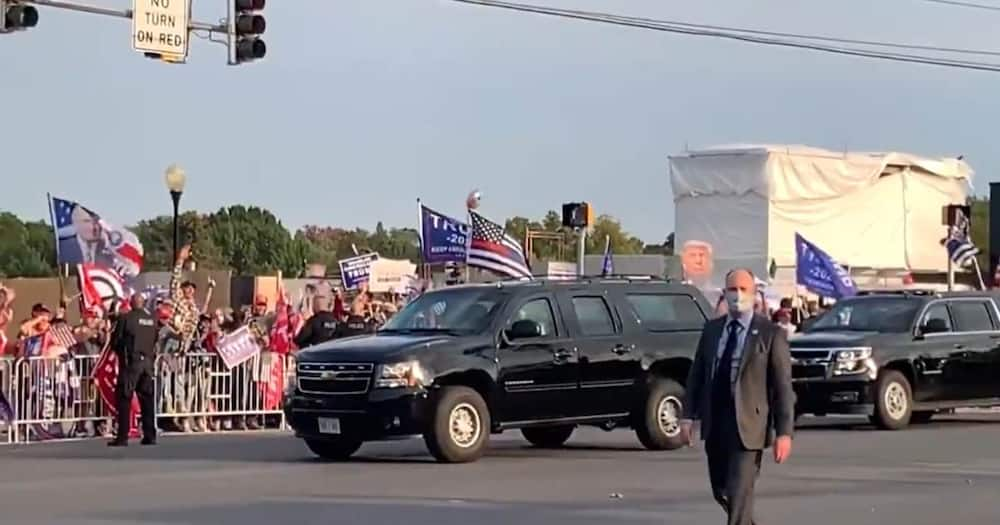 Hawkeyed Secret Service agents who were in the same vehicle with Trump were also masked and dropped in white Personal Protective Equipment (PPE).
His appearance on the streets has, however, provoked mixed reactions both from allies and detractors.
Those who supported Trump's surprise drive described it as a kind gesture to supporters who have been showing him a lot of love despite testing positive for the virus.
White House response
"Appropriate precautions were taken in the execution of this movement to protect the president and all those supporting it, including PPE.
The movement was cleared by the medical team as safe to do," said deputy White House press secretary Judd Deere.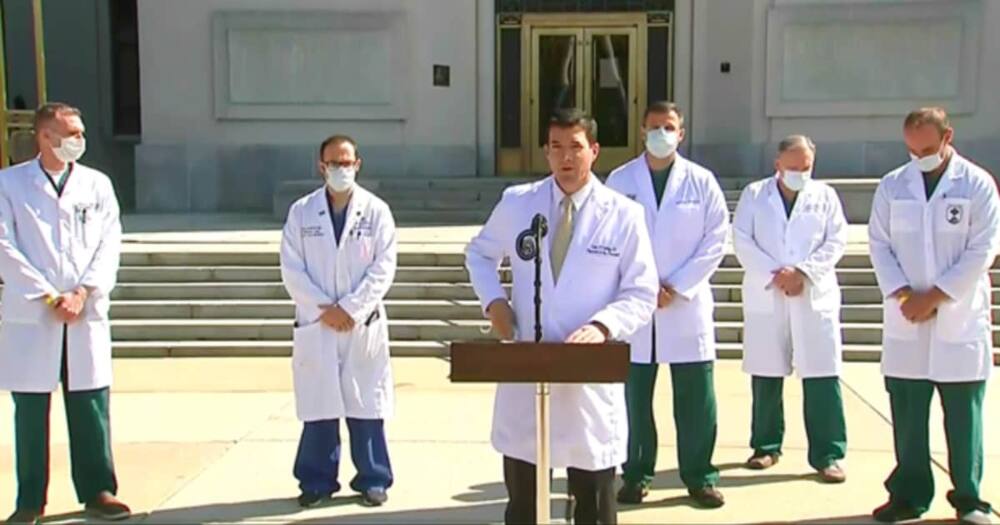 Detractors, however, slammed Trump, describing the move as selfish since it put the health of his handlers on the line.
"Why is a sick president riding in an SUV waving to supporters outside Walter Reed, jeopardising the Secret Service agents inside the car with him?" Tweeted Michael Beschloss.
Self-isolation
Procedurally, anyone who is diagnosed with COVID-19 is required to self-isolate for at least 10 days and only come out of quarantine after testing negative for the virus to prevent infecting their contacts with the new disease.
"Every single person in the vehicle during that completely unnecessary presidential "drive-by" just now has to be quarantined for 14 days. They might get sick. They may die. For political theatre. Commanded by Trump to put their lives at risk for theatre. This is insanity.
That Presidential SUV is not only bulletproof, but hermetically sealed against chemical attack. The risk of COVID-19 transmission inside is as high as it gets outside of medical procedures. The irresponsibility is astounding. My thoughts are with the Secret Service forced to play," said Dr James P. Phillips, MD.
Presidential debate
Handlers of Trump's fiercest contestant in the November 3 elections Joe Biden have revealed that the former vice president will be undergoing the frequent tests, especially after the duo shared a roof during the Tuesday, September 29, presidential debate.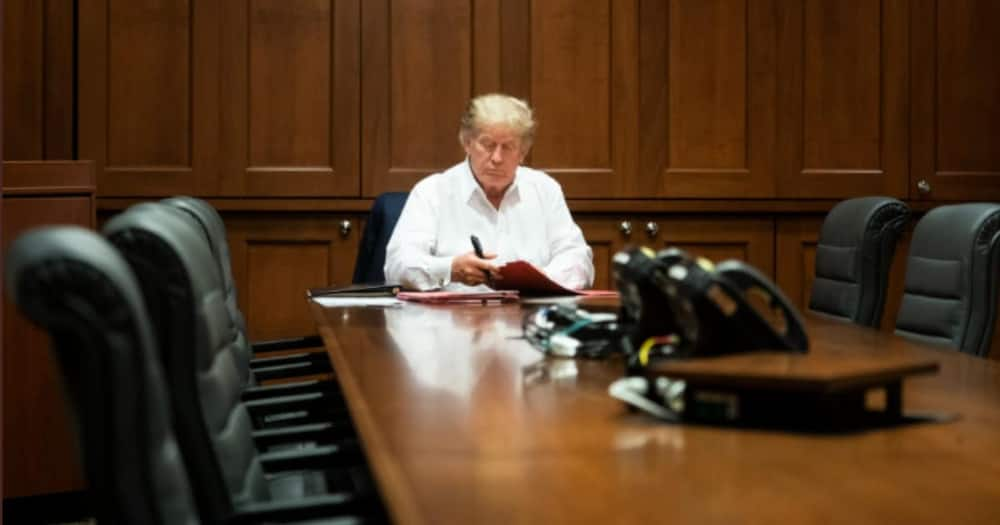 Enjoyed reading our story? Download BRIEFLY's news app on Google Play now and stay up-to-date with major South African news!
Source: Briefly.co.za