Oops he did it again: Novak Djokovic hits line judge during match
- Novak Djokovic recently managed to once again hit a judge during a tense tennis match
-This is the second time the tennis player has mistakenly injured a judge during a match
- The first time he was disqualified from the game, this time however he was allowed to continue playing
PAY ATTENTION: Click "See First" under the "Following" tab to see Briefly.co.za News on your News Feed!
Déjà vu is not always pleasant, especially when something bad is seemingly repeating itself. Tennis player Novak Djokovic, who recently experienced a very awkward moment, can attest to that.
This comes after he managed to hit another line judge with a ball during a tennis match at the Grand Slam games recently. His tennis ball blunder comes very soon after he had managed to hit a female judge at the last Grand Slam games.
During that game, Djokovic had become upset after he had missed a point, and out of frustration swiped a ball behind him which had, unfortunately, went directly towards a line judges throat resulting in his immediate disqualification from the game.
All he suffered this time was a very awkward moment as his mistake forced him to relive the moment he had hoped to forget during the last seasons game."My gosh, it was very awkward déjà vu," Djokovic said after his 6-4 6-3 6-3 defeat of Khachanov, which put him in his 47th Grand Slam quarter-final.
Meanwhile, tweeps shared their reactions:
@VikingMonkey said:
"This one was in the attempt of play. US Open was an act of frustration. Totally different situation."
@rubyreay said:
"So sorry for him, they shouldn't be so near the courtk, it's obvious that they will get hit sometime."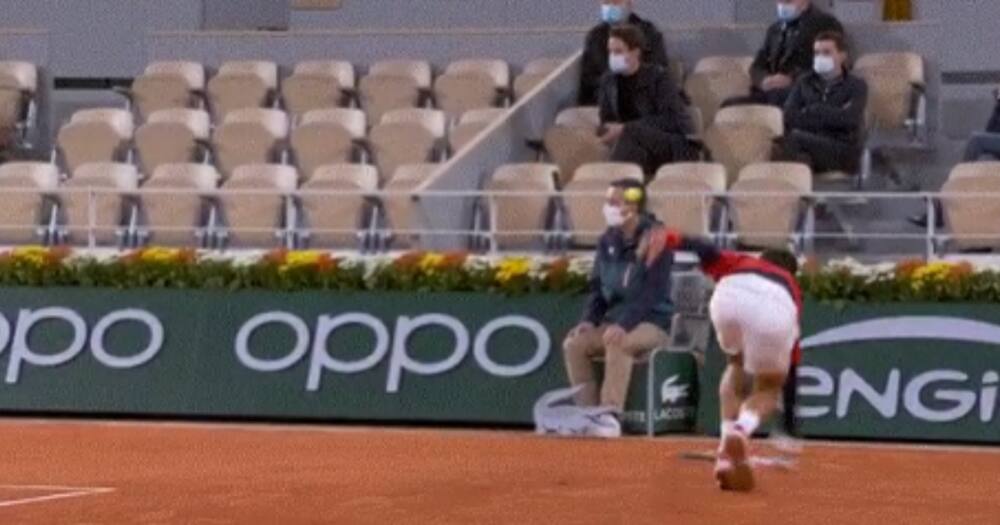 In other Briefly.co.za tennis news, 17-year-old Khololwam Montsi has made it through to the second round at Roland Garros Juniors (Junior French Open). He beat France's Axel Garcian 6-2, 6-2 in their first-round.
Montsi will go up against Britain's Felix Gill in the second round. Montsi is number 13 in the junior world rankings. Montsi is also South Africa's first black junior to compete in the French Open in two decades. His win is plastered all over social media as South Africans show their pride.
Montsi's joint Twitter account with his brother posted an image of him with the caption:
"GAME! SET! MATCH! In 1 hour and 13 minutes, Kholo has managed to beat his opponent at #RolandGarros 6-2 6-2."
Enjoyed reading our story? Download BRIEFLY's news app on Google Play now and stay up-to-date with major South African news!
Source: Briefly.co.za