Lady allegedly rams into ex-husband's car, leaves trail of destruction
- A woman has been accused of ramming her car into the back of her ex-husband's vehicle
- The action allegedly caused the man to lose control and crash through the wall of a nearby resident's house
- The vehicle ended up in a pool and the woman herself drove her car through another wall
- The video sparked quite the reaction and South Africans gave their two cents' worth on the ex-wife's alleged behaviour
PAY ATTENTION: Click "See First" under the "Following" tab to see Briefly.co.za News on your News Feed!
Some people manage to split amicably while others end up in an ongoing feud with their exes. One incident between a former husband and wife left residents of in Van der Stel Avenue, Kabega Park in shock.
A woman, who has not been identified, allegedly rammed her car into the back of her ex-husband's after leaving work in a rush to "attend to something at home."
Her actions caused the man to lose control and drive through a wall into a swimming pool while she crashed through the wall of a neighbouring house.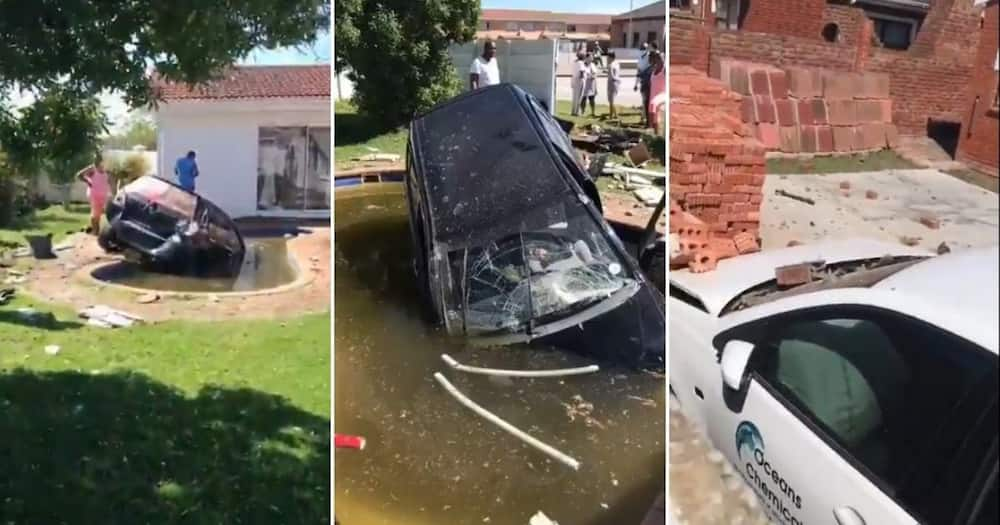 A video of the accident's aftermath shows the man's car halfway submerged in a pool while the woman's Polo stands in the yard next door, covered in bricks. The clip was shared on Twitter by REZA (@crimeairnetwork) with the caption:
"No matter your anger, please exercise restraint."
Caution: The video contains strong language which some might find offensive:
South Africans were shocked by the footage and expressed their views in the comment section.
Justine Robilliard, who goes by the Twitter handle @FishChips1, commented:
"Wow... a woman scorned... intense..."
Another tweep, @Boertji55416340, added:
"It appears she was a little upset about something. He probably walked over the floor after she mopped it or something..."
According to a report by Herald Live, the man's car crashed into Luvuyo Mongo's pool. Mongo explained he had been in the house when he heard bricks from the boundary wall hit his house.
He walked out to find the unidentified man's car in his pool. Luckily, the driver managed to get out but he was in a state of shock.
Mongo told the publication:
"He didn't say much except to confirm that his wife had hit his car from behind and he had lost control and crashed into my yard while she crashed into my neighbour's yard."
In other news, Briefly.co.za earlier reported a case against two alleged suspects for the death of Brendin Horner, aged 32 and 43, has been postponed until 16 October.
Protestors from all over the country met outside of the Senekal Magistrate's Court on Tuesday morning. The demonstrations descended into chaos with protestors attempting to reach the suspects in the court's holding cells, prompting clashes with police.
The Citizen reports that media representatives were also targeted and assaulted by participants who were not pleased by their presence. The two suspects had been arrested after the body had been found in the Paul Roux area last Friday.
Enjoyed reading our story? Download BRIEFLY's news app on Google Play now and stay up-to-date with major South African news!
Source: Briefly.co.za