New! Durban Gen teasers: October 2020
Durban Gen is not your ordinary telenovela. It is one of the rare medical telenovelas you will ever watch on your screens. The plot of the show revolves around the life a young and beautiful doctor. Her love to save lives leads her to a new path where she will encounter a series of events that will change her life. Below are the Durban Gen teasers for October 2020 just for you!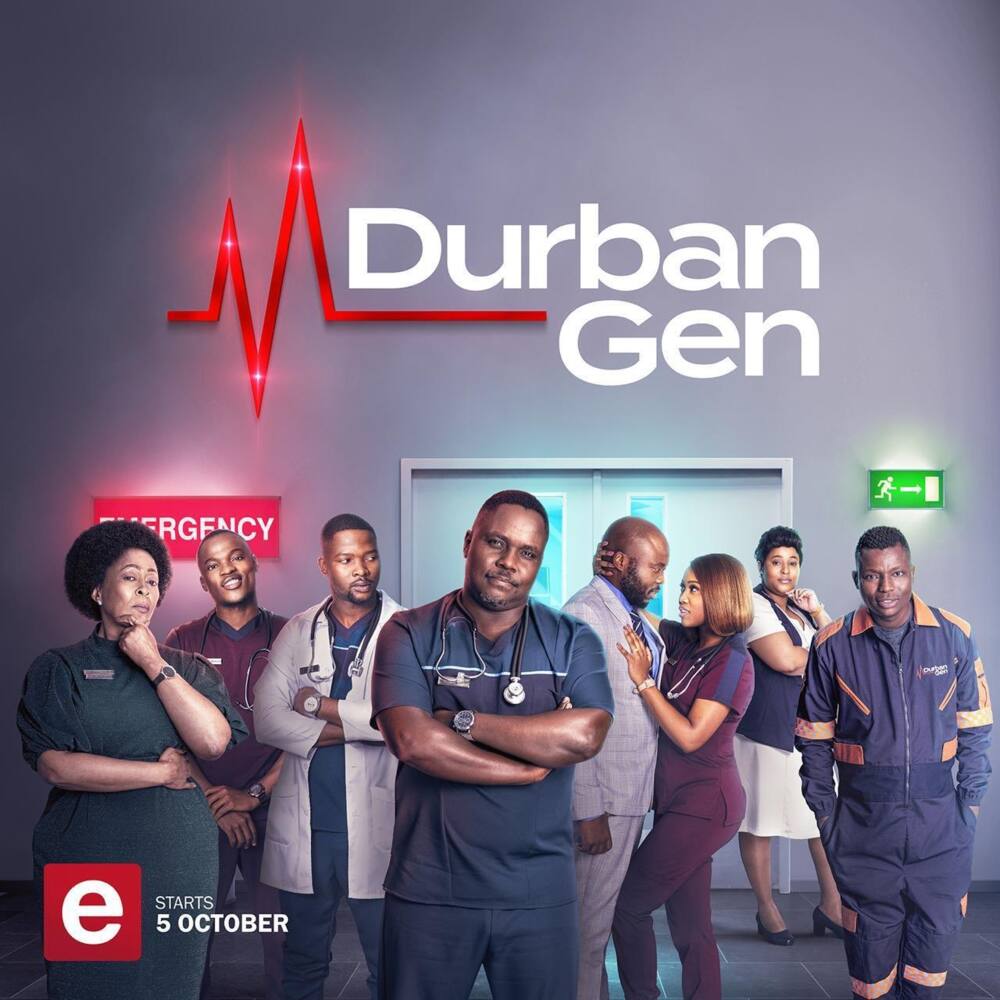 How does the daily routine of a doctor look like? If you seek to know more, you may consider watching this new South African telenovela. It details the life of Mbali who is eager to excel in the medical field. In the process, she is caught up in a love triangle with two men: Sibusiso and Zulu.
Durban Gen telenovela is set in a hospital environment (Durban General Hospital). The medical facility, for many, is a centre of excellence. Well, trouble befalls her during her first days in the hospital, sending her to misery. Watch the full episodes on eTV to know more about this hottest show.
Durban Gen teasers for October 2020
This eTV medical telenovela seems promising judging from its teasers. Here is a summary of everything you need to expect from the talented Durban Gen cast in October.
Episode 1: Monday, 5th October 2020
Mbali arrives at the Durban Gen Hospital, and she is ready to do start her final year of community service. She is accompanied by Sibusiso, her fiancée. Later, a stranger saves her from danger and she is pleased with him.
Episode 2: Tuesday, 6th October 2020
Thabo is in shock after discovering something disturbing at the hospital. The superintendent, on the other hand, comes across a disturbing video trending on the internet. The romantic Sibusiso surprises the love of his heart, Mbali.
Episode 3: Wednesday, 7th October 2020
The staff at Durban Gen is eagerly waiting to receive the MEC. They are worried because she is late. What is up? Thabo is busy working on a strategy that will see him rise to the position of Head of Surgery on a permanent basis.
In the meantime, Dr Precious is bothered with Mbali after she outshines her in a diagnosis she missed.
READ ALSO: Complicated Love teasers: October 2020
Episode 4: Thursday, 8th October 2020
To the surprise of many, the MEC is involved in a grisly accident. She is rushed to Durban Gen Hospital in a critical condition. Precious is secretly spying on Mbali, as she intends to study her behaviour.
Thabo advises Mbali to stay away from Lindelani, but she goes ahead to work with him anyway. How will she respond to what awaits her? Meanwhile, Qwabe has vowed not to give in no matter the circumstances.
Episode 5: Friday, 9th October 2020
Mbali is afraid after the surgery of the MEC goes terribly wrong, as she is convinced she caused it. Lindelani is busy trying to figure out what went wrong during the surgery. Thus, he does not have time to console her.
Episode 6: Monday, 12th October 2020
Qwabe's troubles escalate after the death of the MEC. The public and health department is on her neck over her managerial abilities. She tries to calm them.
Mbali requests Sibusiso to stay away from her for some time because of the incident that happened at the hospital.
Episode 7: Tuesday, 13th October 2020
At last, a culprit responsible for the death of the MEC is revealed. However, Mbali is still troubled with the events that occurred leading to her death. Later, chaos erupts in the clinic due to a teenager's pregnancy.
Episode 8: Wednesday, 14th October 2020
Mbali's guilt worsens, leading her to more troubles. She comes across the autopsy results of the MEC. Unable to control herself, she makes a confession that may endanger her career.
Dr Dlamin is now on the team investigating the case. On the other hand, Luthuli's world is crumbling down after the death of her patient's baby. MacGyver is left with no option but to carry Lulu's allies in the ambulance.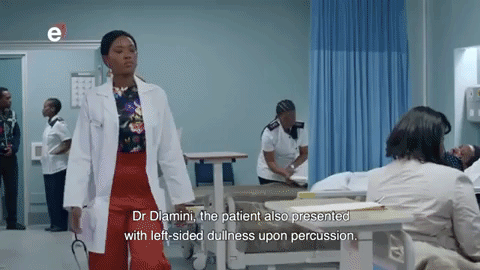 Episode 9: Thursday, 15th October 2020
Mbali and Lindelani are anxiously waiting for the investigation team to conclude their investigation. She is tempted to leave because she can feel what is coming on their way. Fortunately, Precious and Thabo are willing to stand by them.
Episode 10: Friday, 16th October 2020
Lindelani wants to have the attention of Mbali. Funny enough, she does not make any moves. Meanwhile, Luthuli is busy with the inhouse make-over artist, and MacGyver is happy for qualifying in the competition.
READ ALSO: Brave and Beautiful teasers: November 2020
Episode 11: Monday, 19th October 2020
Lindelani and Thabo get into a heated argument over Skhumba's kidney transplant. Mbali, on the other hand, receives heart-breaking news as DJ MacGyver followers storm the hospital.
Episode 12: Tuesday, 20th October 2020
Mbali is heartbroken with Skhumba's health status. She resolves to go the extra mile to help with the situation. Lindelani is forced to stay away from her because of the previous incident. Gumede and MacGyver get an emergency call.
Episode 13: Wednesday, 21st October 2020
Lindelani and Mbali come together because of the love of their profession to save Skhumba, who is in a critical condition. How will it go down this time? MacGyver is seen running out of the hospital after playing a dangerous game.
Episode 14: Thursday, 22nd October 2020
Qwabe is asked to make a tough decision that might see a patient die. Meanwhile, Mbali is starting to fall in love with a fellow medic. Can this be the reason behind her telling Sibusiso to give her space?
MacGyver is in love and has vowed to do everything to keep his dream girl.
Episode 15: Friday, 23rd October 2020
Another death in the hospital sends Lindelani into misery. He has started to feel the effects of Skhumba's death. Thabo tries to order him around in vain. The interns convince Mbali to join them for a night out to make her forget her troubles.
Mbali
In October, Mbali starts the final year of community service away from home: Durban Gen Hospital. However, the events in the hospital are the opposite of what she anticipated. The MEC dies while she is operating on her alongside Lindelani.
Guilt takes the better part of her, forcing her to ask Sibusiso to allow her some time to focus. With time, she starts to get attracted to a fellow doctor. So far, her time in the hospital has been challenging, considering two people have passed on while she was trying to save them.
Lindelani
The season starts with Lindelani joining forces with Mbali. The two conduct surgery on the MEC. Unfortunately, something goes wrong during the surgery, leading her to pass away.
His love to save lives is tested for the second time when Skhumba dies. He becomes stressed because of his death, forcing him to become rude to Thabo.
What are your thoughts about these Durban Gen teasers? People are already talking out there about this hot and entertaining medical telenovela. The characters have a lot in store for you. Stay tuned for more updates!
READ ALSO: Lord of the Skies 7 teasers: November 2020
On Tuesday, Briefly.co.za put together an informative post on Lord of the Skies teasers. The fight between Amado and Ojeda is on. Amado seeks the help of Navarro and Castillo to destroy Ojeda and his other enemies.
The relationship between Ojeda and Amado is deteriorating. She is not loyal to him because she has started seeing Amado on his back. Pio surrenders to the police because he is afraid that the Casillas Cartel is after his life.
READ ALSO:
Young Love teasers: October 2020
Zara's Nikah teasers: October 2020
Legacy teasers: October 2020
Source: Briefly News