Analysis: NMB's decision to sponsor Chippa United team scrutinised
- The Nelson Mandela Bay municipality is battling with service delivery but still opted to fund Chippa United with millions
- Briefly.co.za explores this decision and whether or not the municipality can actually afford this hefty bill to breathe life into the embattled team
- The controversial decision is making waves and not for good reasons
PAY ATTENTION: Click "See First" under the "Following" tab to see Briefly.co.za News on your News Feed!
By Farai Diza: Freelance journalist
Football is regarded as the most beautiful game in the world because of its ability to influence change. While change is a beautiful thing, being dribbled for an own goal is a catastrophe. Sponsorship in football has become an increasingly important ingredient in the marketing mix.
Nelson Mandela Bay Municipality finds itself torn between sponsoring a football team and improving service delivery. They recently issued a statement announcing that they would fund Chippa United for the next three years.
Chippa United is a professional football club that plies its craft in the recently re-branded DStv Premier Soccer League and they were one of the worst-performing teams in the 2019/20 PSL campaign. This is after they spent most of that season fighting relegation.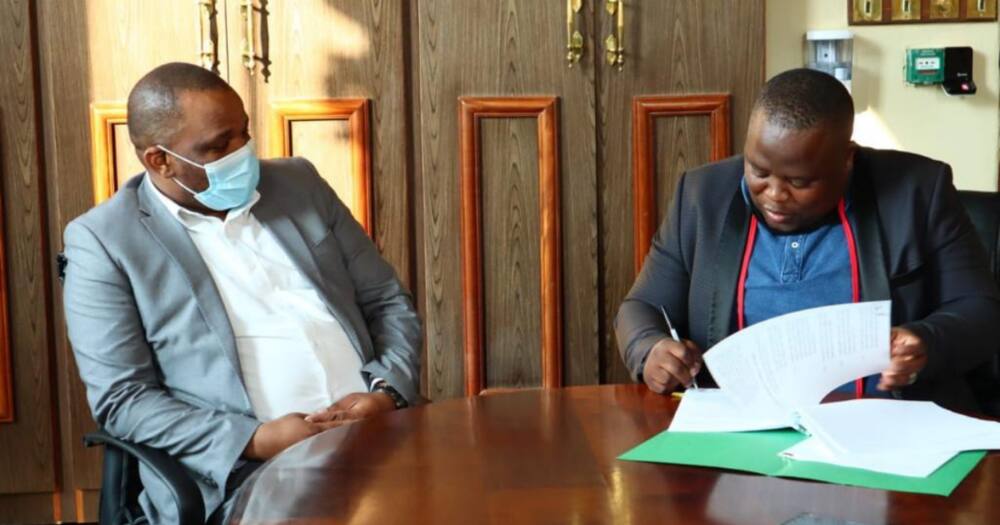 Now in an intriguing development, Nelson Mandela Bay Municipality has thought it wise to breath new life into the team. They have agreed in principle to inject R6 million a year for the next three years.
This is in addition to R7 million a year in anchor tenant fees as well as R500 000 in marketing fees every year. This literally means that the municipality will fund Chippa United an astounding fee of R13.5 million a year for the next three years.
A council meeting approved the funding and as part of the bargain, all 120 NMB councillors will be given season tickets to attend Chippa United matches. While the financial whirlwind is sweet music in the ears of Chippa United owner, Chippa Mpengesi, not all ratepayers will be dancing to the tune.
Concomitantly, this comes at a time when close to R93 million was raked in by a panel of debt collectors and R13 million was paid in commission to these debt collectors.
Could the Chippa sponsorship be coming from the R93 million that was collected from debtors?
NMB Municipality received it's eighth consecutive qualified audit. Poor financial records and a R16.5 billion irregular expenditure bill dating back to 2002 were cited in the auditor-general's report on the state of municipalities earlier this year.
NMB is widely known as a tourism hotspot and some of its cities include the world acclaimed Port Elizabeth, Motherwell, Uitenhage, KwaNobuhle, Despatch, Bethelsdorp and Summerstrand.
But the municipality seems to be paying little attention to its as fields are strewn with human waste, sewage, nappies and rubbish are evident in large parts of NMB.
However, the acting mayor is adamant that they are not failing their people:
"Many organisations have made complaints about rubbish, illegal dumping and litter piling up and we can not dispute that, but we have put the challenge to the heads of public health to ensure that the city is clean," said acting mayor Thsonono Buyeye.
According to statistics, Nelson Mandela Bay has seen a sharp and steady decline in citizen satisfaction scores since 2018. The municipality thus needs an urgent crisis communication plan in order to restore fading confidence among ratepayers.
Sponsoring Chippa United can be regarded as a good public relations exercise and having a team in the PSL is an added advantage. There is no denying that sports sponsorship wields transformative power that is capable of driving exponential growth in brand awareness and affinity.
Perhaps NMB is using Chippa as an arsenal for their tourism marketing drive. However, the brunt of poor service delivery will haunt their good deeds.
Earlier, Briefly.co.za reported that the council has also agreed for the metro to host the Ironman Africa championships until 2023. According to the municipal spokesperson, Mamela Ndamase, Chippa United's agreement will be reviewed.
ANC councillor Xola Sabani explained that the football club faced relegation threats for several years now and he urged Chippa to do better.
Enjoyed reading our story? Download BRIEFLY's news app on Google Play now and stay up-to-date with major South African news!
Source: Briefly.co.za