Weekly wrap: Adorable boys dancing and khaki-wearing dancer wow again
This week has been full of positive and funny news that Mzansi loved to read. We had two adorable kids dance to Jerusalema and the khaki-wearing dancer wowed SA against with his mad dancing skills.
PAY ATTENTION: Click "See First" under the "Following" tab to see Briefly.co.za News on your News Feed!
Adding to that we saw a baby's funny reaction to a haircut, MR Smeg failed to read the room and was dragged and a young lady lives her dream and buys a BMW she always wanted.
1. Video of 2 adorable little boys dancing to Jerusalema goes viral
Two adorable little boys have gone viral for dancing to Master KG and Nomcebo's hit song - Jerusalema. The 58-second clip starts with a boy in a blue long sleeve t-shirt dancing on his own before he is joined by a friend in red.
The two boys show off their amazing synchronization and dance skills with each having a solo at different times. At the 30-second mark a third boy, with a white t-shirt, joins in but doesn't stay for too long.
The cute video of the little boys was posted to Facebook by New African Woman Magazine and has gained around 1.6 million views, 76 000 reactions, 30 000 shares and over 5 000 comments. The page said it was a repost from @masakakidsafrican from Instagram.
2. He's back: Khaki-wearing dancer wows Mzansi in another viral video
A young man has stunned over 5 000 social media users with his dance moves. The white dancer, who is seen wearing khaki clothes often rocked by farmers, dances to MFR Souls' viral song, Amanikiniki.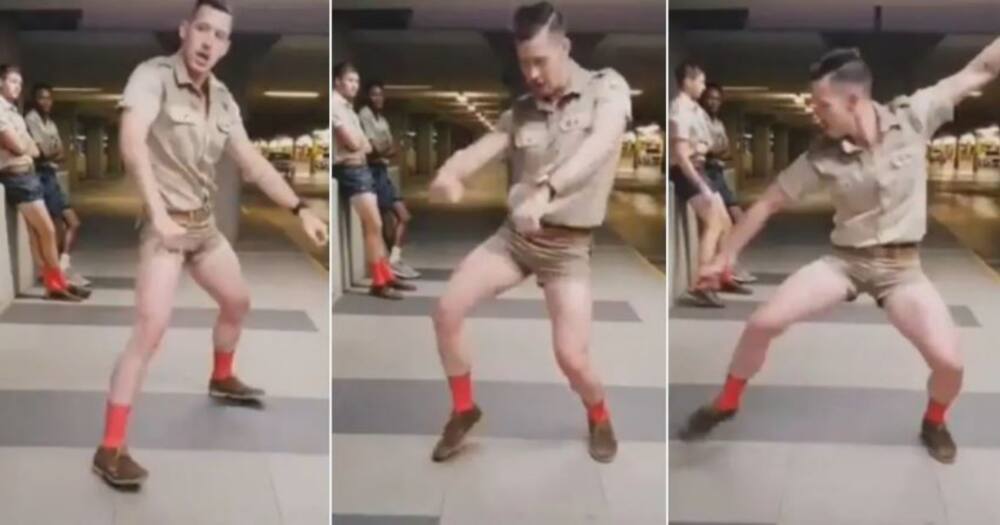 The video was shared on Twitter by social media user @MzansisHP, who captioned it:
"Grootman is back for a midweek #Amagetdown."
It appears that the young man is the same dancer who went viral in a previous video. Briefly.co.za reported last month two men recently represented old-style khaki wearers after they could be seen serving all sorts of moves in a short TikTok clip. The video was shared by artist and musician Daniel Marven on his Twitter page.
3. Funny video of baby's reaction while getting haircut goes viral
Babies are really cute funny beings. No wonder their reactions (when not in pain) always get people laughing. An unnamed baby has become a sensation on Twitter after a video of his reaction at a barber salon taking a haircut in the presence of his mom went viral.
His response to the clipper on his head was quite unlike some babies who always fear the sharp blade of the clipper on their soft scalps. He rather burst into pearls of laughter.
People present were stunned at his response. Whenever the clip scrapped a portion of his hair, the baby would double up in laughter again, grabbing its wire. While no one could place what exactly he was reacting to, one could only guess the vibrating sensation of the clipper tickled him.
4. Mr Smeg shoots his shot with Boity and Mzansi is not impressed
Mr Smeg is back in the trending spotlight and not for his expensive kettle. This time, the popular Twitter user attempted to shoot his shot with well-known SA personality and rapper, Boity Thulo. Boity recently posted a video to Twitter and Mr Smeg thought it was his time to shine.
The video Boity posted was about her new hair, she smiled and moved the camera around while looking as stunning as ever. She simply captioned the post: "How cute is my hairstyle??" Boity added a few emojis as well.
In response to her video, Mr Smeg uploaded a shirtless image of himself surrounded by Smeg and Samsung appliances. He captioned his tweet to Boity: "Cute." Saffa tweeps had differing reactions.
5. Young lady gushes over BMW car, 7 years later she buys it for herself
A young woman recently inspired the masses after she shared a very motivational post on Twitter about how she tweeted about a BMW 1 Series seven years ago and now this year was able to buy the pricey vehicle.
Her highly motivational tweet was captioned "How it started" indicating a tweet she made in 2013 about the car that read, "1 Series bafwethu" along with a smiley face. The next picture was captioned, "How it ended" and featured a picture of the brand-new black BMW 1 Series car.
The post racked up over 4 000 of reactions from tweeps who were wowed by how the young lady not only spoke her dream into existence but also strived to make it a reality a whole seven years later.
Source: Briefly.co.za