Explainer: Carl Niehaus on reasons Zondo should step down from Inquiry
- Carl Niehaus has provided Briefly.co.za with some insight as to why the Gauteng RET President Zuma Support Group is calling for Deputy Chief Justice Raymond Zondo to be removed
- The group feels that the State Capture Inquiry chairperson has been targeting ex-president Jacob Zuma
- Briefly.co.za explores the many reasons why the group feels that Zondo has failed to perform as he should at the helm of this critical commission
PAY ATTENTION: Click "See First" under the "Following" tab to see Briefly.co.za News on your News Feed!
The Gauteng RET President Zuma Support Group is has marched against the 'biased manner' in which the Commission of Inquiry into State Capture has 'targetted' Jacob Zuma.
The group, in response to recent events, has put forward its view that the State Capture Commission has failed to be 'balanced, objective and neutral in the manner that it has conducted itself since inception.
With numerous witnesses delaying their testimony before Deputy Chief Justice Raymond Zondo for a variety of reasons, the group feel that the recent media briefing held on Zuma's failure to meet inquiry dates was 'shocking and entirely inappropriate'.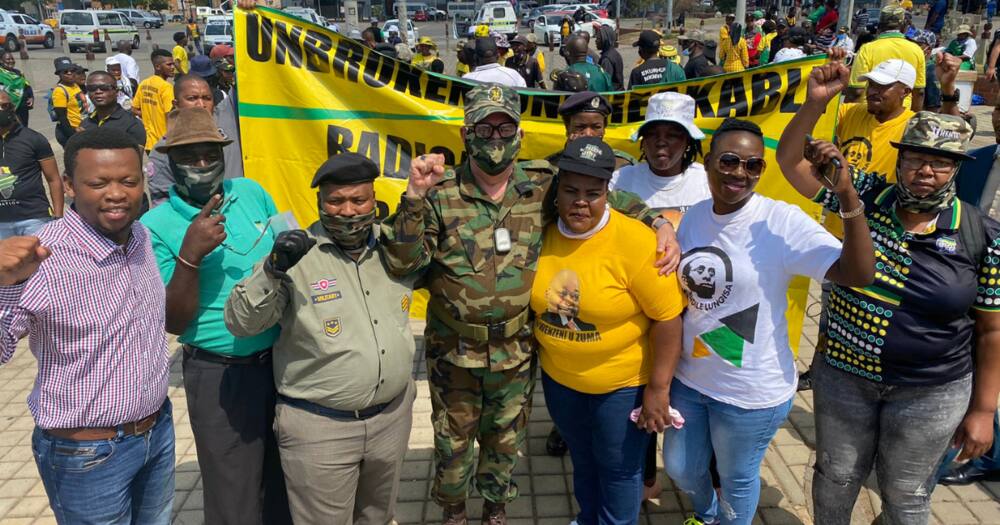 Briefly.co.za spoke to Carl Niehaus, spokesperson of the group, who explained that the likes of Public Enterprise Minister Pravin Gordhan himself had also not made an appearance but had not been subjected to the same treatment.
Niehaus felt that Zondo was being 'selective' in who he summons before the inquiry, reiterating the group's view that he had elected to target Zuma.
Niehaus also pointed out that other witnesses had indicated that they are available with immediate effect, detailing how Lucky Montana had written twice to the Commission to arrange testimony.
Brian Molefe, former Eskom official, has also pleaded with the Commission to tell their side of the story, to no avail according to Niehaus.
Niehaus had explained that Zuma's legal team had not been given enough time to respond to letters from the Inquiry, with Zondo going on to describe the ex-president as 'uncooperative'
This led the group to believe that Zondo either had a preconceived narrative in mind or simply didn't want to hear the whole story.
Earlier, Briefly.co.za reported that former president Jacob Zuma has been issued with a summons to attend the State Capture Inquiry.
On Friday, Deputy Chief Justice Raymond Zondo heard an application by the commission's legal team over the issue of obtaining Zuma's testimony.
Advocate Paul Pretorius said that the summons is the necessary mechanism for the commission to secure testimony.
Pretorius pointed out that the inquiry has a job to complete and is obliged to ensure it is carried out.
Around 100 witnesses have already been summoned by the commission, adamant that there is nothing unusual about the application.
Pretorius revealed that over 30 witnesses had implicated Zuma and therefore it is necessary for the commission to call the ex-president before it in order to answer to these allegations.
Zondo commented on the issue of witness evidence, telling the inquiry that:
"How can I ignore those things? I want to know what he has to say and what he knows about those things that have been said."
Enjoyed reading our story? Download BRIEFLY's news app on Google Play now and stay up-to-date with major South African news!
Source: Briefly.co.za