Senekal trial: Scene set as AfriForum plans to protest alongside EFF
- The scene is set for tense chaos in Senekal at the trial of suspects in the murder of Brendin Horner
- The EFF has already vowed that they will be mobilised to the scene, with the government promising 'full force' when it comes to police presence
- Now, AfriForum has arranged for a peaceful protest on the same day outside of the local Magistrate's Court
PAY ATTENTION: Click "See First" under the "Following" tab to see Briefly.co.za News on your News Feed!
Senekal is set to be the scene of volatile and tense encounters with AfriForum leading arrangements for a peaceful protest on Friday.
The Economic Freedom Fighters have already vowed that, while they aren't aiming for a fight, they won't back down if provoked.
In a statement issued on the matter, AfriForum explained that it seeks to ensure the majority is heard:
"The voice of the peaceful majority, that want to show their anger and dissatisfaction about the acts of terrorism on farms in an organised manner, is not silenced by a small group of instigators and the provocative behaviour of the EFF".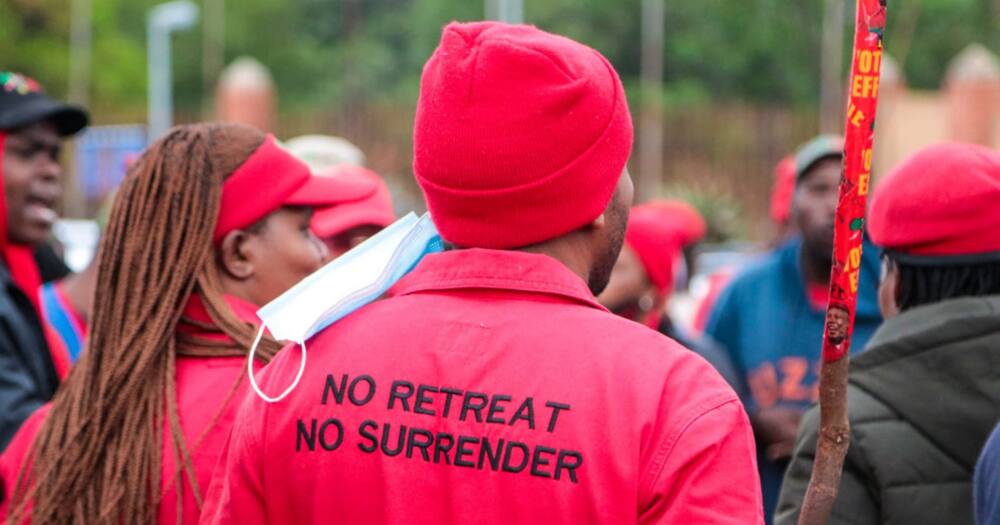 Kallie Kriel, chief executive of the group, has accused the 'safety services' were deployed by the government to discredit the peaceful march by provoking the crowd:
"It was observed that at least five men were placed strategically in the crowd and made inflammatory remarks. These men continuously communicated with each other on their cellphones and some even wore masks completely covering their faces to hide their identity."
Kriel claimed that once the crowd had stormed the court the men had fled the scene:
"When a small group incited by this inflammatory behaviour stormed the courtroom, these men ran to their vehicles and drove away."
Earlier, Briefly.co.za reported that Julius Malema had accused police officials involved in the protests of being scared of white people:
"You cowards allowed white people to burn your cars. You are cowards. We are not cowards. We are getting them come Friday. And there is no one who can stop us."
While Malema has made his determination to protest clear, he denied supporting the murder suspects:
"We have no business with murderers. That black man who killed a white man must go and rot in jail. It is not our problem. We do not protect criminals but we will never allow white men to show us what they showed (Nelson) Mandela during the negotiations. That thing must have ended there. That white arrogance should have ended there."
Enjoyed reading our story? Download BRIEFLY's news app on Google Play now and stay up-to-date with major South African news!
Source: Briefly.co.za