The life story of Budd Dwyey
Who is Budd Dwyey? Mr. Dwyer was a prominent political figure who worked as a Treasurer of the Commonwealth of Pennsylvania. The name Robert Budd Dwyer will remain in history books given the circumstances surrounding his life and death.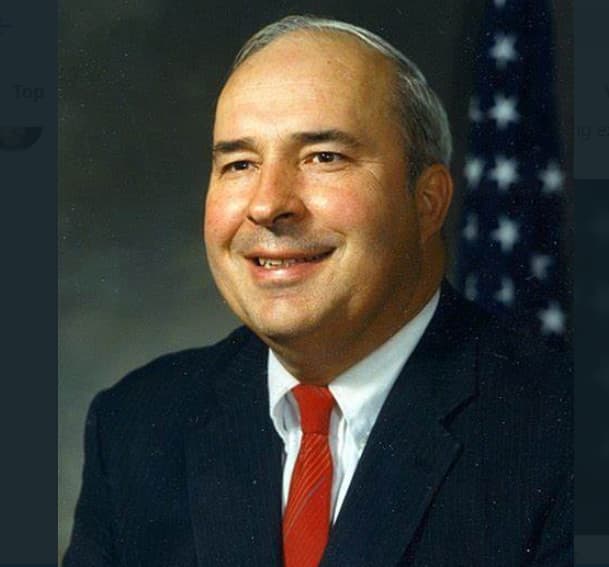 Dwyer was a Republican member in the Pennsylvania House of Representatives from 1965 to 1971. He was employed as the 30th treasurer on January 20th, 1981, a position he held until January 22nd, 1987, when he shot himself during a live press briefing. Here is more about the life of the fallen American politician.
The life story of Budd Dwyer
Robert Budd Dwyer was born on November 21st, 1939, in St. Charles, Missouri. His parents are Alice Mary Budd Dwyer (1907-1972) and Robert Malcolm Dwyer (1899-1980). He went to Allegheny College, Meadville, Pennsylvania, where he graduated with an A.B. in Political Science and Accounting in 1961. In 1963, he got his master's degree in education.
Career
After graduating in 1963, Robert was employed at Cambridge Springs High School, where he taught social studies and coached football. He served in the Pennsylvania House of Representatives between 1964 and 1968 before winning the Pennsylvania State Senate from its 50th district in 1970. He was sworn into office in January 1971 and was Senator until 1978. He then advanced to the office of Pennsylvania Treasurer in 1980 until the second term that started in 1984.
Wife and Budd Dwyer children
The late Mr. Dwyer married Joanne M. Grappy Dwyer in 1963, and they started the Budd Dwyer family. Robert and Joanne were blessed with two kids, a daughter, and a son. The girl is Dyan Dwyer, and the boy is Robert Dwyer.
Rob and Dyan reside in Tempe, Arizona where they lived with their mother before her death in 2009 after battling alcoholism and developing cancer of the mouth and throat. Rob works in a real estate and development firm, and he has two kids, a step-daughter Tayler and his biological son, Ross.
Budd Dwyer daughter is married to Frank Seaburg, and the two are blessed with a son by the name Logan.
Even though Budd Dwyer children were brought up in a political family, the two decided not to run for any political positions. Nevertheless, this does not stop Rob and his wife from supporting candidates within their hometown by getting involved in fundraising activities.
Why did Budd Dwyer commit suicide?

Curious to know why Mr Budd took his life in front of reporters? During the 1980s, Pennsylvania's city uncovered that its public workers had overpaid federal taxes due to errors made before Dwyer's administration. This necessitated a multi-million dollar recovery contract to determine the amount to be repaid to each employee. In 1986, five years after Budd had taken office, he was accused of taking a $100,000 bribe from the company that had won the contract.
According to the evidence and witness statements, Mr Dwyer was found guilty of 11 counts of conspiracy, perjury, fraud, and was to be sentenced on January 23rd, 1987. A day before his scheduled sentencing, Budd Dwyer called a press conference in the state capital Harrisburg, where most people expected that he would announce his official resignation.
However, this was not the case as Mr.Budd gave out suicide letters addressed to various individuals, including his wife and children, and then took a. 357 Magnum revolver from a manilla envelope and shot himself in the mouth. His suicide was later broadcasted across several TV stations in Pennsylvania.
During his trial and even after his conviction, Budd maintained that he was innocent and that everything was a political conspiracy. William Tricket Smith, a key witness in the Dwyer trial, stated in 2010 that his testimony was truthful, and he expressed that he had offered Budd bribery, which he accepted. In the same year, the US attorney James West, Dwyer's case prosecutor, reaffirmed that the late Dwyer was guilty. All appeals made by Budd's attorneys were all denied, and his conviction was upheld.
Budd Dwyer governor
Budd handed over three sealed envelopes to his aide before pulling the trigger that took his life. One of the letters was addressed to governor Bob Casey Sr. He expressed that he did not resign from his post and that he was the treasurer until his death. Budd further recommended that his wife Joanne should succeed him as she was hardworking and believed that Mr Casey was the best governor for the people of Pennsylvania.
Budd Dwyer autopsy
According to the psychological autopsy, it is believed that suicide is associated with mental health issues. Nevertheless, some social/environmental issues can make one take their life. In the case of Budd Dwyer, he was facing a 55-year sentence and a hefty fine, which brought him much disgrace. However, since he killed himself before the sentencing occurred, he managed to help his family as they received $1,280,000 in compensation. The family was in a bad financial state following Dwyer's expensive trial.
Budd Dwyer gravesite
One of the letters that Budd handed over outlined his funeral arrangements. According to his last wish, Budd was laid to rest at the Blooming Valley cemetery situated in Crawford County of Pennsylvania.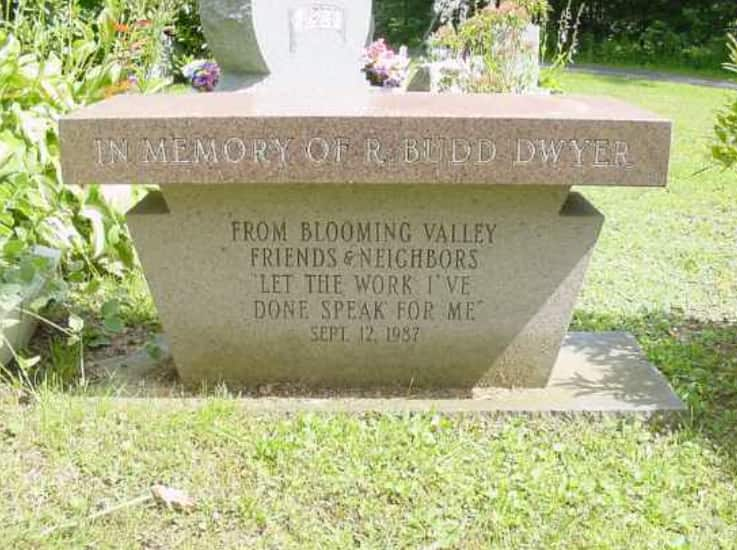 Budd Dwyer movies
Honest Man: The Life of R. Budd Dwyer is a documentary detailing the events of the Computer Technology Associate scandal that resulted in the public suicide of Budd Dwyer in 1987. The documentary was directed by James Dirschberger. It features new interviews with the family and friends of Budd Dwyer.
The documentary premiered on October 9th, 2010, at the Carmel Art & Film Festival in California and was later shown in other areas. According to Rob Dwyer, the film is a true representation of everything that had occurred, and he approved the final product.
Budd Dwyer producer
The life of Budd Dwyer has inspired several people, including Scott Arceneaux, who used the producer Budd Dwyer as his persona. Scott is one of the members of the rap duo known as $UICIDE BOY$, and he also goes by $crim. Even though both members have different aliases, $crim uses the name Budd whenever he produces. The persona is used to portray the illusion of an alter ego.
To date, there are so many unanswered questions as to why the life of Budd Dwyer, a respectable political figure, had to end in the manner that it did. The documentary made in his name believes in his innocence, while others insist that he was guilty.
READ ALSO: Meet Vivian Liberto, Johnny Cash famous first wife
Briefly.co.za published the life story of Vivian Liberto. Vivian was Johnny Cash's first wife. Unlike most celebrity wives, she was not in the limelight.
Johnny Cash's first wife was a reserved homemaker focused on raising her kids and caring for her household. She was of Italian ethnicity and had four children with Johnny. After their divorce, she got married to Dick Distin.
Source: Briefly.co.za