Opposition parties do not buy President Ramaphosa's "New Deal"
- Opposition parties have slammed President Cyril Ramaphosa's economic recovery plan
- Most of the major opposition parties found fault with Ramaphosa's "new deal" and said they were impractical or not immediate enough
- Ramaphosa had promised sweeping reforms at Eskom and the creation of 800 000 jobs with his economic recovery plan
PAY ATTENTION: Click "See First" under the "Following" tab to see Briefly.co.za News on your News Feed!
Opposition parties are not thrilled with President Cyril Ramaphosa's plan to save the economy with a recovery plan. Ramaphosa revealed details of the plan at a joint sitting of Parliament earlier this week.
Opposition parties did not buy Ramaphosa's new deal and said that his plan fell short of what the country really needed.
The South African Communist Party was particularly vocal on the relationship between politicians and the state, calling for them to have less influence according to News24.
Ramaphosa assured the country that there would be reforms at Eskom and 800 000 jobs would be created and a greater focus on support in education.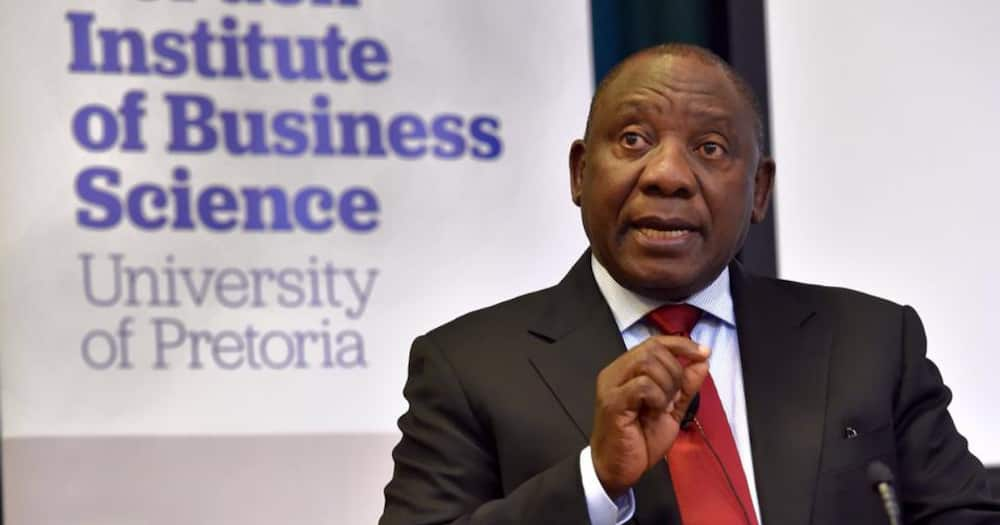 Detractors did not believe that the government would be able to successfully carry out their ambitious plans. Freedom Front Plus leader, Pieter Groenewald said that Ramaphosa's speech mentioned nothing new and he had always talked about infrastructure development.
UDM leader Bantu Holomisa said that Ramaphosa and those who came before him have made similar promises but nothing materialised of substance. He called it a "cut and paste" from previous speeches.
The EFF said that Ramaphosa's solutions were not practical and that he was not in touch with reality.
John Steenhuise, the interim leader of the DA said that said the governments plan to bail SAA out again was a waste of money and the R10 billion could be used elsewhere in the country.
He said the plans lacked urgency and that South Africa needed a plan for now and not two or three years in the future.
Earlier, Briefly.co.za had reported that President Cyril Ramaphosa presented his economic recovery plan for South Africa to Parliament on Thursday.
With the second quarter of 2020 seeing 2.2 million jobs lost and the GDP contracting by an unprecedented 16.4%, the situation is indeed at crisis levels.
Ramaphosa himself acknowledged that the pandemic had caused 'great hardship and suffering' highlighting the need for an 'inclusive and new economy'.
In other news, Finance Minister Tito Mboweni has requested more time to prepare his 2020 Medium Term Budget Policy Statement due to the complexity of the nation's economic situation at the moment.
In a statement issued by National Treasury on Wednesday, it was revealed that National Assembly Speaker Thandi Modise had acceded to this request with the approval of the Parliamentary Programming Committee pending.
The minister cited that the pandemic's effect on the nation's finances as the leading contributors to the delay, with the statement continuing to say that:
"The Minister has made this request having taken into consideration the complex and unusual circumstances visited upon us by the Covid-19 pandemic, which included the tabling of a Supplementary Budget in June 2020. The Ministry of Finance and National Treasury have had to adjust and consultation of the budgetary process."
Enjoyed reading our story? Download BRIEFLY's news app on Google Play now and stay up-to-date with major South African news!
Source: Briefly.co.za