Man pays tribute to 2 amazing cops - "not all apples are rotten"
- Hennie Muller shared his story of how two dedicated policemen saved the day and proved that there are great police officers in South Africa
- He revealed that his nephew's phone was stolen in a smash and grab and the two officers, Edward Ntsuba and constable K. Makena saved the day
- They recovered the phone and returned it to the nephew and said they were just doing their job
PAY ATTENTION: Click "See First" under the "Following" tab to see Briefly.co.za News on your News Feed!
Joseph Martin Maduma Mthethwa shared a post uploaded by Hennie Muller in which he praises to policemen, Edward Ntsuba and constable K. Makena.
These two police officers are proof that there are plenty of good cops in South Africa and not all police are corrupt.
He shared his story of how these two policemen witnessed a crime and jumped into action.
What had happened is that two criminals rushed up to his car and smashed the window and ran off with his nephew's phone.
A gunshot rang out and he drove off to escape the situation. It turned out that Edward Ntsuba and K. Makena had witnessed the criminals and took action.
It was Edward who had fired the shot after witnessing the crime and he and Makena pursued the criminals. They caught them and recovered the phone and arranged for Hennie to collect it.
When he met the cops he thanks them and they responded that it was their jobs and they were happy to help.
Here is the full story:
"Two weeks ago we were driving home from my brother in laws funeral. We were sad and vulnerable and not thinking clearly as we stopped at a red robot in Central Pretoria. Suddenly two men ran up to our car, hit our window and grabbed my nephew's cellphone. We then heard a gunshot and were terrified."
"We drove off in the ensuing chaos. Minutes later we received a call from this awesome policeman Edward Ntsuba and his colleague Constable K.Makena.He had seen the entire incident and chased after the criminals. It was he who had fired the shot. He caught the thieves, arrested them and retrieved the cellphone. The call was to inform us that he would like to meet us and return our phone. Can you imagine our surprise and shock? "
"We met up and my nephew got his phone back. When I thanked Mr Edward, he said 'Don't worry Madam, this is our job....to keep you safe.' I would like to thank these two policemen for the amazing job they do on a daily basis and what they did for us. I cannot express my heartfelt gratitude to them both. People say the police are corrupt in S.A, that they don't do their job but Mr Edward Ntsuba and constable Makena are an exception, like many others. There is still good policeman in this country. "
"Let us honor them and not allow the few rotten apples to spoil the whole bag."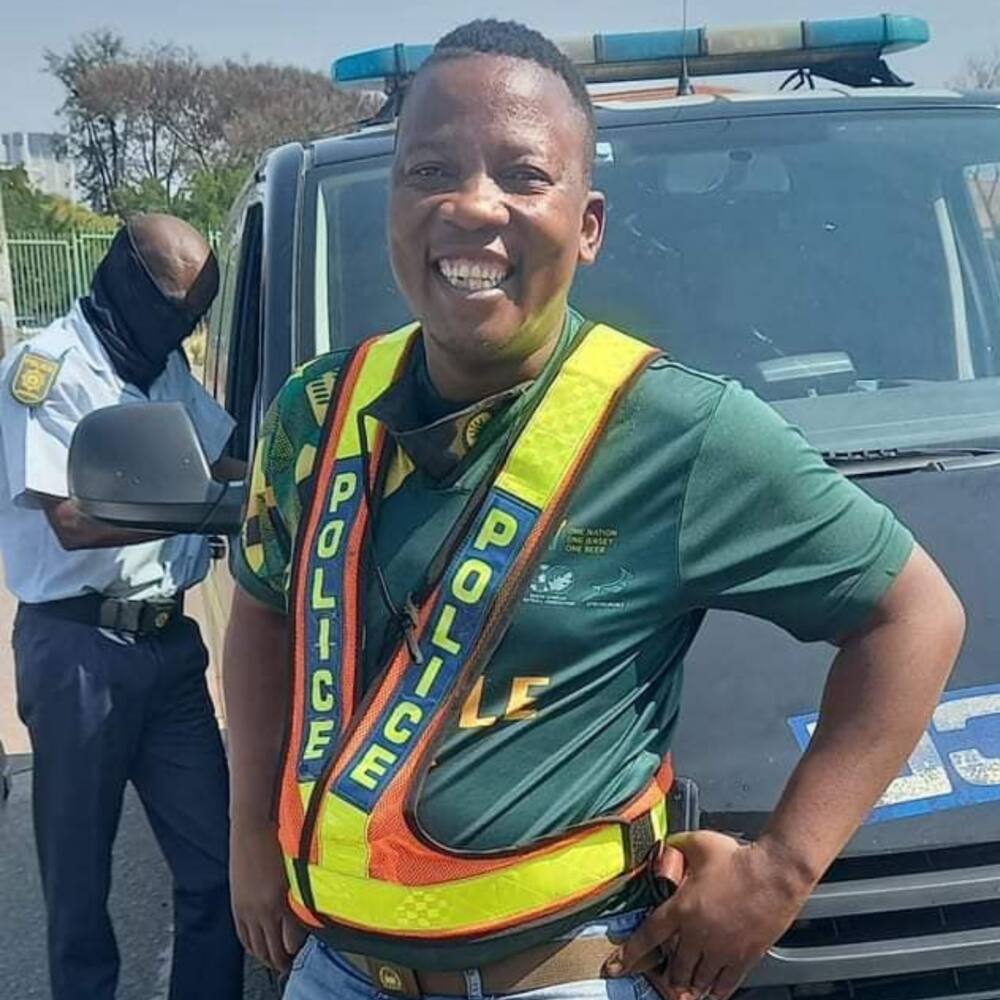 Here are some comments from members of the Facebook group #ImStaying:
Gené Reyneke:
"Look at that smile wow! Proud of you keeping our country safe."
Ntombi Somdyala:
"Salute to the blue uniform officials who still serve with pride and to secure the community. Aluta Continua."
Zane Howes:
"Great guys thank you. Upholding the pledge to protect and serve. We need you so please stay safe. ❤."
Earlier, Briefly.co.za reported that an unemployed mother of two was super thankful to cake maker who made her daughter's birthday special. The mother, Kerry Nicole Fynn had both her children's birthday's in the same month - five days apart and was struggling to come up with an idea to make their days special with limited finances. She took to Facebook group #ImStaying to share her story with others.
The cake maker, Charmaine Moodley decided to give away a cake she had baked after one of her customers did not come to pick it up. The cake was going to go to waste so she decided that she was going to give it away to one luckily family.
The mother of two said: "She gave it to my children as I was unable to buy them a birthday cake or even afford the ingredients to bake them one."
In other news, a group of ladies are being lauded for feeding the homeless. Clement Ndebele shared an image of the stunning ladies to the #ImStaying group of Facebook. According to Clement, the ladies feed the homeless and underprivileged.
Clement says they use their Saturdays to cook for those in need at Woodstock in Cape Town. The ladies in their yellow aprons are all smiles in the image that Clement uploaded. His post received a ton of positive reactions.
Stayers loved the fact that these ladies go out of their way on their days off to help those who need it. The comments section is full of love, blessings and positivity.
Enjoyed reading our story? Download BRIEFLY's news app on Google Play now and stay up-to-date with major South African news!
Source: Briefly.co.za