Man praises stepdad: "I love and owe every success to this amazing gent"
- Thabani Nhlengethwa praised his stepdad for being an amazing father to him and husband to his mother
- He says that he owes his future successes to this amazing gentleman who was there for him since he was four-years-old
- He wrote a touching tribute to his stepdad and hopes one day that he can do more for him than just take him out for breakfast
PAY ATTENTION: Click "See First" under the "Following" tab to see Briefly.co.za News on your News Feed!
Thabani Nhlengethwa posted a touching story on Facebook in the #ImStaying group in which he praises his stepdad for being an amazing human being.
He said that he owes every success that he enjoys in the future to his (step) dad, Jita. He met his mom back in 1996 and he was only four-ears-old.
He accepted his mom's 4 children from previous relationships as his own kids. He is a great dad and took them to school and was there to see each of them finish matric.
Briefly.co.za learned that Thabani praised him and said that he taught him everything that he knows. He ended by hoping that one day he could do more for him in the future than just take him out for breakfast.
Here is his full post:
"I don't usually post about my family, but I will this once."
"Pictured here is me and my (step) dad."
"I love and owe every success I might have in the future to this amazing gent right here. Jita met my mom in 1996, I was only 4 years old by then and my mom already had 4 kids from her previous relationship(s)."
"Jita took ALL of us under his wing, took us as his kids and loved us. He took us to school and we all were able to finish matric because of him. My mom was not working and so Jita was the breadwinner. They are still together and man, I love this dude with all I have. He literally taught me all I know and taught me how to take care of me and those around me. He completely changed and shaped how I see step-parenting forever, I hope I can - one day - do more for him than just take him out for breakfast."
"I'm forever grateful, Cebisa❤️"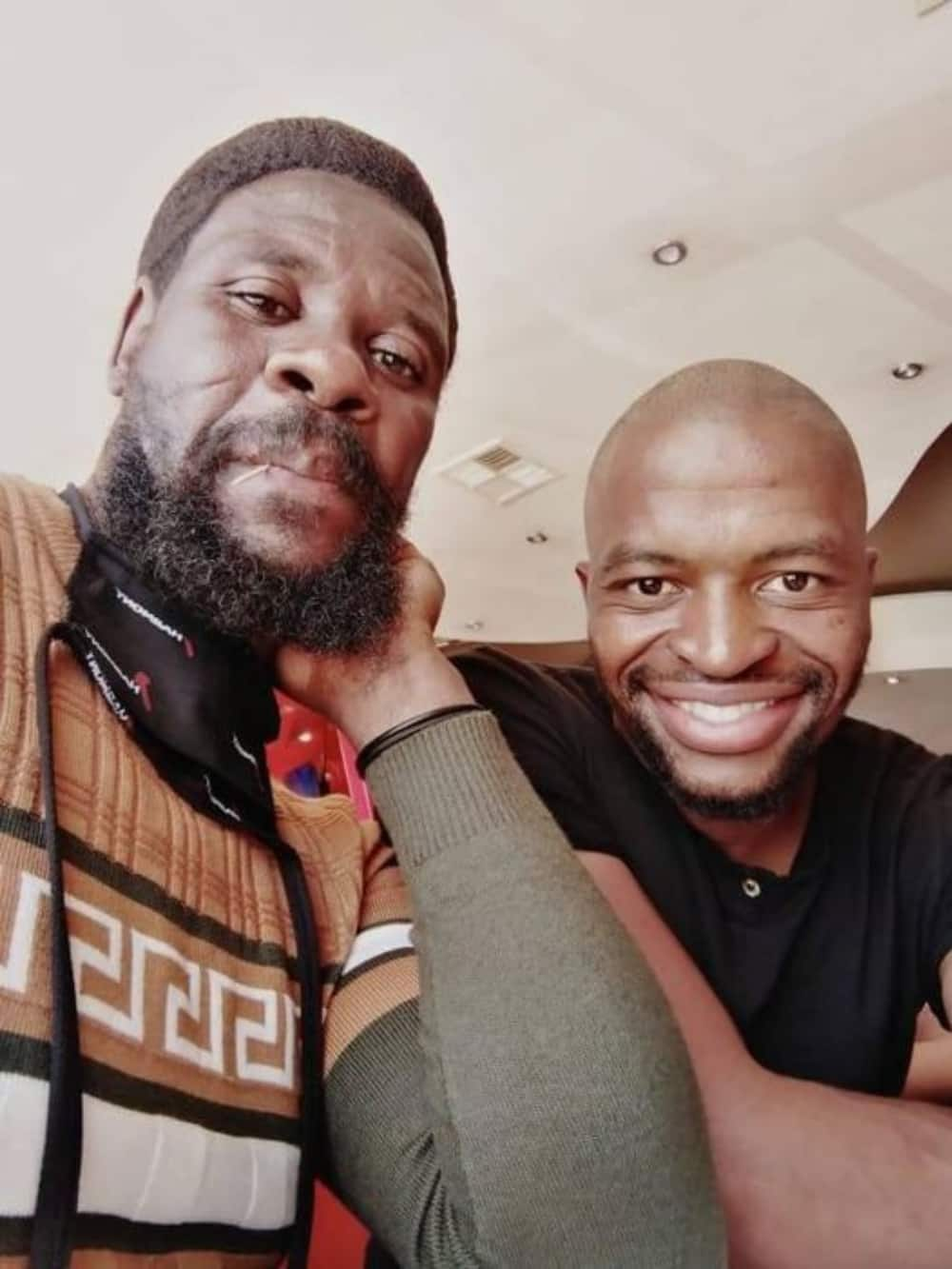 Here is what Facebook users had to say about this touching story:
Monica Pailman:
"God bless him, it sounds exactly like my life, my husband met me after failed marriage and relationship with 3 girls, my youngest was just 4yrs old..."
Mpho Gift Mokoena:
"Praise, praise the old man.. you remind me of my Dad I was 8 when he met my mom until now he is my pillar of strength... God bless all the Step Fathers."
Maria Cossa Azevedo:
"God bless you. Jita is a man in a Million and has instilled greatness in your life. Nothing wrong in being vocal about appreciation and sharing it. "
Earlier, Briefly.co.za reported that a stunning female farmer shared two polar opposite pictures of herself and South Africans are in awe. Tapuwanashe Allin shared an image of herself at work, as a farmer and another of herself dressed up with high heeled shoes.
Her post was reshared to the #ImStaying group on Facebook by Nombuso Nkosi with the caption: "So inspired." Nombuso's reshare received over 7 500 likes, almost 200 shares and over 150 comments from Stayers.
Many took to the replies section to share that they were also inspired by Tapuwanashe. Tapuwanashe's original post was captioned: "Don't worry about looking good, worry about achieving your goals."
In other news,aA beautiful young KZN woman served as a stellar example of what humanity looks like recently. Her mother, Bee Tee Manqele-Mthethwa, took to Facebook to explain how she had chosen to spend her birthday doing good for the less fortunate.
According to the post made in the popular Facebook group, ImStaying, Mthethwa's daughter - a social worker who had just turned 24 - used her last little bit of salary to buy groceries for the disadvantaged community she comes from. She performed this great act of kindness on her birthday.
Enjoyed reading our story? Download BRIEFLY's news app on Google Play now and stay up-to-date with major South African news!
Source: Briefly.co.za