Weekly Wrap: Lady stops plane from taking off with handbag, new dance craze and Khanyi's girl steals our hearts
This week has been a bit crazy with all the goings-on, a lady held up an entire flight because of her handbag, #JohnVuliGateChallenge is a new dance craze sweeping Mzansi, Khanyi Mbau's little girls Cannes steals our hearts, Connie Ferguson's natural beauty wows SA and two ladies wows Twitter with their dance moves.
PAY ATTENTION: Click "See First" under the "Following" tab to see Briefly.co.za News on your News Feed!
This week has had a good mix of stories that Mzansi loved with great variety. One thing that is for sure is that South Africa loves feel-good stories.
1. Lady who didn't want expensive handbag put on floor prevents plane taking off
An interesting drama recently played out on a Nigerian flight and it was all captured by Nollywood actress, Belinda Effah, who was also on board.
It was gathered that a lady onboard an Air Peace flight asked that the plane be stopped for her to leave because she did not want her expensive handbag placed on the floor or put in the upper cabinet.
As expected this caused a lot of excitement for other passengers on the plane as they whipped out their phones to capture the lady as well as the expensive bag causing all the drama.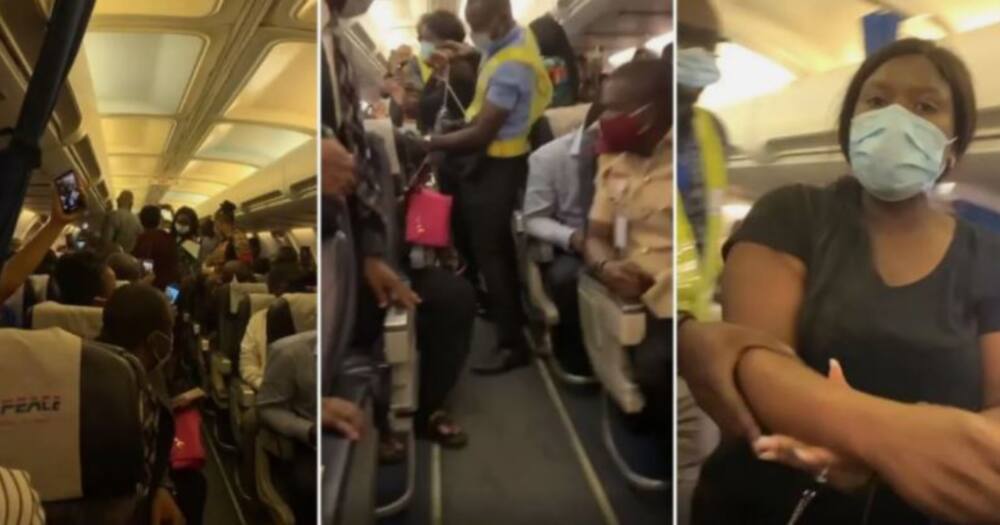 2. SA shows off their moves in new dance craze: #JohnVuliGateChallenge
A new dance challenge has hit the ground in South Africa after a video of a group of ladies dancing at a petrol station went viral. Some of the ladies have a bottle of alcohol in their hands as they're dancing to John Vuli Gate.
The video was initially uploaded to TikTok by @angel737277 and was then shared to Twitter by various users. The video sparked the beginning of a new challenge as others started uploading videos of themselves dancing to the song.
3. Khanyi Mbau's baby girl Cannes has stolen the hearts of viewers
Khanyi Mbau's baby girl is quickly becoming a star. After Khanyi's reality show debuted on 10 October, her daughter Cannes has been the talk of the town.
Being the strong and powerful woman that she is, Khanyi could not wait to get her reality TV show going. Seeing the great response it has received has made Khanyi extremely happy.
Viewers have taken a special liking to her stunning daughter Cannes. Cannes is a total sweetheart who is still warming up to the reality TV life but fans absolutely love her anyway.
4. Connie Ferguson goes makeup-free in selfie, leaves Mzansi in awe
It's no secret that Connie Ferguson is one of the most beautiful women in the country. The media mogul recently cemented her title by posting a selfie without any makeup on.
The TV producer took to Instagram to share her bare face with the world. She left her fans awe-struck with her beauty. Not only does she have perfect, clear and glowing skin, Connie also does not seem to have a single wrinkle.
Here is a post from her with makeup on, check out the article to see what she looks like if she isn't all dolled up.
5. Friday vibes: Video of ladies busting a move wins over Mzansi
Two South African ladies who were filmed dancing at a get-together have won over Mzansi. It seems as though the ladies are dancing in a car park that was made into a party spot. Chairs, cooler boxes and even a Hookah can be seen.
One of the ladies, with a brown skirt on, is dancing next to a car. The camera angle then focuses on another lady in a pink top. The lady with the pink starts dancing while trying to reposition a chair.
Enjoyed reading our story? Download BRIEFLY's news app on Google Play now and stay up-to-date with major South African news!
Source: Briefly News