Senekal protest: 2nd suspect arrested over unrest outside court
- A second suspect has been arrested in connection with the Senekal riots that saw damage to state property outside of the local Magistrate's Court
- A 33-year-old man has been arrested in connection with the incident which is at the centre of so much outrage
- The suspect is set to appear in court on Monday to face the music for his involvement in the protests
PAY ATTENTION: Click "See First" under the "Following" tab to see Briefly.co.za News on your News Feed!
A second suspect linked to the Senekal riots which took place two weeks ago is expected to appear in court on Monday.
A 33-year-old man was arrested in connection with the protests that have dominated headlines in SA in recent times.
The unknown suspect has been charged with attempted murder, public violence, arson and malicious damage to property.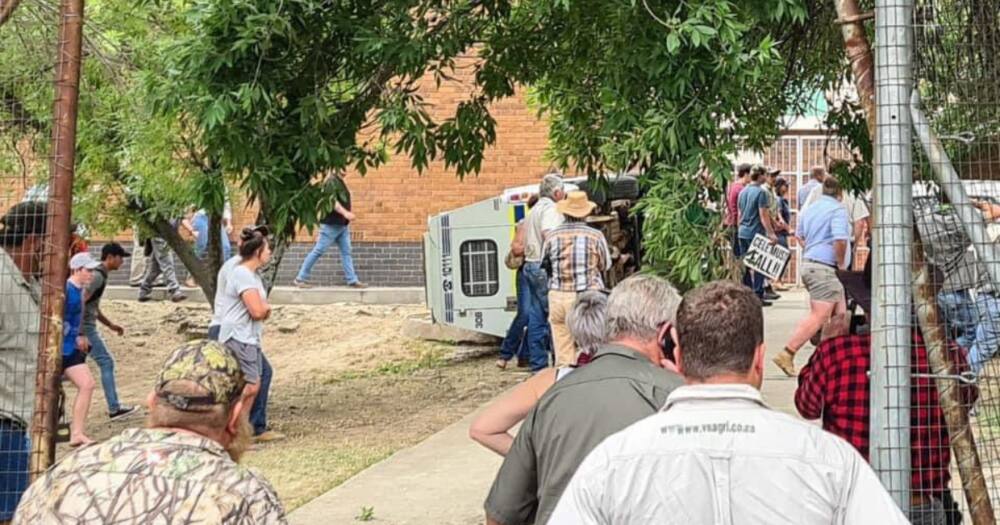 Police spokesperson Brigadier Vish Naido commented that the man is local to the area, reports IOL.
The first suspect to be arrested in relation to the incident, Andrè Pienaar, was taken into custody after a group of farmers attempted to storm the court has been denied bail, reports eNCA.
The 52-year-old businessman has a previous conviction, serving three years for theft over an incident that took place nine years ago.
Pienaar is accused of encouraging farmers to storm the courthouse, adamant that the suspects involved in Brendin Horner's murder - which sparked the protest in question - should be handed to the community.
The murder suspects, Sekwetje Mahlamba and Sekola Matlaletsa, appeared in court on Friday amid an extremely tense environment.
Earlier, Briefly.co.za reported that top politicians had flocked to the small Free State town with the EFF, AfriForum and local farmers all hosting separate protests on the day.
The Senekal Magistrate's Court opted to postpone the bail hearing to Tuesday while law enforcement authorities were out in full force to ensure the situation didn't turn violent.
Political party Freedom Front (FF) Plus has placed a complaint with the South African Human Rights Commission (SAHRC) against the Economic Freedom Fighters (EFF). The complaint was lodged for the EFF singing a song called Kill the Boer during protests in Senekal, Free State on Friday.
EFF members were protesting in a street in Senekal just before 7am where two suspects in the murder of farm manager Brendin Horner appeared for the second time at the Senekal Magistrate's Court.
In the video footage, the EFF can be heard singing the song as they protested against the dismantling of state property by "white arrogance", according to leader Julius Malema.
Leader of the FF+ Pieter Groenewald said that it was time to take action against Julius Malema and the EFF. Groenewald said that this behaviour is unacceptable. He said:
"Julius Malema is not above the law and the time has come for action to be taken against him in the interests of everyone in the country. Farm murders are a reality and it is these kinds of irresponsible statements and incitement that undoubtedly play a role in farm attacks and murders."
Enjoyed reading our story? Download BRIEFLY's news app on Google Play now and stay up-to-date with major South African news!
Source: Briefly News