US election 2020: Fulfilled and unfulfilled promises by Trump
In November 2016, billionaire businessman Donald Trump was elected as the 45th president of the United States of America. Briefly.co.za looks at some of the promises he has kept and some he has not.
PAY ATTENTION: Click "See First" under the "Following" tab to see Briefly.co.za News on your News Feed!
Trump made several promises while campaigning to become the leader of the free world that would drastically change the US policy; he promised to "make America great again".
Shortly after the 74-year-old was declared the winner of the US election, he gave a victory speech in New York where he promised what he was going to do on the first day in office.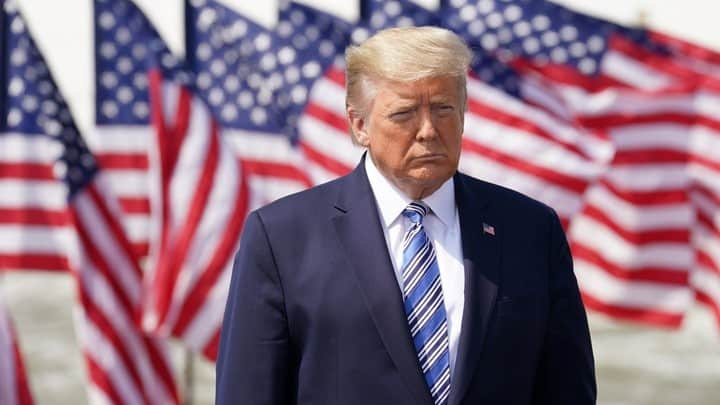 After spending almost four years in office and also aspiring for the second term, Briefly.co.za looks at what the US president promised to do in his first day in office.
1. "Convene his top generals and inform them they have 30 days to come up with a plan to stop ISIS"
The US president promised to convene top generals and give them 30 days to come up with their strategy to defeat the international terrorist group, ISIS. About four years after, ISIS has not been stopped. However, the US president has recorded a significant success against the terrorist group.
So far, he has ordered the biggest non-nuclear bomb in the US arsenal on an IS-stronghold in Afghanistan. Under Trump's watch, the US troops killed ISIS leader Abu Bakr al-Baghdadi.
2. "Repeal Obamacare and undo some of Obama's executive orders"
President Trump also promised to repeal and replace Obamacare, a healthcare initiative put in place by the former president Obama. He has, however, not fully fulfilled this promise.
While he has managed to dismantle parts of the law, the Republicans have been unable to pass a repeal or reform the bill.
3. "Begin swiftly removing criminal illegal immigrants from the country"
The US president has also made progress in this regard but he has not deported all illegal immigrants as he promised.
4. "Notify all countries that refuse to take back dangerous illegal immigrants who have committed crimes in this country that they will lose access to visa programs if they continue to do so"
President Trump, since the beginning of his administration, has been issuing threats that he would withhold visas from several countries if they refuse to accept their citizens deported from the US.
5. "Suspend Syrian refugee resettlement"
Following up with this promise, President Trump in 2017 signed an executive order "suspending the US refugee programme for 120 days, specifically barring Syrian refugees until further notice."
6. "Fix the Department of Veterans Affairs"
This is the US department that provides near-comprehensive healthcare services to eligible US military veterans.
Almost years after, reports indicate that President Trump has yet to fulfil this promise, though he bragged that no president has done more for veterans than him.
7. "Call the heads of major companies who are moving operations oversea to inform them that they'll face 35% tariffs"
While President Trump indeed issued this threat, no report indicates that the threat was implemented.
8. "Start taking care of the military"
A recent report by BBC indicates that military spending has steadily increased since President Trump took office in January 2017.
However, the report states that the spending is still significantly lower than during the first term of the Obama administration. Thus, it is not particularly clear how he has been taking care of the military as he promised.
9. "Meet with Homeland Security officials and generals to begin securing the southern border"
The US President also vowed to build a wall along the US-Mexican border, adding that Mexico would pay for it.
While he could not get Mexico to pay for the wall, Trump has reportedly redirected defence and some other funds to build or replace sections of the wall, amid legal challenges.
Politifact, a fact-check organisation, rated the US president's promise regarding the wall as "in the works." This indicates that the promise is partially fulfilled.
Briefly.co.za previously reported that President Donald Trump and Joe Biden, the candidate of the Democratic party will have their microphones muted in the next presidential US election debate.
In a report by Bloomberg, the commission on presidential debates made the disclosure on Monday, October 19.
According to the commission, the mics of both presidential candidates will be on mute for parts of the final debate scheduled to hold at Belmont University in Nashville.
Enjoyed reading our story? Download BRIEFLY's news app on Google Play now and stay up-to-date with major South African news!
Source: Briefly.co.za