Counting down 10 of Kim Kardashian-West's most adorable Mommy Moments
Kim Kardashian has many roles as an international celebrity but the one she has always said she is most proud of is her job as a mother.
PAY ATTENTION: Click "See First" under the "Following" tab to see Briefly.co.za News on your News Feed!
Kim Kardashian is a globally recognisable name thanks to the reality show Keeping Up with the Kardashians. The celeb is married to rapper Kanye West, who is also the biological father of her four children.
Kim has spoken in public and on her show about how motherhood is her highest priority. Kim's babies in birth order are North, Saint, Chicago and Psalm.
Briefly.co.za counts down some of Kim's most adorable Mommy Moments with her precious kids.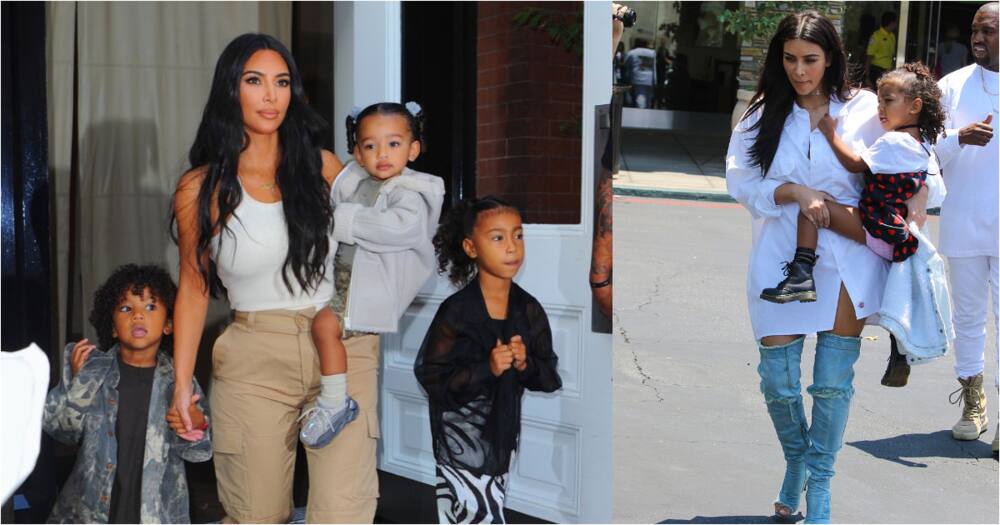 10. The breakfast table madness
Most parents can relate to mealtimes being a bit chaotic so Kim's post of all four babies plus her husband and the pets resonated with anyone trying to get breakfast-time to go smoothly.
9. North and Saint finally getting along
The transition from one to two kids can be tough - especially for the eldest who goes from being an only child to an older sibling. Kim sharing the moment that her first and second kids started becoming friends was just too cute.
8. The brood's Vogue debut
Getting four kids to sit still long enough to take a picture is a challenge in itself, trying to do it for Vogue magazine must have been next level.
7. Pyjama party on a plane
The rich and famous do things a little differently. Most moms probably have pictures of their kids in pyjamas too - Kim's are just on a private jet while they're in them.
6. When her last-born took his first steps
Kim's baby, Psalm, is the last of her kids and she shared the bittersweet moment she had when he started to walk.
5. One-on-one snuggles
It's important that children feel loved and Kim makes an effort to let each of her kids know that they are adored individually. Chicago got some quality time with a snuggle from her mom.
4. Dress-up time!
Kim always lets her kids' imagination run wild and is happy to let them play dress up and pose for the camera.
3. Dedicating time to making her babies feel beautiful
Mamma Kim is one of the most-photographed people on the planet so she knows how important it is to feel good in one's own skin. She made sure to show she was taking time to learn how to style her babies' hair.
2. Giving them memorable experiences
The four Kardashian-West babies are no strangers to luxury but Kim is adamant that her kids will be exposed to experiences and not just material things.
1. Acknowledging the little humans who made her a mommy
Kim is vocal about the fact that her children are at the centre of her universe and make up her reason for being.
In other Kim Kardashian-related news, Briefly.co.za recently reported on Kim posting a throwback of herself and hubby, Kanye West, before life got more complicated.
Kim Kardashian-West is holding onto the good times she's had with her hubby Kanye to get her through. She recently shared an old snap of them on social media that reminder her and everyone else of what a power couple they are when things are good.
Scrolling through her phone, Kim found a picture of her and Kanye from some time ago when they took a trip to Japan. Pictures are worth a thousand words and are often what we need to remind us that things were not always as they are now.
Fans took to the comment section of the post to express what a lit couple Kim and Kanye actually are. Some had forgotten just how perfect they were before all the drama unfolded.
Kim has been going through the most with Kanye this past year but she's stuck by his side through it all. Knowing in her heart that Kanye is her soulmate, Kim has given it everything in her power to fight for her marriage.
Enjoyed reading our story? Download BRIEFLY's news app on Google Play now and stay up-to-date with major South African news!
Source: Briefly.co.za