Analysis: Mooikloof Mega-City may address SA's most pressing issues
- President Cyril Ramaphosa recently unveiled a project to establish a Mega-City in Mooikloof
- The project aims to drive development, employment and infrastructure and is aimed at housing low-income family
- This analysis aims to explore how this project could address some of South Africa's most pressing issues
PAY ATTENTION: Click "See First" under the "Following" tab to see Briefly.co.za News on your News Feed!
By Farai Diza: Freelance journalist
Nightmares abound in this virus afflicted daily life. Visions of what can be achieved are few while people with real vision and masses of positivity are extremely rare.
The South African government got tails wagging when President Cyril Ramaphosa created the Investment and Infrastructure office in the presidency earlier this year.
This division is headed by revered policymaker Dr Kgosientso Ramokgopa. Dr Ramokgopa is well known in issues related to development and upon his appointment, it was not surprising when he announced a list of accelerated projects that had the potential for infrastructure investment in the country.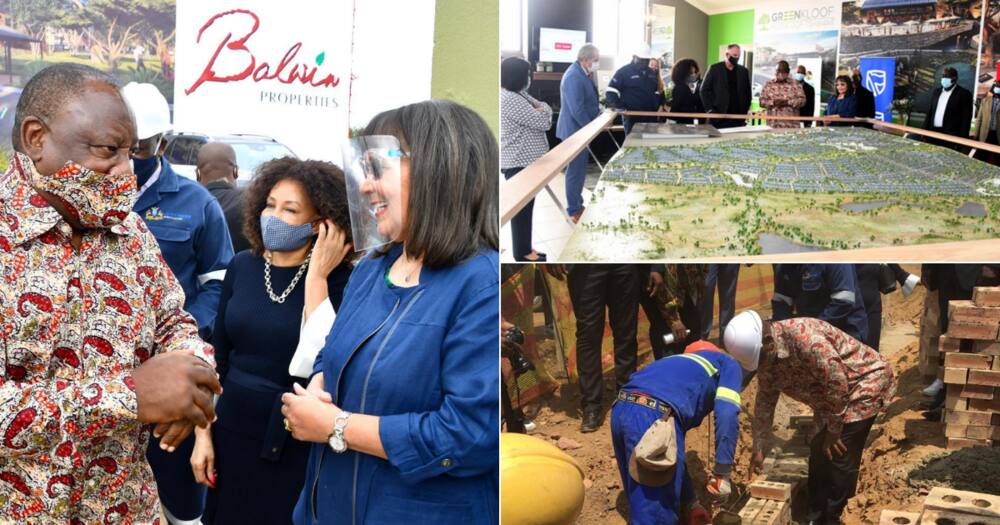 Fast forward that to October 2020 and like grapes in an oak barrel, things are beginning to shape up.
So far the Investment and Infrastructure office has spearheaded 18 human settlements developments estimated to cost R138 billion.
These human settlements are meant to address South Africa's tenacious and ever-growing housing needs as well as to change the urban landscape which remains defined by apartheid-era spatial planning.
Big townships that house the majority of South Africans are closely connected to suburban areas rather than economic zones. This was meant to afford the poor urban dwellers opportunities to work in residential areas. For instance, poverty riddled Diepsloot is close to Fourways while Alexandra is close to the richest square mile in Africa - Sandton.
Last weekend, President Ramaphosa announced the launch of the Mooikloof Mega City.
There were so many ululations and fanfare as urban dwellers sang in jubilation.
But what is the Mooikloof Mega-City all about and how will ordinary South Africans benefit from it?
Well, the Mooikloof Mega City will be built on a tract of land amid wealthy estates and smart shopping centres. It will consist of 50 000 housing units and ancillary services.
It will make it possible for people who earn between R3500 and R18 000 a month to own a house at Mooikloof Mega-City through loans from the government's finance linked subsidy programmes.
The Mega-City will also pump money into the economy, provide jobs and meet specific needs through public-private partnerships.
2.2 million South African's lost their jobs due to the impact of Covid-19. The development is expected to create more than 41 000 jobs giving unemployed South Africans something to cheer about.
Addressing accommodation shortages while creating employment is not such a bad idea.
It will also eliminate tender corruption through transparent processes. Tender related corruption has been on the upward surge in recent weeks.
Many businesses have found themselves being haunted by the Hawks who are cracking down on ill-gotten wealth.
Public office bearers such as presidential spokesperson Khusela Diko have seen themselves in trouble with the law because of alleged tender fraud.
Baldwin Properties, a company with a proven record in creating apartment-style lifestyle complexes in urban areas, will be managing the Mooikloof Mega-City development.
According to numerous media reports, the 50 000 apartments will be priced at between R499 000 and R799 000.
It is expected to add R75 billion in turnover to the economy.
This project also aims to densify our cities and ensure that vulnerable people live closer to current economic centres.
But there are also numerous concerns about this very big project. While this development affirms that it's ownership models are the best solutions for South Africa's poor citizens, public rental stock has been excluded.
This is shocking because public rental stock is crucial in offering affordability to poor aspiring homeowners.
Its exclusion could inspire the emergence of agents, companies and rich individuals who will purchase properties and rent them out at inflated prices.
South Africa has in the recent past faced acute house shortages mostly affecting the poor as more people migrate to the cities in search of a better life.
Perhaps a more definitive picture will be revealed once work has commenced.
Earlier, Briefly.co.za reported that the Mooikloof Mega-City Development in Tshwane has been subjected to controversy just a few hours after its unveiling.
President Cyril Ramaphosa himself had been briefed on the project by Balwin CEO Stephen Brookes.
The project would soon trend as people questioned why a mostly white-owned company was spearheading the project aimed at bolstering the economy and providing affordable housing in an enviable area.
BusinessLIVE reports that the project isn't actually solely state-funded but is instead a public-private partnership, expected to be worth about R84 billion.
Enjoyed reading our story? Download BRIEFLY's news app on Google Play now and stay up-to-date with major South African news!
Source: Briefly.co.za