Duduzane hints at political career: Voices support for Jacob Zuma
- Duduzane Zuma has voiced his support for his father, Jacob Zuma, to do what needs to be done in relation to the State Capture Inquiry
- Duduzane feels that the Zondo Commission has gone as far as to treat the ex-president unconstitutionally
-Speaking during an interview, Duduzane claimed that he had personally experienced what it was like to have his 'constitutional rights being trampled on'
- This comes as Duduzane hints at beginning his own political career when he returns to SA from Dubai
PAY ATTENTION: Click "See First" under the "Following" tab to see Briefly.co.za News on your News Feed!
Former president Jacob Zuma's son, Duduzane, has encouraged his father to 'do what he needs to do' in regards to his treatment at the Zondo Commission of Inquiry into State Capture.
The ex-president released a statement on Friday, raising concerns over reports claiming that the commission had issued subpoenas for a minimum of 20 accounts linked to the family.
Zuma had drawn the line at the 'declaration of war', adamant that he would fight with all his might after his children were targeted by the probe.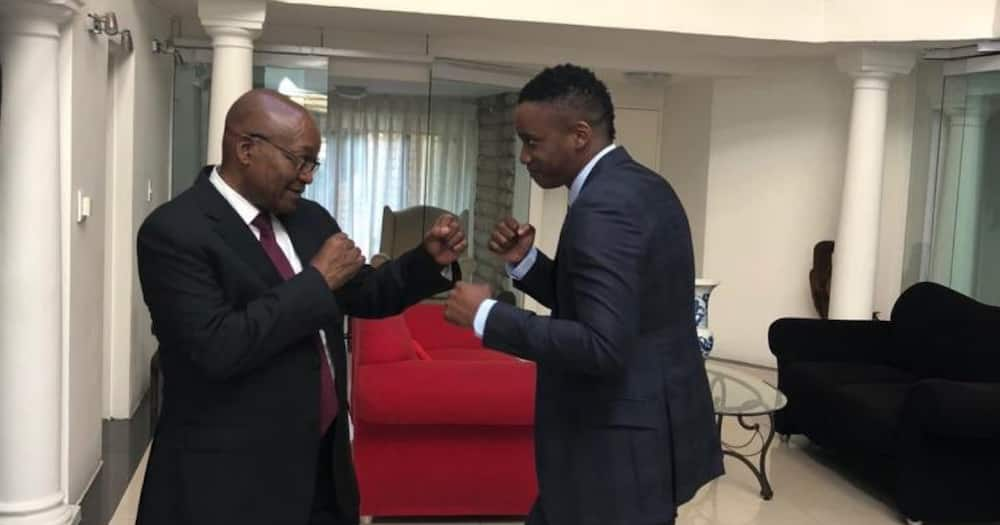 Weighing in on the developments, Duduzane said that this was an experience he had endured, saying that his 'constitutional rights had been trampled on' by law enforcement agencies and even the legal system during his own legal battles.
Currently in Dubai, Duduzane hinted that he may still follow in his father's footsteps with a career in politics once he returns.
Speaking to Trending SA, Duduzane explained that he would go 'wherever he is needed' if he did go this route, promising that a 'big announcement' is in store once he is back in the country:
"People don't understand the reason I moved out of SA – and this is why I have spoken about my constitutional rights being trampled upon. People have their views but I have faced the music.
"I have been in front of one judge, in front of an inquiry. However, I will be travelling back very soon, and I have a big announcement to make when I return to South Africa."
Earlier, Briefly.co.za reported that former president Jacob Zuma is furious about the possibility of having his children's bank accounts probed for State Capture purposes.
Zuma has come out and expressed that he "draws the line" at anyone who is coming after his children in investigations against him.
Zuma said that coming after his children is a "declaration of war" which would result in him fighting back with everything he has.
In a statement that was released on Friday, Zuma said he had noted that there had been a report by the Sunday Times alleging that the Zondo Commission had turned its focus to his children's bank accounts.
Zuma expressed that he knew that the commission was desperate to hold him accountable for the part he played in state capture, but he condemned the targeting of his children stating that it is a matter that has nothing to do with them.
The former president said: "My children live their lives separately and must be treated like any child or person that has not been implicated in any wrongdoing."
He also added that his children had not been served with any notices showing that they had been implicated by any witnesses selected by the commission.
Enjoyed reading our story? Download BRIEFLY's news app on Google Play now and stay up-to-date with major South African news!
Source: Briefly.co.za