Woman tries to rescue python, it ends up wrapped around her leg
- An Australian woman found herself in a tight spot after she tried to help a python
- While attempting to rescue the snake, it ended up wrapping itself around her leg
- A video shows police officers coming to the woman's aid before the serpent was released back into the bush
PAY ATTENTION: Click "See First" under the "Following" tab to see Briefly.co.za News on your News Feed!
Last week Friday, the Queensland Police Service posted a video on Facebook showing a unique situation. Cops were called out to help a woman who found herself in a scary situation after she tried to rescue a python.
According to reports, the woman saw the python while working in her garage. The non-venomous snake was stuck under a car and she tried to help it.
However, ECR reported the python turned on her and wrapped itself tightly around her leg. The cops were called out to help the woman, who was calm throughout the entire incident.
At one point she even pet the snake and the police officer thought it belonged to her. "Do you want some help getting him back into his pen?" the officer asked her after they managed to uncoil the snake from her leg.
The lady reacted:
"He's not mine. He's wild."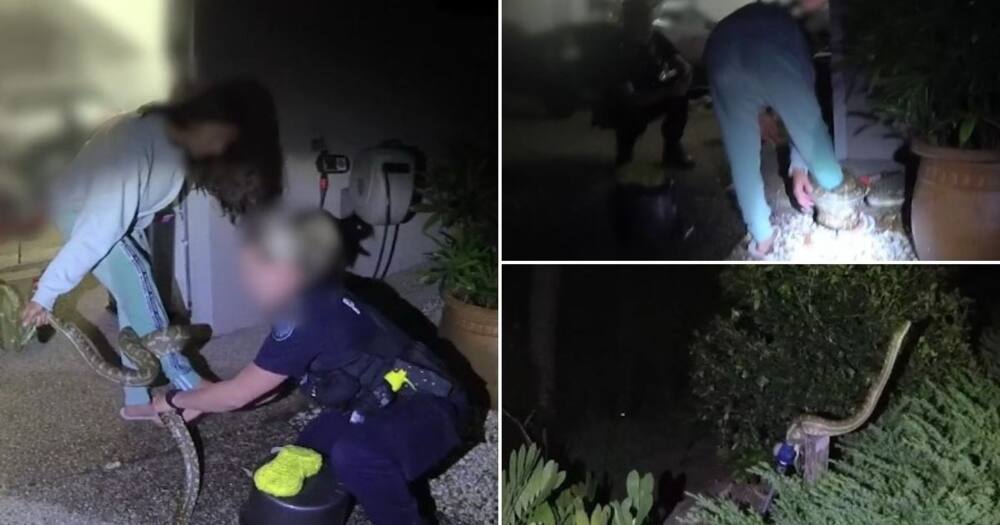 The video gathered thousands of views and a lot of reactions. Many said they would not have been brave enough to try and help the snake.
Ashley Blackburn commented:
"Good thing I'm not a cop, the lady wouldn't have a leg left, no way I'd be any good trying to help."
Mischa Stallon added:
"OMG I screamed at the 'Do you want help putting him in his pin' and the lass is like, 'Oh he's not mine', off I go like the David Attenborough boss I am and release him in the bush."
Sharon Duxbury said:
"I personally would be passed out cold and not know what was going on."
Jo-Anne Oliver wrote:
"Hell no. Is snake catching even a module at the academy?"
Take a look at the video below:
Meanwhile, Briefly.co.za earlier reported another video has emerged of customer's takeaway being stolen at a drive-through window, this time it's in SA. The video was uploaded to Twitter by @dududube and is a mere 13 seconds long.
It was uploaded yesterday and has already gathered over 70 000 views on the social networking site. Some Saffa tweeps are in utter disbelief at the act while others found it to be absolutely hilarious.
It is currently unclear whether or not the customer's meal was replaced or what actions were taken. Some tweeps have been questioning the legitimacy of the video as the phone camera was already recording before anything happened.
Enjoyed reading our story? Download BRIEFLY's news app on Google Play now and stay up-to-date with major South African news!
Source: Briefly.co.za