Nigeria protest: State denies involvement after protestors gunned down
- Nigeria is in the world's spotlight on Wednesday morning after a peaceful protest descended into what many feel is nothing short of a massacre
- Numerous protesters were killed by Nigerian security forces in Lagos on Tuesday, with witnesses insisting armed men had opened fire on the demonstrators
- With over 1 000 demonstrators taking part in the protest, the gruesome scene was broadcast live for the world to see
PAY ATTENTION: Click "See First" under the "Following" tab to see Briefly.co.za News on your News Feed!
The situation in Nigeria at the moment has seen scores of people calling for peace and expressing their outrage.
Around 1 000 protesters had gathered at the Lekki Toll Gate despite authorities announcing an open-ended lockdown in Lagos.
The situation in the city has been tense with movements against the Special Anti-Robbery Squad (an infamous police force) seeing thousands of Nigerians taking to the streets.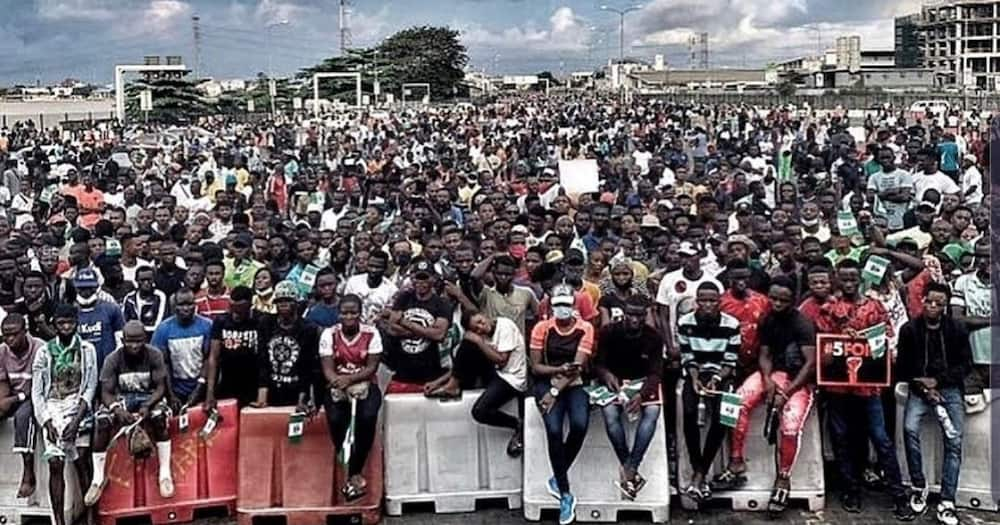 The incident that took place on Tuesday has been slammed by many as nothing short of a massacre with reports of security forces allegedly opening fire on the peaceful demonstrators who had gathered to sing the national anthem, vowing to stay put despite the curfew.
However, the army itself has denied the allegations that it had been ordered to shoot at the unarmed demonstrators, slamming it as fake news.
DJ Switch, a popular artist in the country, live-streamed scenes of the violence to 150 000 Instagram viewers, pleading for help. It is not currently known how many people were fatally injured during the protest.
Lagos state governor Babajide Sanwo-Olu had ordered that a shutdown should be imposed in the city, claiming that the protests had 'degenerated into a monster':
"Criminals and miscreants are now hiding under the umbrella of these protests to unleash mayhem. We will not watch and allow anarchy in our dear state."
In response to the shooting incident, Sanwo-Olu had confirmed that an investigation has been launched and that no citizen would be arrested for violating the curfew, continuing to say that:
"Lagosians must remain calm and not allow criminals, who have hijacked the noble protest of our gallant youths, to succeed in their evil plan of turning our dear state upside down."
The government has announced that the SARS unit will be scrapped in addition to a number of reforms, but citizens are not satisfied with the action, reports AFP.
On Tuesday, the Senate called on President Muhammadu Buhari to address the nation on the protests "as a matter of urgency". Dr Abubakar Bukola Saraki, former president of the Senate of Nigeria, has condemned the incident in its entirety, commenting that:
"I am horrified by the use of lethal force against #EndSARS protesters at the Lekki Toll Gate in Lagos. My heart bleeds for this country. It is sad and disheartening that this is happening. These are peaceful youth protesting to express legitimate concerns."
The use of extreme force, in Saraki's opinion, was unacceptable for any government:
"It is unacceptable for any government to turn its weapons on its own young people. What has happened in Lekki tonight is nothing but a massacre."
Amnesty International has confirmed on social media that it has received "credible but disturbing evidence" of "excessive use of force occasioning deaths of protesters":
"While we continue to investigate the killings, Amnesty International wishes to remind the authorities that under international law, security forces may only resort to the use of lethal force when strictly unavoidable to protect against imminent threat of death or serious injury."
Earlier, Briefly.co.za reported that Lady Zamar has joined the many voices that have called for the end of police brutality in Nigeria. The calls to end the violence have been echoed by celebrities and activists across the world.
Taking to Twitter, Lady Zamar expressed her outrage at the atrocities which are allegedly taking place in the neighbouring country. She said:
"It's disconcerting what's happening in Nigeria. For freedom to be real, all must be free, to live and breathe without the threat of violence and brutality from those sworn in to protect them in their societies; never abusing that trust."
Enjoyed reading our story? Download BRIEFLY's news app on Google Play now and stay up-to-date with major South African news!
Source: Briefly News