Armless lady who got driver's licence needs help getting special car
- A bright disabled lady recently reached out to South Africans for some help buying a car specially designed for people without limbs
- The young woman got her licence after being sponsored with special driving lessons
- She also explains how she needs the car, which has to be imported, to be able to get around for work
PAY ATTENTION: Click "See First" under the "Following" tab to see Briefly.co.za News on your News Feed!
An intelligent young woman who was born without arms due to a condition called Tetra-Amelia Congenital Syndrome recently surprised thousands after she achieved her long-time dream of getting her driver's licence.
24-year-old Tinyiko Cathrine Gwambe has now come forward to ask for assistance from her fellow South Africans to help her get a car that is specially-made for people with physical disabilities such as hers.
She explains that the car will help her to secure a job as a social worker since people in that field are often required to travel, something that is particularly hard for the determined young lady to do.
"I am struggling to secure employment that can improve my independence and overall well-being. Social work is a profession that requires a lot of movement and the ability to drive, which is a stumbling block when I attend interviews," she says.
While she was able to get sponsors to help her through the expensive driving lessons, getting help with money to import a specially-designed car has proven to be much more difficult. She explains how even the government was not able to help her on her quest to receive both physical and financial freedom.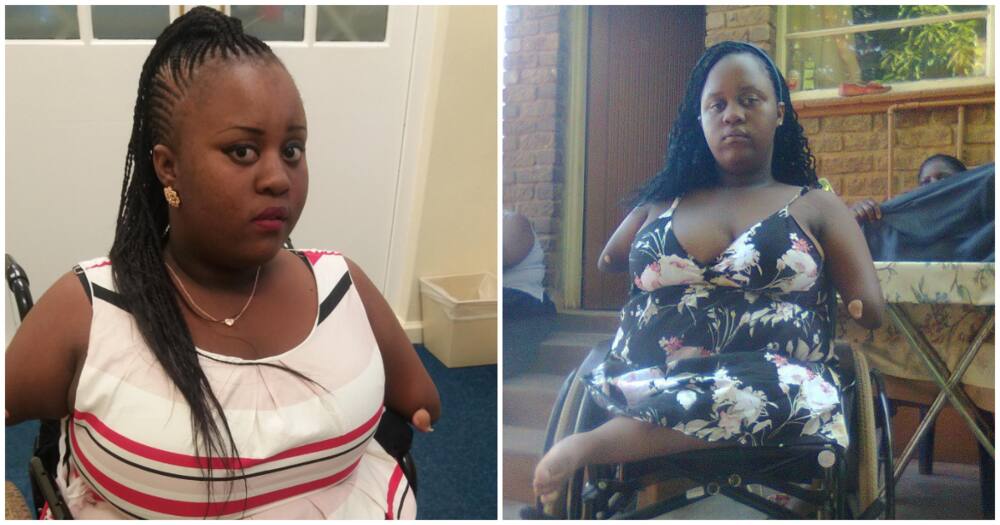 "My biggest struggle is to get a special vehicle (second-hand) that would cost approximately R500 000 and would be imported from the United Kingdom since there are no South African companies that can do adaptations needed.
"My occupational therapist recommended a VW Caddy as a car that I must have, which would be impossible to obtain without the public's involvement," says Tinyiko.
She ends off her touching story by asking willing South Africans to kindly donate whatever they can to help her get the car. For those who are willing, click here to reach a BackaBuddy link on which you can donate any amount towards getting Tinyiko mobile.
In more touching Briefly.co.za news, a while ago a woman was caught on camera experiencing really heartbreaking rejection. In the clip, the young lady can be seen in the front seat of a car with three guys, two of whom are in the back seat.
Not long into the clip, which was being recorded by the driver, she leans forward and tries to kiss one guy who unfortunately pretends he does not notice her attempt. The lady, who has now been identified as Asa, sadly turns away looking very forlorn after what has now become a very public rejection.
Her luck, however, seems to have changed after a hair company contacted with some good news. They decided to sponsor her with a whole new wig in order to help her make a come-back from the harsh embarrassment she went through.
Enjoyed reading our story? Download BRIEFLY's news app on Google Play now and stay up-to-date with major South African news!
Source: Briefly.co.za