Senzo Meyiwa: Saffas remember the slain footballer 6 years later
- On this day six years ago, Senzo Meyiwa's life was taken in Vosloorus at the home of his girlfriend, Kelly Khumalo
- Since the tragic night, the police haven't managed to secure a conviction and the murder case is still ongoing
- On Monday, South Africans remembered Meyiwa on the anniversary of his death and Briefly.co.za took a look at the updates since he passed away
PAY ATTENTION: Click "See First" under the "Following" tab to see Briefly.co.za News on your News Feed!
On 26 October, 2014, South Africans were rocked by news of the death of Senzo Meyiwa. The former Bafana Bafana and Orlando Pirates captain was shot and killed at the house of his girlfriend Kelly Khumalo in Vosloorus.
Upon his arrival at a hospital in Johannesburg, Meyiwa was declared dead at the age of 30. Briefly.co.za took a look at the event that claimed Meyiwa's life as well as the updates that have followed over the past six years.
Senzo Meyiwa's death
According to reports, there had been an argument that led to the shooting. At the time, three suspects had been identified and the police released images of two of the men.
According to BBC News, one of the suspects, Zamokuhle Mbatha, was arrested several days after the murder occurred. However, on 11 November, Mbatha was released because the state did not have enough evidence to secure a conviction.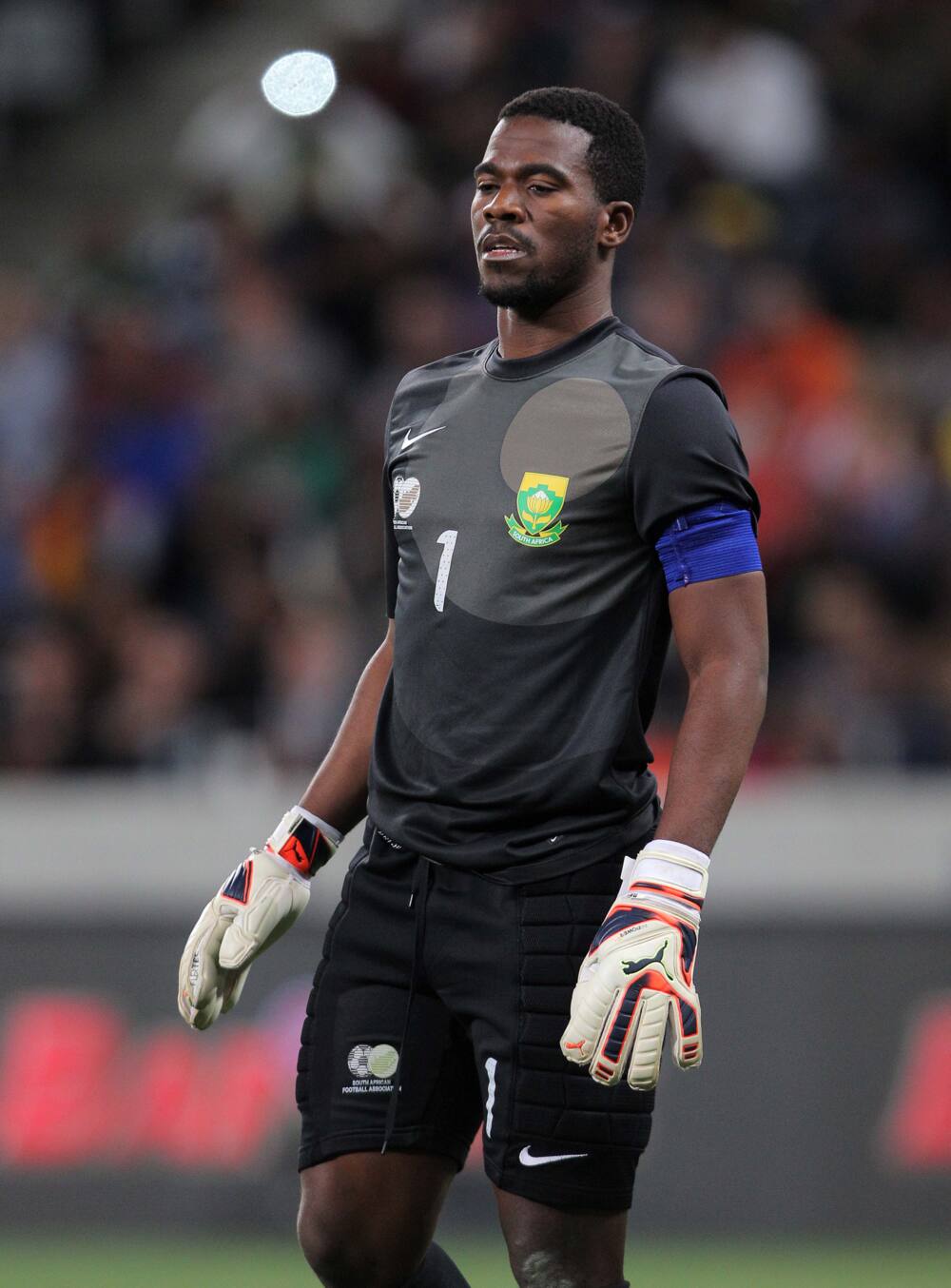 Aftermath of Senzo Meyiwa's death and his funeral
South Africans were outraged over the death of Meyiwa and they decided to honour the late Orlando Pirates goalkeeper. As a sign of respect, the Soweto Derby between the Bucs and Kaizer Chiefs on 1 November, 2014 was postponed.
Then-president Jacob Zuma was amongst the thousands of Saffas who mourned Meyiwa's death. Msholozi called for his killers to be brought to justice. On 1 November, Meyiwa was laid to rest in a state funeral which took place at the Moses Mabhida Stadium in Durban.
The service was attended by friends, family, football fans and other members of the soccer community.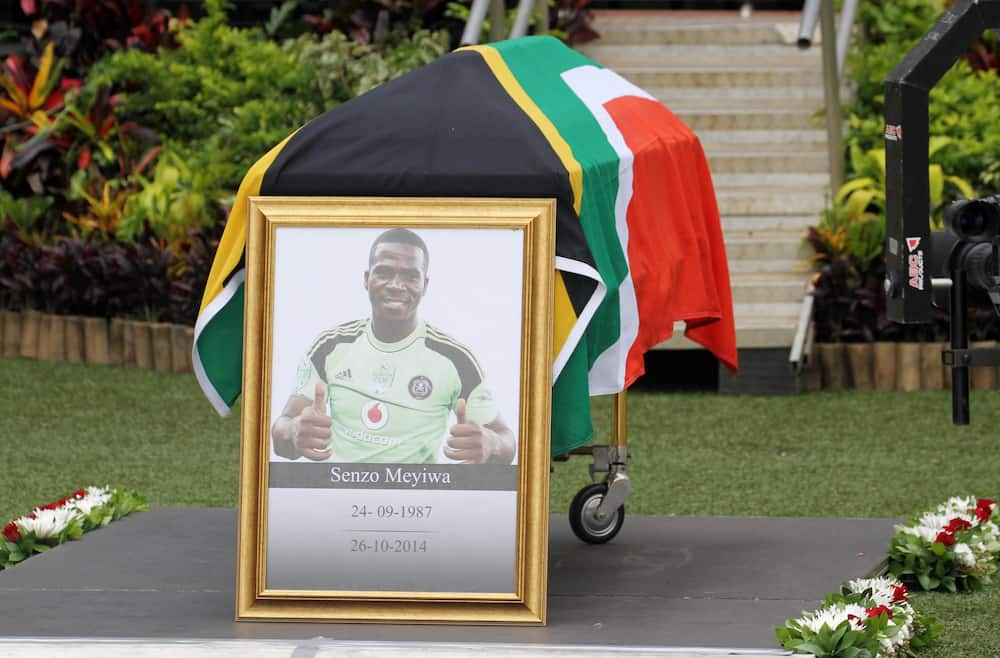 Among those who showed up to pay their respects were Dr Irvin Khoza, Kaizer Chiefs chairman Kaizer Motaung, Mamelodi Sundowns owner Patrice Motsepe, SAFA President Dr Danny Jordaan, General Bantu Holomisa, Bheki Cele, former premiers of KwaZulu-Natal S'bu Ndebele, Dr Zweli Mkhize, Fikile Mbalula, Senzo Mchunu and Jeff Radebe.
Meyiwa was buried in Chesterville, KwaZulu-Natal.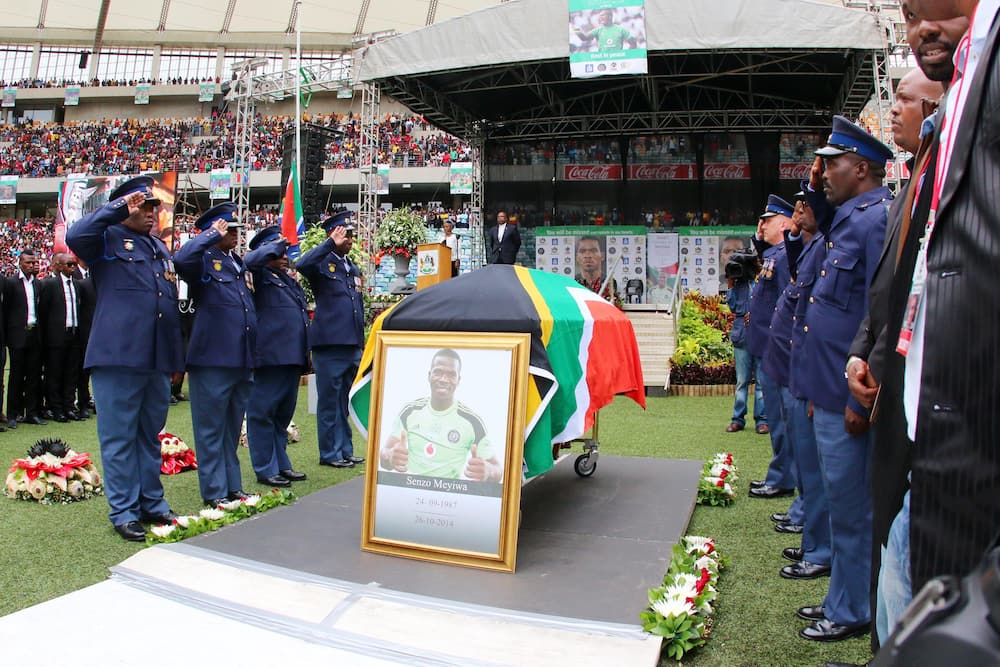 The Senzo Meyiwa murder investigation
For the past six years, the South African Police Service's efforts to find and convict Meyiwa's killers have proved to be futile - which sparked outraged in Mzansi.
South Africans, including Meyiwa's family, have called for justice but exactly what happened and who was responsible for the murder remain a mystery.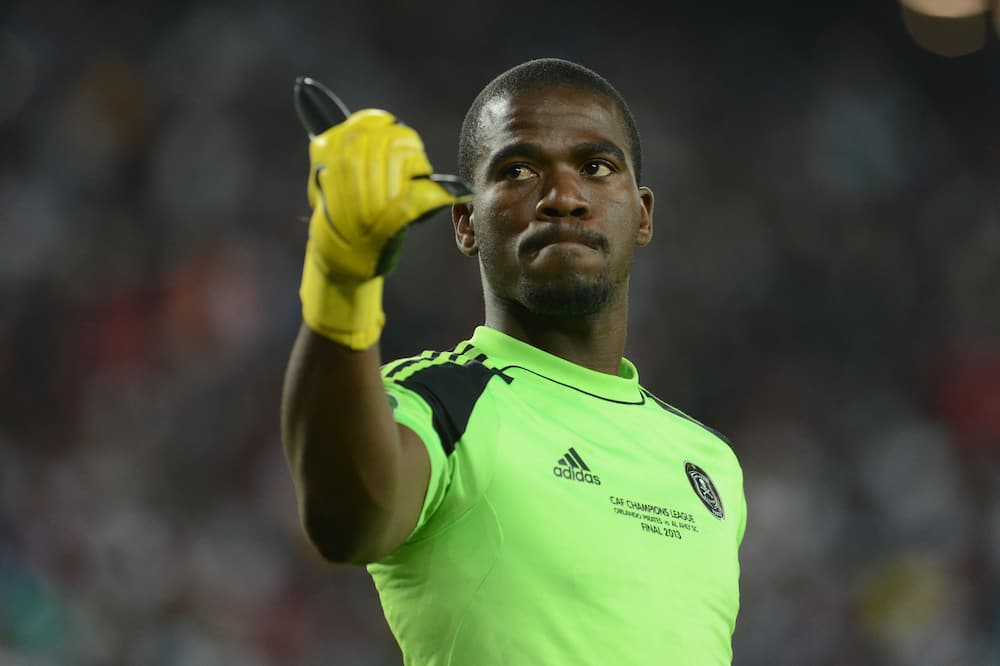 Last week, the police team probing the murder of Senzo Meyiwa scored a major breakthrough after finding the weapon used to kill the former Bafana Bafana legend. A recent report claims that police have identified the man who allegedly fired the shots which would result in Meyiwa's death in October 2014.
A senior police official involved in the case explained that the firearm and the identity of the man accused of pulling the trigger were crucial to the investigation and signalled his hope that this would help solve the 'complex' case.
Despite the cops' claims, South Africans don't have much faith in them. Citizens saw Senzo's name trending on social media as they expressed their frustration and outrage over the progress of the investigation.
Numerous Saffas felt that the matter was being used as a political tool or a PR stunt and weren't shy about voicing this opinion. One user pointed out that elections for local government are fast-approaching and this may have fuelled the sudden update:
"A part of me does not trust this story that the police found Senzo Meyiwa's murder weapon. ANC elections are very close and people like Bheki Cele are pulling stunts to appear like they are actually doing the job while in reality there are not. Cele might be conning us."
However, Meyiwa's family believe they know who took the life of the goalkeeper. While speaking to Newzroom Afrika on Tuesday, 20 October, his cousin, Siyabonga Miya, pointed the finger at who they think murdered Meyiwa.
Miya said that a phonecall made by Meyiwa's friend Tumelo Madlala shortly after the incident implicated a man known as "Zandile's boyfriend".
"And then in the background, Kelly was crying saying, 'Kodwa ngizothini ku ma kaSenzo (what will I say to Senzo's mom)'," Miya said.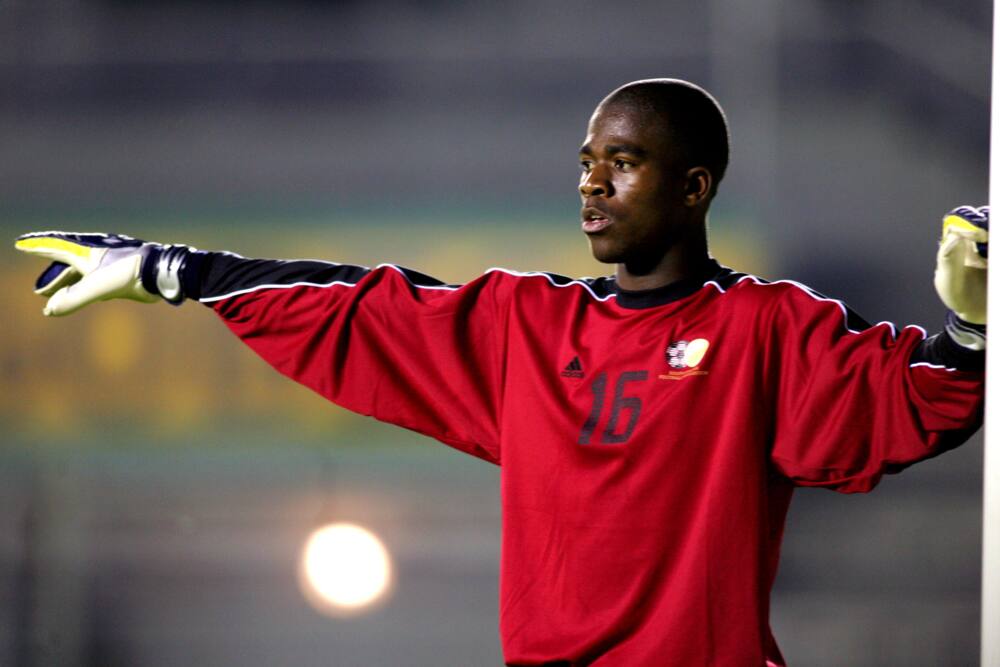 Most recently, Briefly.co.za reported Police Minister Bheki Cele is set to update South Africans on the progress made in former Bafana Bafana icon Senzo Meyiwa's murder on Monday afternoon.
A Sunday Independent report claimed that five alleged hitmen have been issued with arrest warrants. The report claimed that the suspects are already in prison for other crimes committed and are expected to appear in court this week.
The report detailed how the head hitman had confessed his crime, claiming that they had been promised R250 000 to carry out the murder. A person Meyiwa had promised money to is reportedly at the centre of this plot and responsible for hiring the hitmen.
IOL reports that National Prosecuting Authority spokesperson Sipho Ngwema opted not to confirm or deny the report that Meyiwa's killers would be appearing in court at last:
"The NPA neither issues nor executes warrants. Further, we can only arrange for the appearance of accused persons once there are suspects that have been arrested, charged and need to appear before court."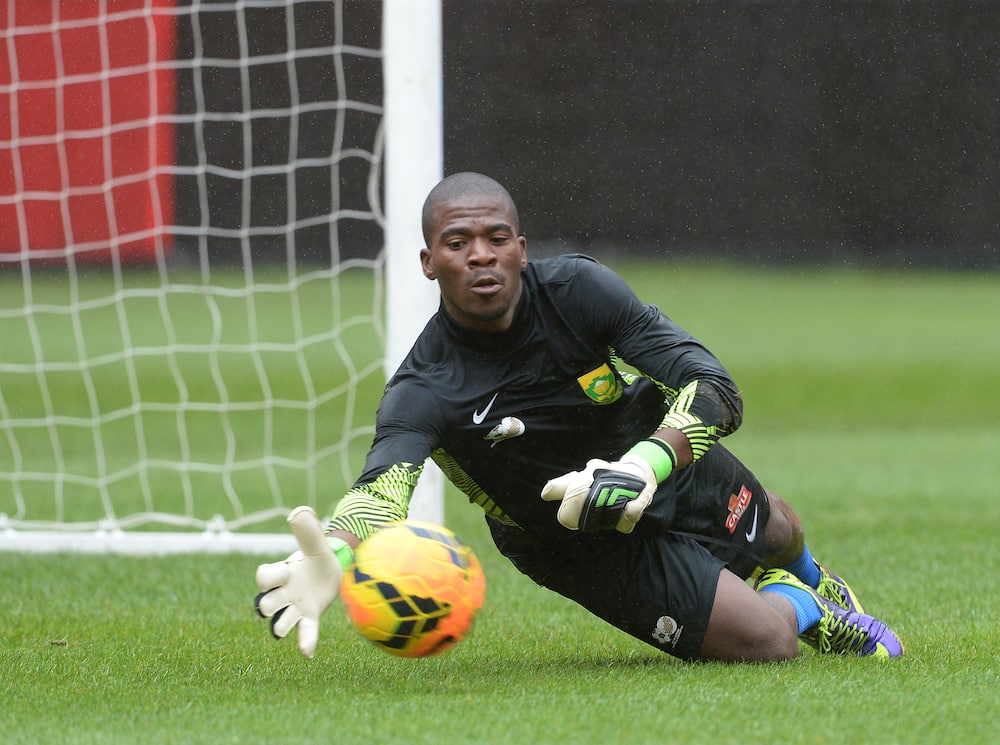 Kelly Khumalo and Meyiwa's death
A recent report suggested that a hitman allegedly responsible for Senzo Meyiwa's death implicated Kelly Khumalo in the footballer's murder. The hitman was questioned and allegedly stated that Kelly had been responsible for the death of her second child's father.
Kelly has consistently denied any involvement in Meyiwa's death, addressing the allegations at multiple times over the years. The singer is adamant that she supported investigations into the death of her lover, actively pursuing justice for her baby daddy.
In other news, President Cyril Ramaphosa is expected to update South Africans on the nation's plan to combat Covid-19 amid the pandemic that has gripped the country since March. Infections in Mzansi are on the rise since the relaxation in restrictions, allowing the vast majority of the economy to reopen.
Politicians have been urging citizens to practice the preventative strategies for avoiding infections as plans are made to breathe life into the flagging economy. Meanwhile, Ramaphosa has addressed public transport issues in his weekly letter to the nation.
Enjoyed reading our story? Download BRIEFLY's news app on Google Play now and stay up-to-date with major South African news!
Source: Briefly.co.za