Lena Ash: 29-year-old woman cannot recognise her own face
- Lena Ash is a 29-year-old Russian woman suffering from a cognitive disorder called prosopagnosia and she says it has not been easy for her
- Prosopagnosia is a rare condition that makes it impossible to recognise faces, including one's own
- Lena has a technique she uses in recognising her own face and she also uses the same technique to tell people apart
PAY ATTENTION: Click "See First" under the "Following" tab to see Briefly.co.za News on your News Feed!
A 29-year-old Russian woman identified as Lena Ash is suffering from prosopagnosia, a rare condition that makes it impossible for her to recognise faces, including her own.
The young woman said people usually think she is arrogant or rude when she passes them by without greeting them.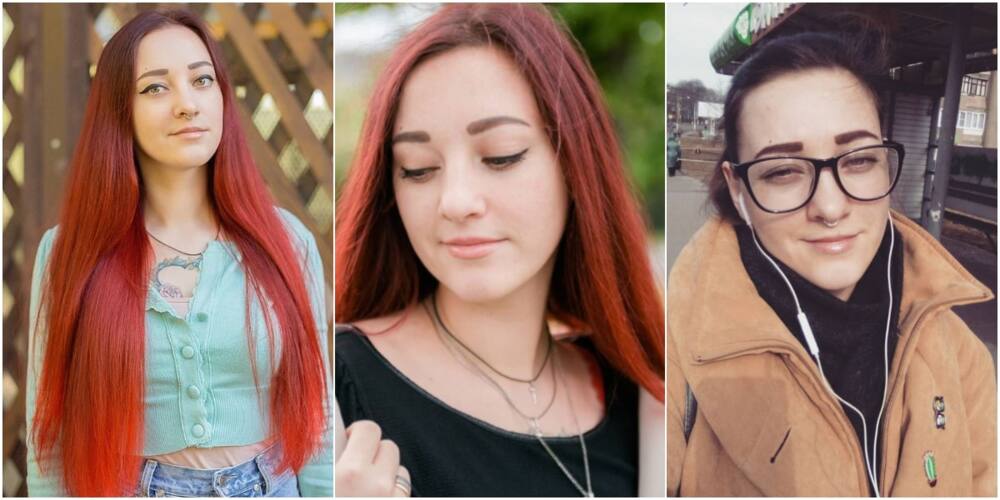 Ash has however devised a technique she uses in recognising her own face and those of other people, Bright Side reports.
She said:
"I use some life-hacks to recognise my own face. When I look in the mirror or at a photo of myself, I understand who is in front of me by the mole above the eyebrow, the shape of my hairline, by the scar on my chin and the shape of the nose. I know my facial features and can keep them in my head."
According to Ash, her husband with and without a beard looks like two completely different people to her. The woman has also taught herself to recognise people's voices in order to tell them apart. She makes memories of people's voices and relies on them.
Ash said when she picks up her son from kindergarten, it really helps that he yells 'Mum!' when he sees her. She said her son has a bright orange backpack that helps her in telling him apart.
She focuses on certain irreplaceable features, like noticeable moles, scars, tattoos or crooked noses to tell people apart.
Ash said:
"Some people don't believe me when I tell them about my condition, while others are understanding and ask me how I live without being able to recognise faces."
The disorder has no cure or treatment.
In other news, a Chinese woman has made headlines after bringing 23 members of her family on a blind date to test her lover. The unknown woman took her large clan to the romantic occasion without informing her date in advance.
It turns out that the bill, which ended up being over R40k, was eventually shared between the boyfriend and the family.
Enjoyed reading our story? Download BRIEFLY's news app on Google Play now and stay up-to-date with major South African news!
Source: Briefly.co.za