Ndlozi, SA condemn decision to erect ANC-branded statue of OR Tambo
- President Cyril Ramaphosa unveiled a statue of struggle veteran Oliver Tambo on Tuesday morning
- The statue, decorated with an ANC lapel, has been met with fierce criticism by citizens and Mbuyiseni Ndlozi of the EFF
- With a previous statue in honour of Tambo already situated at the airport, many have questioned the timing of this move
PAY ATTENTION: Click "See First" under the "Following" tab to see Briefly.co.za News on your News Feed!
President Cyril Ramaphosa unveiled a statue of Oliver Tambo at the Joburg international airport named after the struggle veteran.
However, many have found the move in poor taste, especially considering that there already is a statue in Tambo's honour in the airport. The EFF's Mbuyiseni Ndlozi is one of those who had something to say.
The pandemic and the nation's current economic crisis has also fuelled discontent over the situation.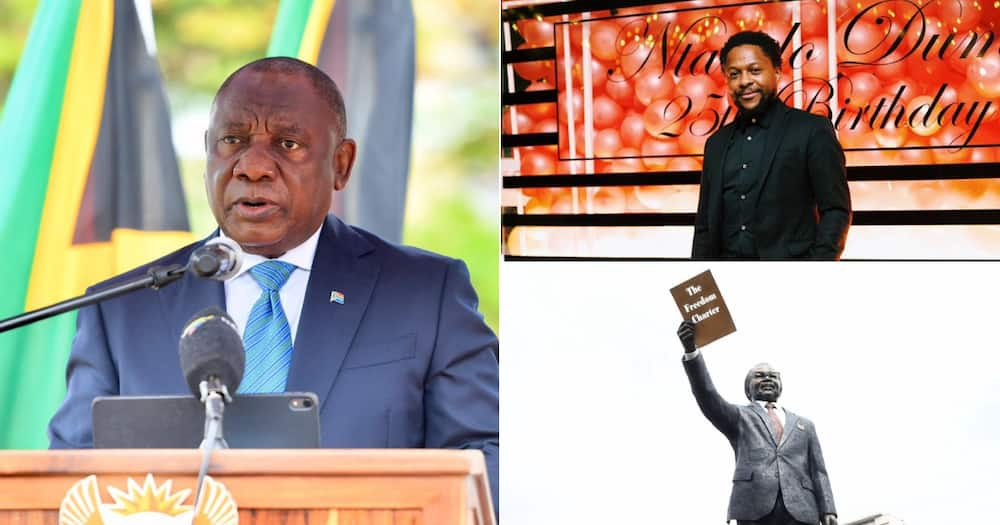 Economic Freedom Fighters MP Mbuyiseni Ndlozi has lashed out over the ANC lapel on Tambo's chest, commenting:
"Why put an ANC logo on a public statue that everyone should relate to? Why use state fund to erect ANC statues? This is not a public statue, it's an ANC statue which must be rejected until they remove this irritating, degenerate logo of the African National Corruption! Nxa!"
Take a look at some other reactions to the statue, which is currently trending on social media:
@Anelemabuya- "OR Tambo died a long time ago... we are grateful for his contribution kodwa hayi not another statue. Already the airport is named after him. Nizokwenza singamhloniphi ke lobaba.#ORTambo."
@Dakalo_Masakona- "In midst of a pandemic, inequality, GBV, corruption and unemployment, ANC government is unveiling a statue of their comrade, costing millions. On top of that, they put ANC logo to tell you that this is about politics."
@PruWolfie- "A statue costs millions, I'm sure he would be very upset, he would have wanted that money to go into townships help families, so so sad, people needed that money more. Memories last forever, poverty kills families."
@gopolang6- "12 million South Africans are now unemployed. A statue costing millions unveiled. GBV is at its peak. OR Tambo had a statue inside already. It is all about politics."
@MilowoMazwane- "In 2017 they unveiled a statue of OR Tambo at the very same airport. What level of stupidity could this be? Which sane leader would allow for such nonsense?! Arga maan niyadina."
@skhumali- "Our government really doesn't know how to read the room. Kungathi kunje, they are busy unveiling statues."
Earlier, Briefly.co.za reported the statue is situated outside OR Tambo International Airport in Gauteng and is the second of its kind. The first was unveiled by former president Jacob Zuma.
The month of October has been declared by the City of Ekurhuleni as OR Tambo Month and the nine-metre tall bronze statue of OR Tambo will be unveiled exactly 103 years since the birth of the globally respected leader.
The president commented that the struggle veteran and longest-serving ANC president was the international voice of the nation's liberation movement:
"To the world, OR Tambo was the voice of South Africa's liberation movement. He articulated the aspirations of every South African man, woman and child who yearned for freedom. His name was known around the world, from Oslo to London, from Accra to Moscow."
Enjoyed reading our story? Download BRIEFLY's news app on Google Play now and stay up-to-date with major South African news!
Source: Briefly.co.za