SA reacts to start of Senzo Meyiwa trial: "SAPS is clowning again"
- South Africans have been waiting for today, the start of Senzo Meyiwa's murder trial, for 6 years now
- However, the first court appearance of the first five suspects have left the nation feeling somewhat uneasy
- Many have raised suspicions that the suspects have nothing to do with the murder of the soccer icon
PAY ATTENTION: Click "See First" under the "Following" tab to see Briefly.co.za News on your News Feed!
The nation has been eagerly awaiting the day that the wheels of justice can start turning in the murder investigation into Senzo Meyiwa's death.
But shortly after proceedings kicked off in the Boksburg Magistrate's Court many started feeling uneasy with the situation.
Even Economic Freedom Fighter deputy president Floyd Shivambu doesn't seem convinced, commenting that:
"It looks like SAPS is clowning again!"
The incident was soon topping the trending charts on social media as South Africans weighed in with their opinions.
Take a look at just a few responses to the situation below:
@_AfricanSoil- "#SenzoMeyiwa Suspects are used as scapegoats. They might have committed other crimes but not linked to Meyiwa. We are being taken for a ride here; people (including the police) will be exposed and it will end in a catastrophe."
@advovolicious- "The murder weapon which was used in killing Senzo Meyiwa was found in a police locker 6 years after the murder happened.SAPS covered this up for 6 years and only revealed it recently. The police can not be trusted."
@tumisole- "I truly hope that #SenzoMeyiwa killers rot in the jail! More importantly that we get to know the truth and circumstances that led to his murder. The Meyiwa family together with all victims of crime deserve closure!"
@Vanny_Vavi- "Imagine the incompetence regarding NPA and SAPS with Senzo's case. Can you imagine those of us who are not even known? Is Justice never being served? Yoh hai it's tough in Mzansi. We are on our own #SenzoMeyiwa"
@Fulunem- "The SAPS is bungling this case to cover up the case tempering that was done by one of their own. At the end, no court will be able to proceed with this case as SAPS deliberately sabotage the NPA. Won't be surprised when Pinky Pinky gets accused of this murder!"
@kjnr_khumalo- "I am even afraid of going near a police station now. The ways things are going with that #SenzoMeyiwa case you could be just going to certify your ID copies and then next thing you are at the back of a bakkie to the Boksburg Magistrate court."
@khayadlanga- "I can only explain what is going on with this #SenzoMeyiwa case with Xhosa expression, 'Yinyova damn yodwa le.'"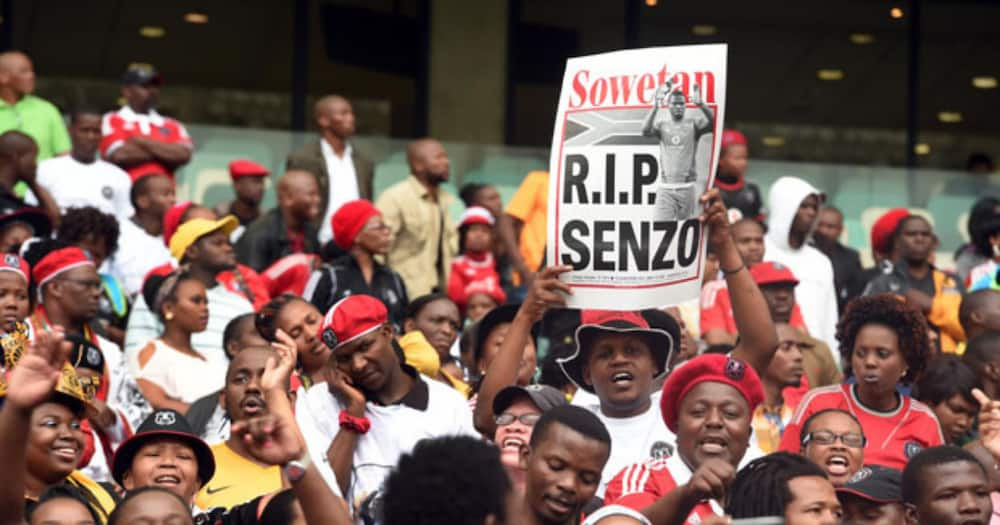 Earlier, Briefly.co.za reported that at the Boksburg Magistrate's Court, the suspects accused of the crime refused to enter the dock, denying any involvement in the matter.
The suspect's identities have been revealed as Khulela Themba Sibiya, Bongani Sandiso Ntanzi, Mthobisi Chris Mncube, Mthokoziseni Zifozonke Mapisa and Sifiso Ntuli.
All five suspects are now facing charges of murder, attempted murder and robbery for the death of the soccer icon.
The charge sheet revealed that the investigating officer had questioned how the suspects provided their confessions:
"It is noticeable that EMPD officials were used to transport the suspects for confession. It must be explained why they were used and not SAPS members."
Enjoyed reading our story? Download BRIEFLY's news app on Google Play now and stay up-to-date with major South African news!
Source: Briefly.co.za