Doctor whose skin turned black from Covid-19 treatment recovers
- A medic whose skin turned black from coronavirus treatment made his first public appearance on Monday, October 26 when he visited a hospital
- He went to the facility after he learnt that the doctor who had saved his life was visiting the hospital on the same day
- He wanted to personally thank him after he contracted Covid-19 while treating patients in Wuhan in January
PAY ATTENTION: Click "See First" under the "Following" tab to see Briefly.co.za News on your News Feed!
A doctor from China's Wuhan city whose skin pigmentation changed while receiving Covid-19 treatment has made his first public appearance after his skin colour returned to normal.
Yi Fan's abnormal skin tone was reported to have been caused by an antibiotic drug he had taken during intensive care, a spokesperson previously said.
The 42-year-old medic appeared at the Wuhan's Taikang Tongji Hospital on Monday, October 26, after resting at home for over five months, Daily Mail reported.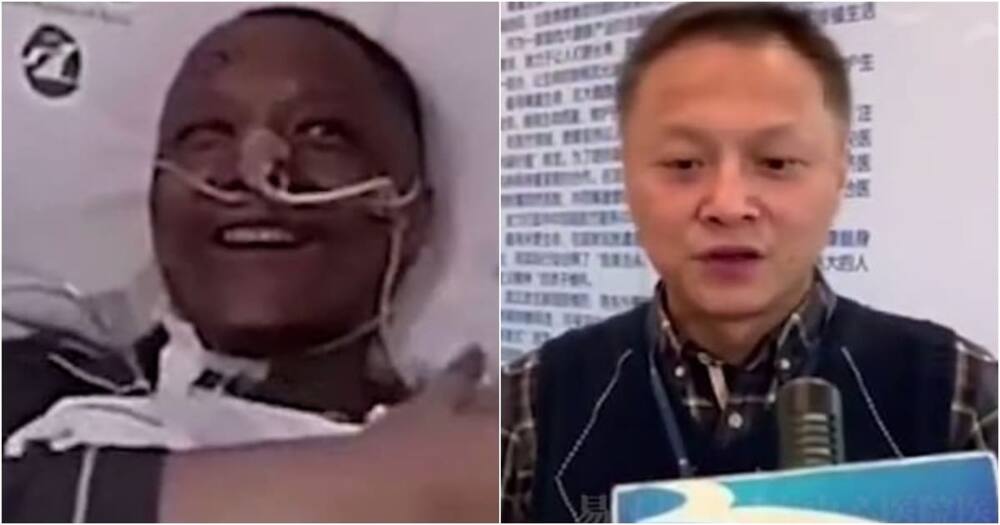 A video released by Hubei Today showed the medic looking like his old self, in good spirits and not wearing a face mask.
According to the report, Fan visited the facility to thank the doctor, Wang Chen, who saved his life after he learnt that the medic would be at the hospital on Monday.
The clip showed Fan saying thank you to Chen, who is an academician specialising in respiratory diseases and critical care.
'Academician Wang is my saviour. I need to thank him for sure,' Fan told journalists at the scene as he gave Chen a bouquet.
Fan, who is a cardiologist at Wuhan Central Hospital, contracted Covid-19 in January while treating patients at a Wuhan hospital.
Another doctor who contracted the diseases while on the frontline like him, identified as Hu Weifeng, also suffered the skin colour changes while receiving treatment
He later died in early June 2020, after fighting the disease for nearly five months.
The two were colleagues of late Covid-19 whistle-blower Li Wenliang, who was reprimanded by Wuhan police for sounding the alarm of the virus and later died from the disease.
Briefly.co.za previously reported on a video of the two medics lying on their sickbeds with their dark skin on April 6 in Wuhan's Tongji Hospital went viral, capturing the world's attention.
Medics attending to them at that time said they had given Fan and Weifeng Polymyxin B, a last-resort antibiotic.
They said the drug had caused hyper-pigmentation in the doctors' bodies, but the condition would slowly disappear as they recovered, according to a televised clip of a press briefing on May 9.
Initially, the medical team thought that their abnormal skin colour was caused by hormonal imbalances after the virus had damaged their livers. Fan said his condition improved after doctors hooked him to a life-support machine called an ECMO for 39 days.
He confessed that the ordeal of battling the deadly disease had, to a certain degree, traumatised him.
"When I first gained consciousness, especially after I got to know about my condition, I felt scared. I had nightmares often," he told a CCTV reporter.
He said he was trying to overcome the psychological hurdle. He added doctors often comforted him and had arranged counselling for him. Fan was discharged by the hospital in early May. It is reported that he has totally recovered from Covid-19.
Enjoyed reading our story? Download BRIEFLY's news app on Google Play now and stay up-to-date with major South African news!
Source: Briefly.co.za