Medium-Term Budget Statement: Mboweni details SA's financial situation
- Finance Minister Tito Mboweni has tabled his medium-term budget speech on Wednesday afternoon
- With the Covid-19 pandemic having wreaked havoc this speech is an update on the nation's finances
- Briefly.co.za explores the updates provided by the Minister during this sensitive financial period
PAY ATTENTION: Click "See First" under the "Following" tab to see Briefly.co.za News on your News Feed!
Finance Minister Tito Mboweni has tabled his Medium-Term Budget speech on Wednesday afternoon.
Minister Mboweni has likened the economy at the moment to the dawn of democracy in South Africa:
"We must rebuild our economy, rehabilitate our public finances and recover from the devastation wrought upon us by Covid-19. As we rose to that fiscal challenge, so we will rise to this one."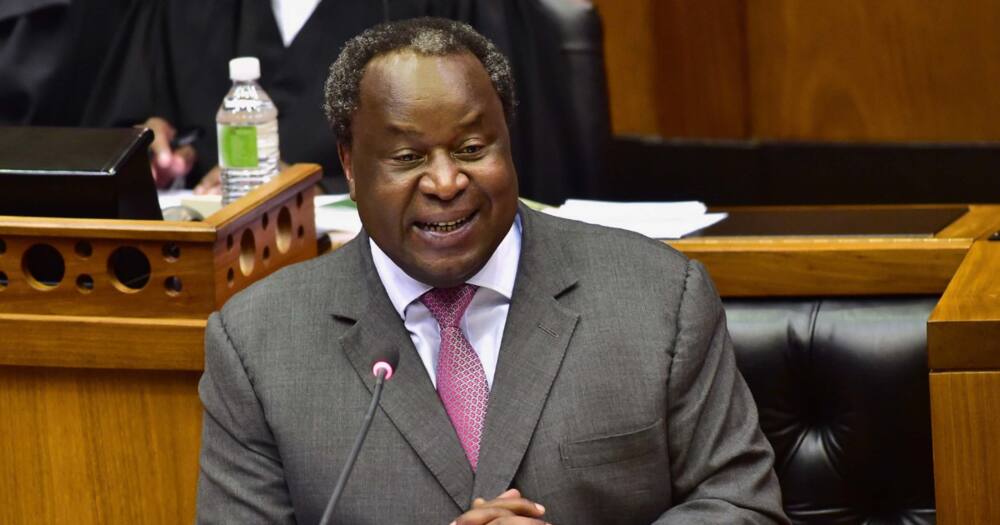 The economy is expected to contract 7.8% this year, and the 2021 outlook is more uncertain. Job losses have bee 'particularly severe' acknowledges Mboweni.
Mboweni has highlighted improving South Africa's electricity supply as urgent. Commenting that there is 'progress' in allowing municipalities to purchase electricity from alternative sources the minister said:
"In line with our plan, there is progress in allowing municipalities to buy electricity from different sources. In addition, the way has been opened for the procurement of almost 12 000 MW of new electricity capacity to be provided by independent power producers."
Tax revenue for the next financial year is forecast to be R312.8 billion lower than previously projected.
Mboweni warned that the level of state debt is high, cautioning against following the same fate as other nations who failed to stabilise government spending.
Mboweni further provided an explanation as to where the R500 billion Covid-19 relief package announced in April:
More than R30 billion for health and other frontline services
Support vulnerable households which is now in excess of R50 billion
More than R40 billion for wage protection through the UIF
Around R100 billion for job creation initiatives, which will now be spread over the MTEF
R200 billion for a credit guarantee scheme
R20 billion towards municipalities to assist them with Covid-19 related activities
R70 billion towards emergency tax measures
Mboweni has touched on the changes in allocations to government departments, commenting that:
"We are happy to announce today that we are allocating R12.6 billion in this financial year to the game-changing employment initiatives championed by the President."
A further R600 million will then be distributed to employ early childhood development and social workers, while R2 billion has been allocated to Working for Fire, Water and Forests.
The minister admitted that the South African government is currently in talks with BRICS to extend a further $1 billion loan to the nation.
South African Airways has been allocated R10.5 billion to implement its business rescue plan.
On the bloated public wage bill, Mboweni says there needs to be a new 'consensus' on public-sector employee compensation:
"Over the past five years, public sector employee compensation grew by 7.2 per cent a year on average- well above inflation. Over the next five years, it will need to grow much, much slower. We must do more with less, and that we are all in this together."
Enjoyed reading our story? Download BRIEFLY's news app on Google Play now and stay up-to-date with major South African news!
Source: Briefly News