Tito Mboweni facing charges over comments on Tygerberg Hospital
- Tito Mboweni recently claimed that Tygerberg hospital still has reminders of the apartheid era, calling for the facility to be rebuilt
- However, Western Cape Health MEC Nomafrench Mbombo has condemned the comments, insisting it was a lie aimed at distracting the public
- DA Chief Whip Natasha Mazzone has announced that the party will be laying charges against the minister for his comments
PAY ATTENTION: Click "See First" under the "Following" tab to see Briefly.co.za News on your News Feed!
Finance Minister Tito Mboweni has drawn the ire of the Western Cape government after claiming that Tygerberg hospital still had racially segregated pathways from the apartheid era.
In a statement released by the Western Cape Minister of Health Nomafrench Mbombo, the provincial government has signalled its outrage over the minister's comments:
"I am completely dismayed at the remarks made by Finance Minister Tito Mboweni about Tygerberg hospital in his budget speech in which he claims that wards are racially segregated. This is an outright lie and Minister Mboweni should be made to apologize for misleading the house."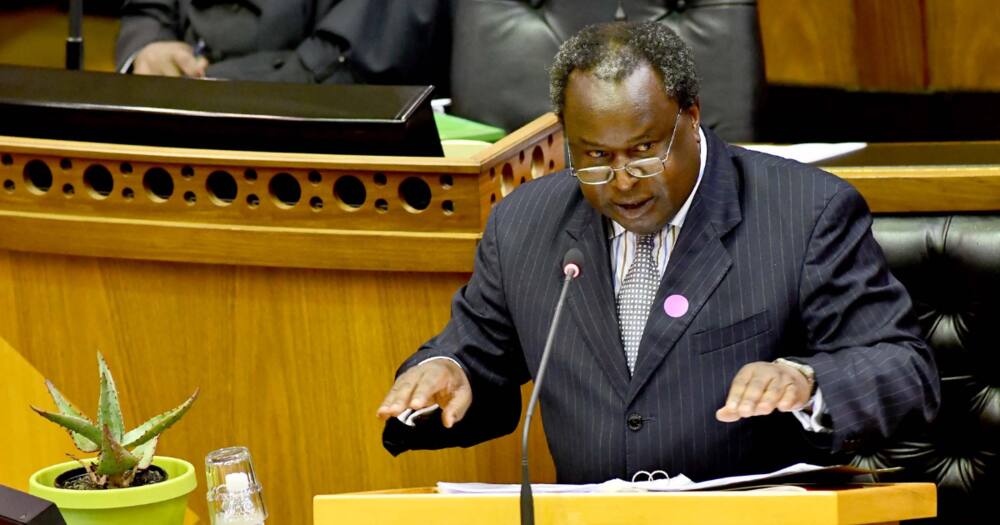 The local government, led by the Democratic Alliance, is adamant that the outrageous claim was aimed to distract from the billions allocated to bail out South African Airways:
"This 'Fake News' has one objective in mind: to detract from the ugly truth that the National Government is going to pour another R10.5 billion into the bailout of SAA. This multi-billion flight of fancy will undermine the jobs, safety and wellbeing of millions of South Africans, and the Western Cape Government will have to help pick up the tab."
Mbombo sought to clarify the truth of the situation after Mboweni's comments draw attention to specifically the lone hospital, commenting that:
"Tygerberg was the nationally designated Covid-19 referral facility in the province during the Covid-19 pandemic due to its world-class expertise in infectious disease specialists."
The regional health boss continued to explain that the doctors at this facility were also the first in the country to introduce the use of high flow nasal oxygen to treat seriously ill Covid-19 patients.
Mbombo insists that the hospital and the staff that work there are world-class, concluding by remarking that:
"To claim that these dedicated men and women who have worked long, difficult shift over a period of months to save lives, would stand for racial segregation in their wards is deeply insulting."
The DA has announced that it will be laying charges against Mboweni for his 'lie' with Chief Whip Natasha Mazzone commenting:
"His petty utterances are an insult to the Tygerberg health professionals who have sacrificed all to save lives during a global pandemic."
Earlier, Briefly.co.za reported that Mboweni had tabled his Medium Term Budget Statement to Parliament on Wednesday.
Mboweni had highlighted the high level of state debt, whilst still allocating billions to the SAA despite apparent failure to breathe new life into the SOE.
This move has been met with fierce condemnation as citizens criticise the cut to funding for far more critical portfolios.
Enjoyed reading our story? Download BRIEFLY's news app on Google Play now and stay up-to-date with major South African news!
Source: Briefly.co.za