EFF assault trial: Main witness accused of changing his tune too much
- The assault case facing Julius Malema and Mbuyiseni Ndlozi has seen the witness accused of changing his tune too many times
- The case, brought forward by a police officer who claims the EFF members assaulted him, is playing out in the Randburg Magistrate's Court
- Advocate Hodes has accused Johannes Venter of making his evidence up on the spot
PAY ATTENTION: Click "See First" under the "Following" tab to see Briefly.co.za News on your News Feed!
The case between Economic Freedom Fighters leader and MP Mbuyiseni Ndlozi is continuing in the Randburg Magistrate's Court on Thursday.
Johannes Venter, the cop at the centre of the drama, has been subjected to intense scrutiny as the EFF's lawyers pick apart his story.
Venter related his version of events on Wednesday but his testimony has since been put under the microscope by Advocate Lawrence Hodes.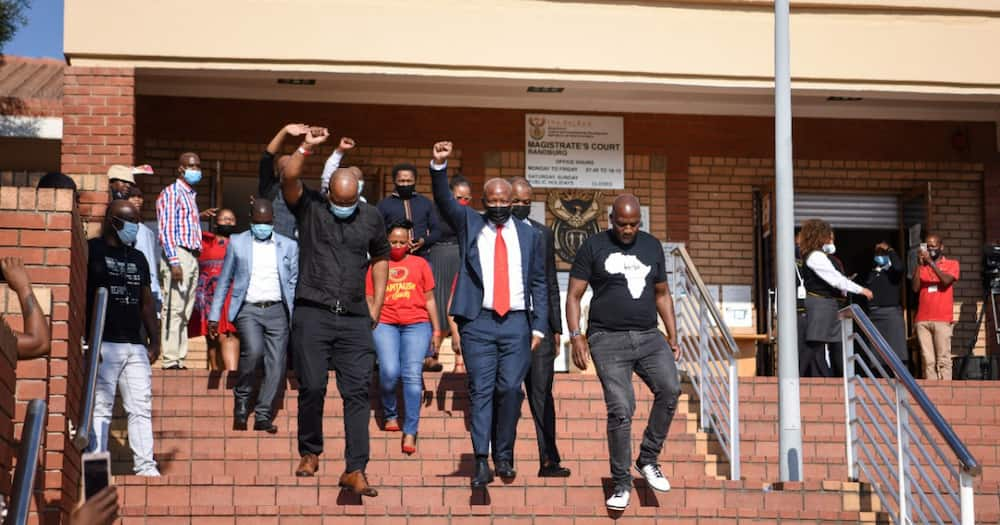 Hodes has highlighted a number of claims that he feels clash:
Venter claimed that he would not have Malema's vehicle to enter the venue of the funeral because it wasn't part of any convoy
Venter claimed that the car didn't have a permit for the cemetery, but instead had an 'item of accreditation'
Venter claims to not have seen the accreditation, despite a video playing in the court showing otherwise
The police official claims that he was the only person attempting to stop the vehicle, pointing out that he was 'the only white man' present at the time
Venter had denied 'pushing Malema's vehicle', insisting that he had been trying to regain his balance
Venter later stated that he had been trying to prevent the vehicle from entering the cemetery 'at all costs'
Hodes, unimpressed with Venter's testimony, stated that he will request the court to find that the officer is 'making his evidence up on the spot':
"Your statement says you were not going to let those people in. Then it became the vehicle. Then it became accreditation. Now it is accreditation or not – they weren't going to get in. I am going to ask the court to draw an adverse inference against you for having shifted evidence like that."
Earlier, Briefly.co.za reported that the assault trial involving Julius Malema and Mbuyiseni Ndlozi continues on Thursday and the situation became heated during a break.
In clips shared online, both Malema and Ndlozi can be seen demanding that the man moves from his position near the accused's dock.
Malema can be heard questioning what the man, believed to be an AfriForum representative, is doing seated where he is.
The EFF leader is heard accusing the man of disturbing witnesses and blocking the path to the bench.
When the man objects, both Ndlozi and Malema can be heard accusing him of lying before the individual concedes and moves his position.
Ndlozi then turns to a nearby police official, telling him, "This is how you move people," labelling the incident a disruption.
Enjoyed reading our story? Download BRIEFLY's news app on Google Play now and stay up-to-date with major South African news!
Source: Briefly.co.za