30 Best mens wedding rings South Africa (with pictures)
Men rarely had wedding bands decades ago. Women wore them as symbols of commitment to their spouses. The custom changed during World War II. Soldiers put on wedding rings before they left for war. They were symbols of eternal love for their wives if they died on the battlefield. Should a man buy his own wedding ring? The customs of the families whose children were getting married determined how they handled the matter. In many communities, the brides' families bought the mens wedding rings. Today, the couple or their families agree on what to do.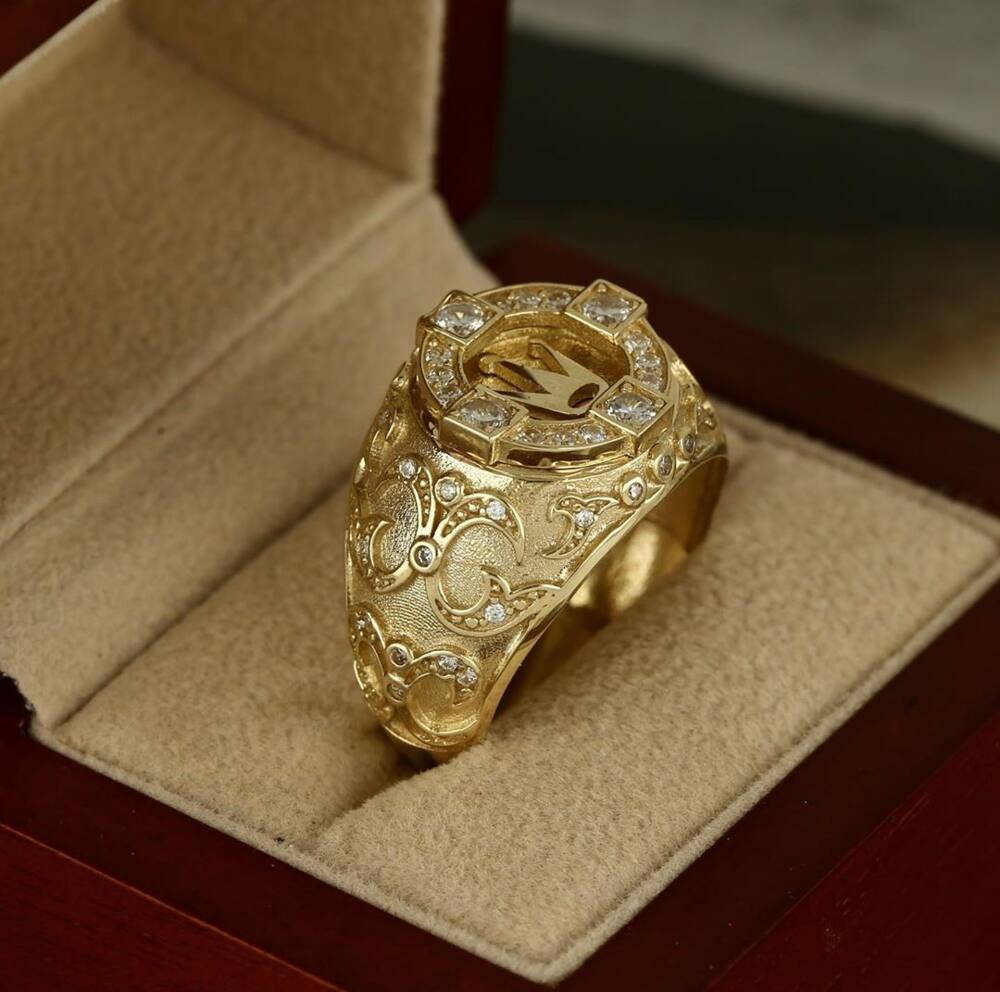 Couples conformed to specific rings depending on the meanings that their communities attached to the bands. While some conservative people still respect their customs in this era, others dropped their traditions. They attach personal meanings to wedding bands and choose whichever band attracts them.
Affordable mens wedding bands
What is the best mens wedding ring? Although most men pick tungsten bands, they compromise if they cannot get what they want. Brides treasure unique but affordable rings; hence, they might demand distinct mens wedding bands for their fiancés. A couple should take a look at the following types of wedding rings for men to make an informed decision.
Leather wedding rings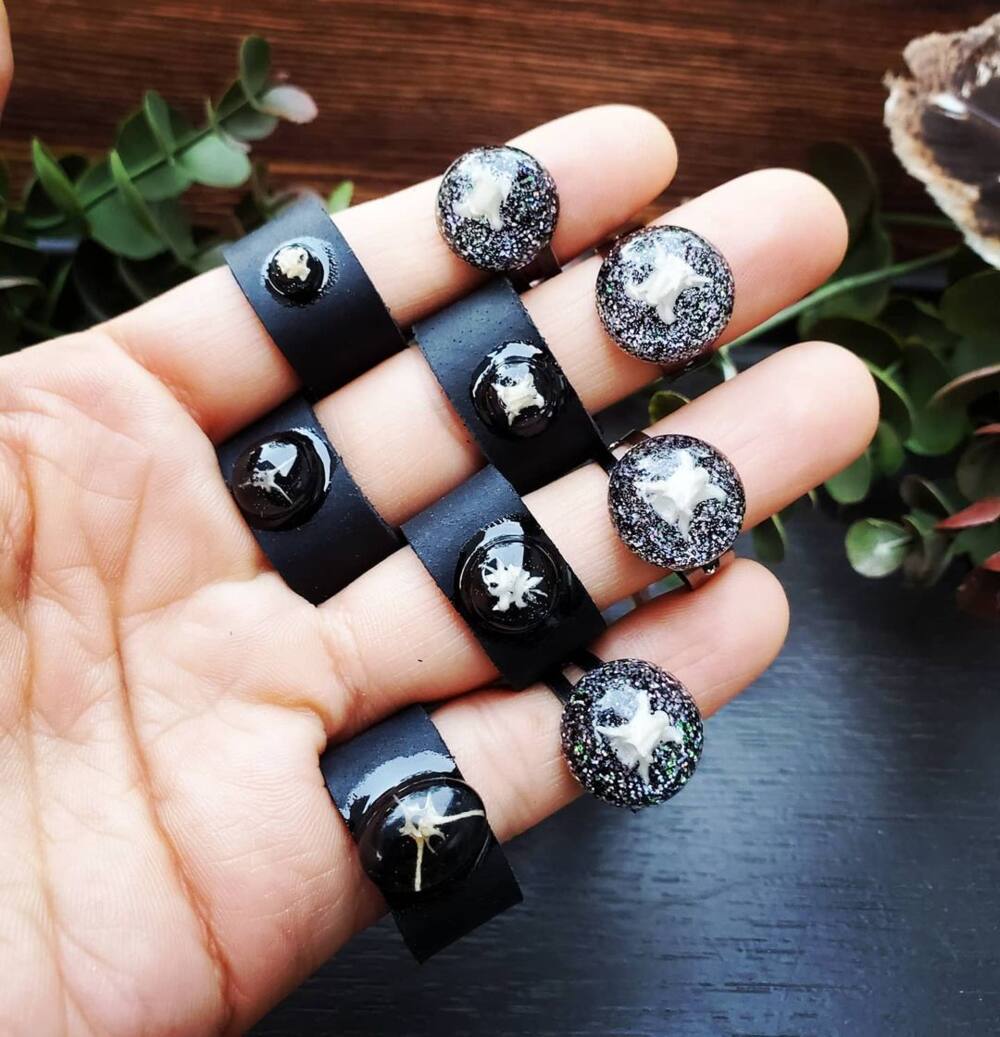 You may be surprised to learn that people wear leather rings in this era. Many people are fascinated by these wedding bands; hence, they try them on and get used to them. Some couples need leather bands for their traditional marriage ceremonies.
Gold wedding bands
Gold rings symbolize wealth and luck in many cultures globally. Although they will remain trendy and valuable for generations, they are not the most expensive bands. There are several gold shades like kiwi, nectar, vegas, Inca, and Yuma. There are various gold-plated rings from the overlay, filled, layered, to vermeil. Below are other types of mens wedding bands that will interest you.
Yellow gold rings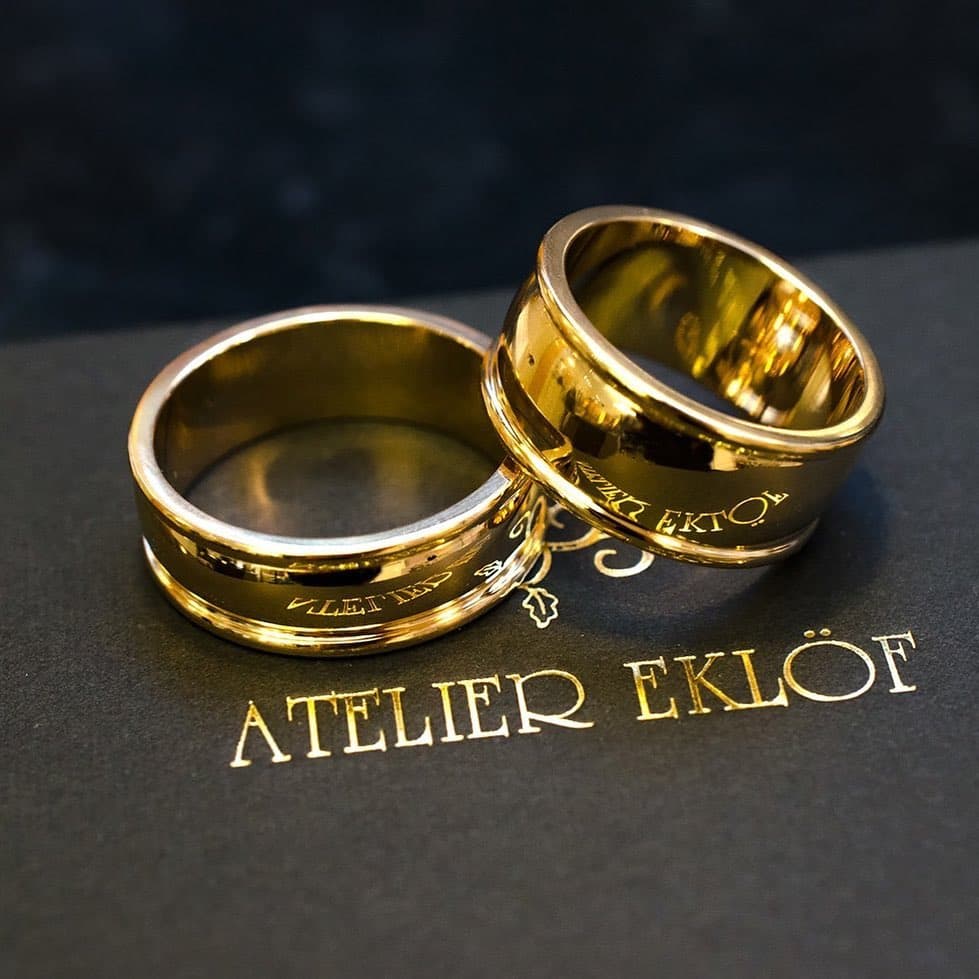 They are made from a combination of zinc, copper, and pure gold. Pure gold bands get scratched quickly because they are too soft. Wedding rings made of a mixture of gold and other metals last longer.
Red gold rings
Varieties of copper amounts are mixed with pure copper alloys to create varying shades of red, pink, and rose gold bands. Choose your wedding band wisely because some are coated with gold, yet they are made of other alloys.
White gold rings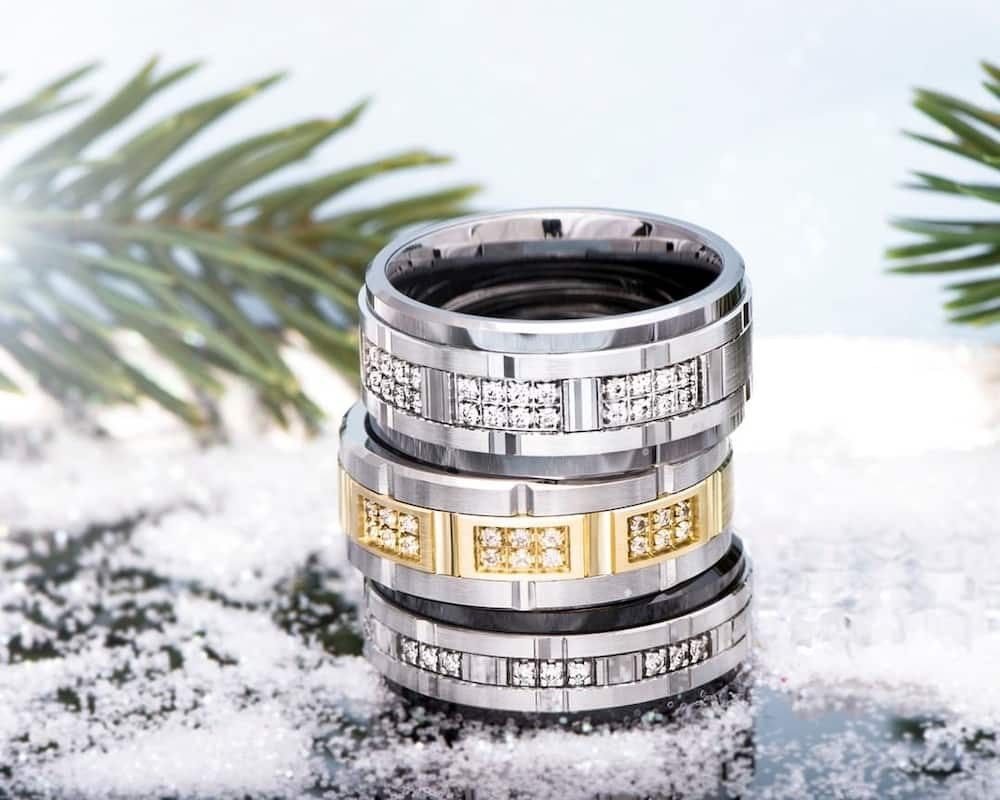 Pick white gold bands when you are on a budget but have good taste. They are created from a mixture of pure gold with Palladium, nickel, and silver. The sparkling surface of the bands is long-lasting.
Black gold rings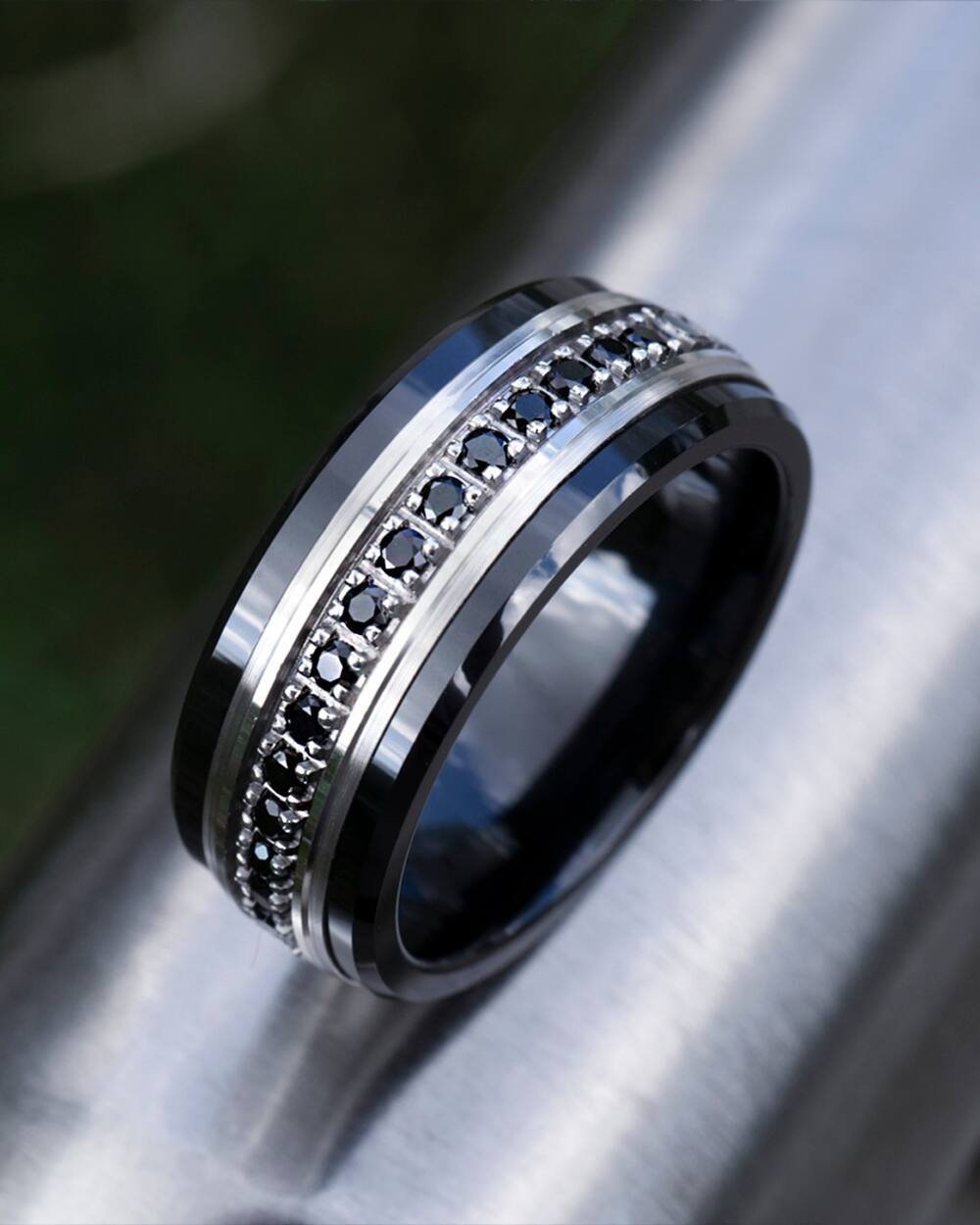 Oxidized gold turns black when mixed with chromium or cobalt. The gold alloy is treated with potassium sulphide to transform into various shades of brown. It can also be decorated with a variety of gemstones.
Silver wedding rings
Silver represents ageing and the elderly; hence these bands are perfect for couples that want to grow old together. Pure silver is too soft to make durable wedding bands. Avoid specific silver men wedding rings if your skin is easily irritable by metals. Silver male wedding rings come in various hues from roman, chalice, blueberry, and more. Below are the types of silver alloys that are used to make wedding bands.
Sterling silver rings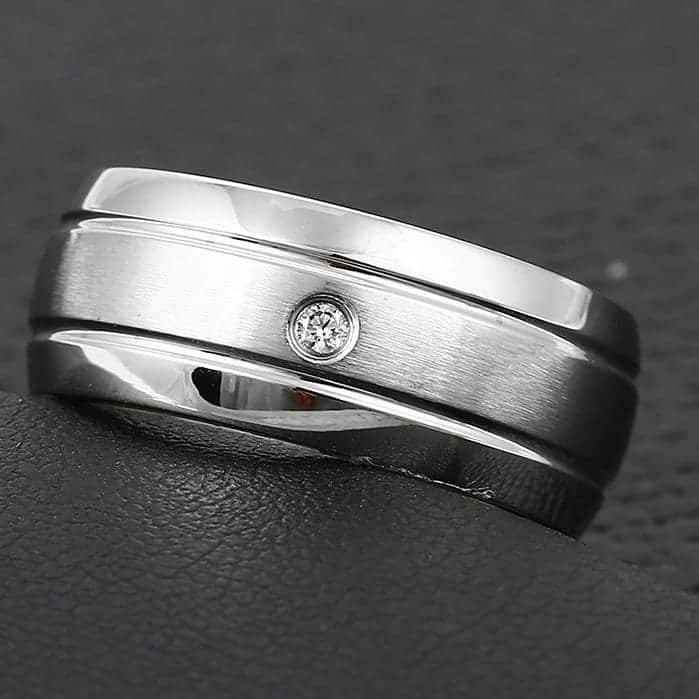 They are grey-white or bright-white and easy to polish. The bands change colour and darken because they oxidize. These bands are made of 92.5% pure silver and 7.5% copper to increase their durability. Non-sterling silver bands are less shiny because they have low amounts of pure silver.
Nickel silver rings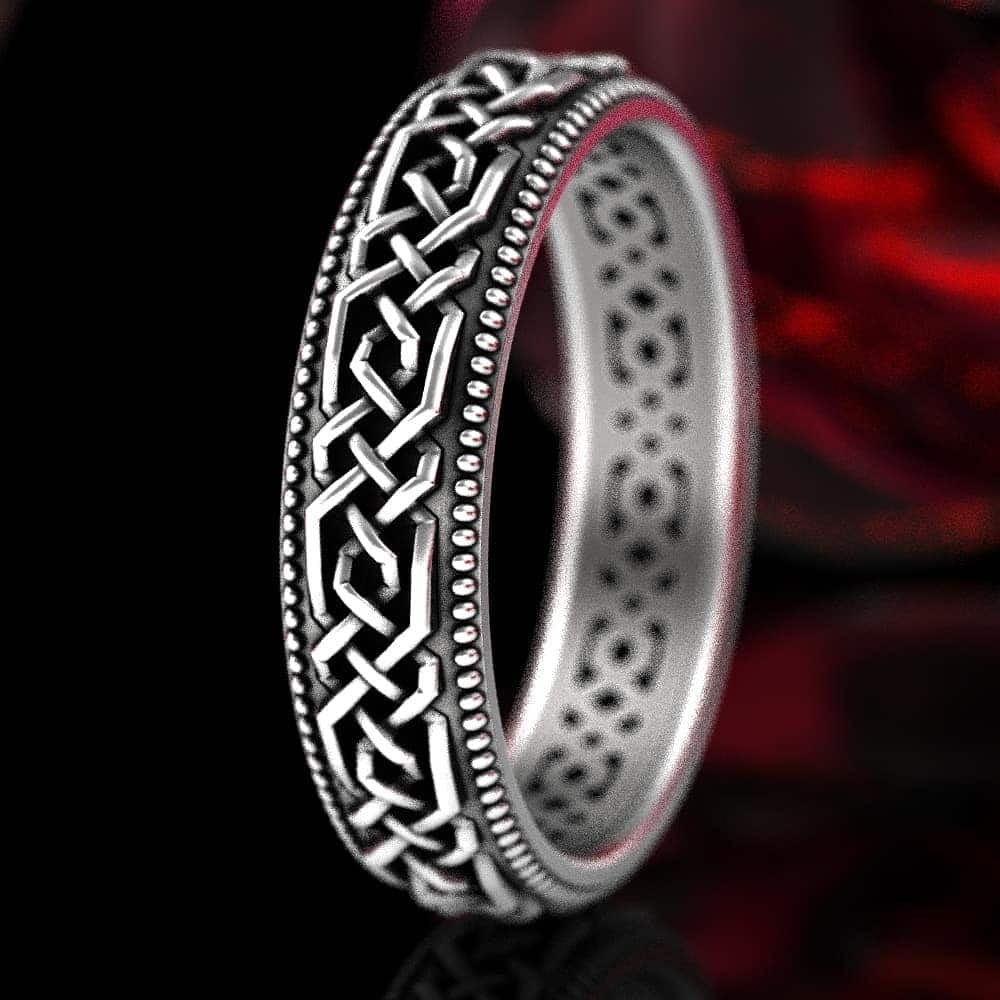 They are inexpensive, but some dubious traders sell them as sterling silver bands because of the metals' striking resemblance. You should consult wedding band experts before buying this band to ensure that it is real.
Tribal silver rings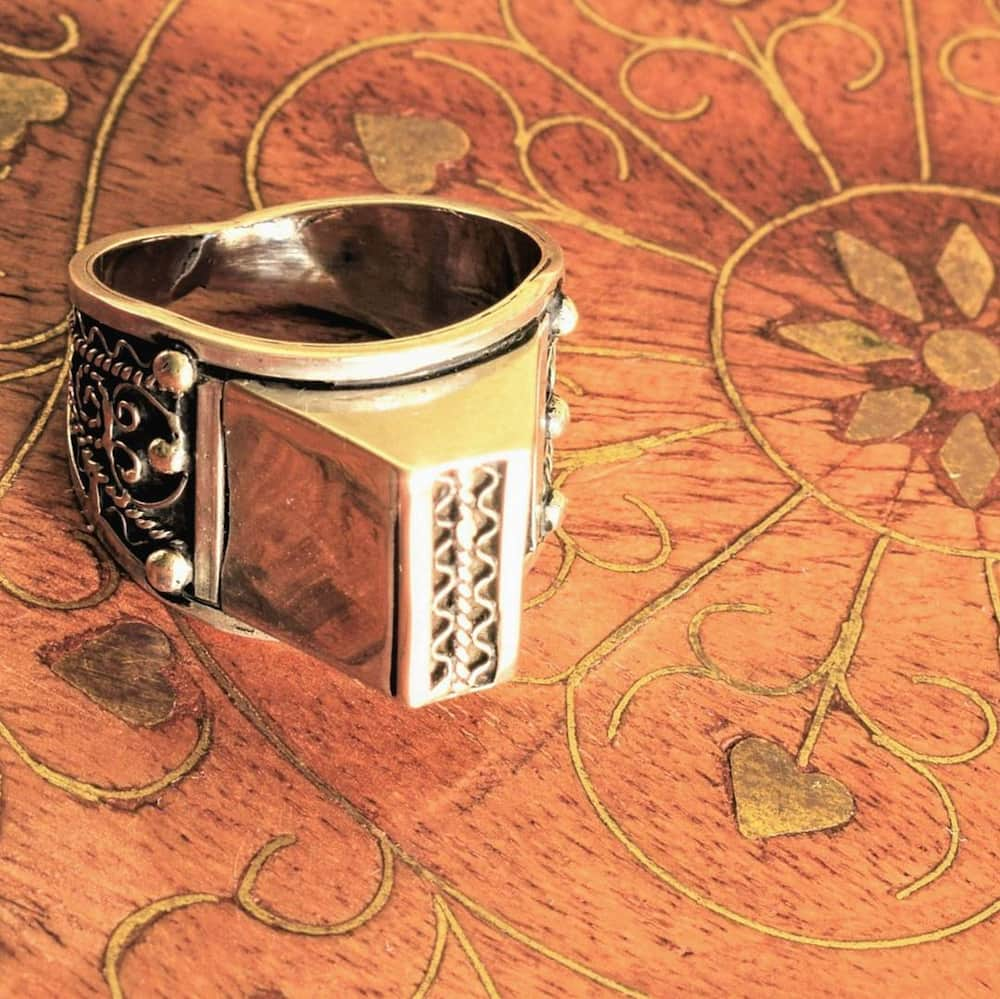 These bands are made from a combination of other metals on the market. They contain low amounts of silver, while some have no silver alloy, and people wear them during particular traditional occasions.
Coin silver rings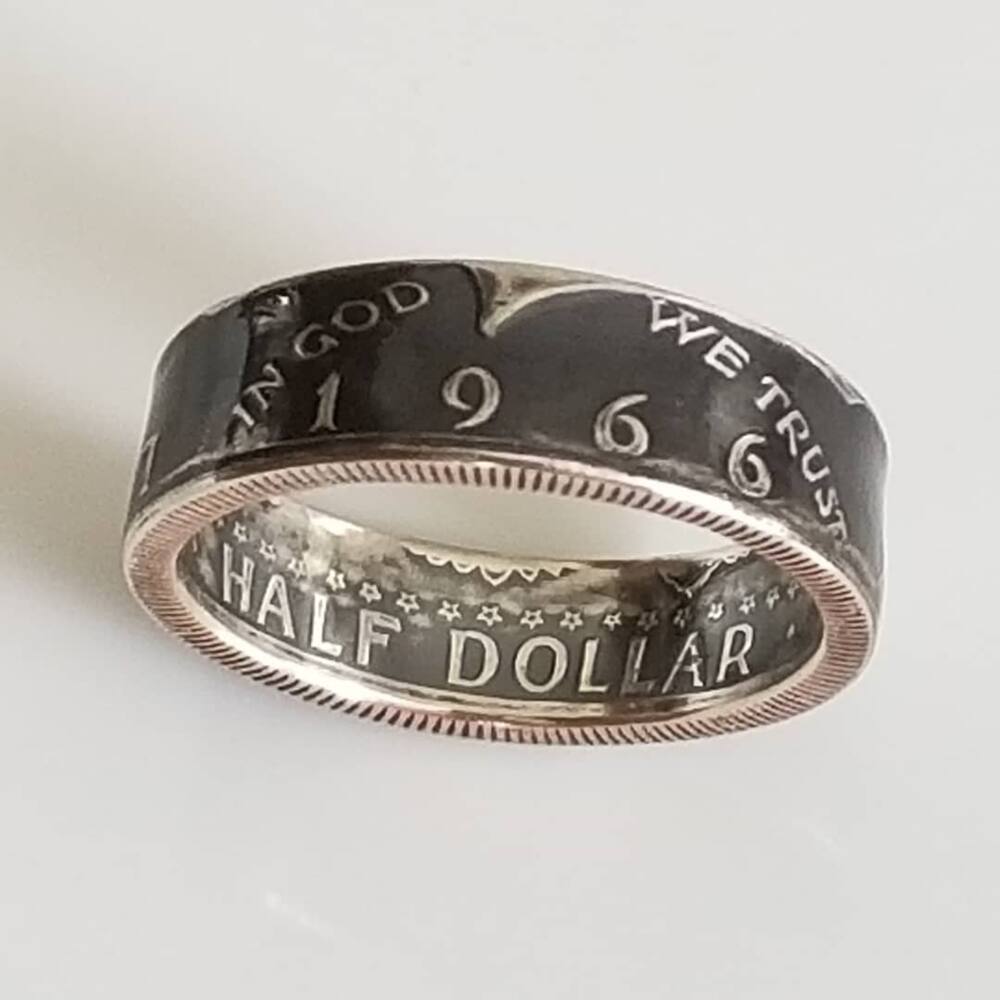 They are rare to find, and they tarnish quickly. These bands are made from copper and silver or recycled old coins. The wedding bands are also made from a combination of different types of coins to create unique designs.
Argentium silver rings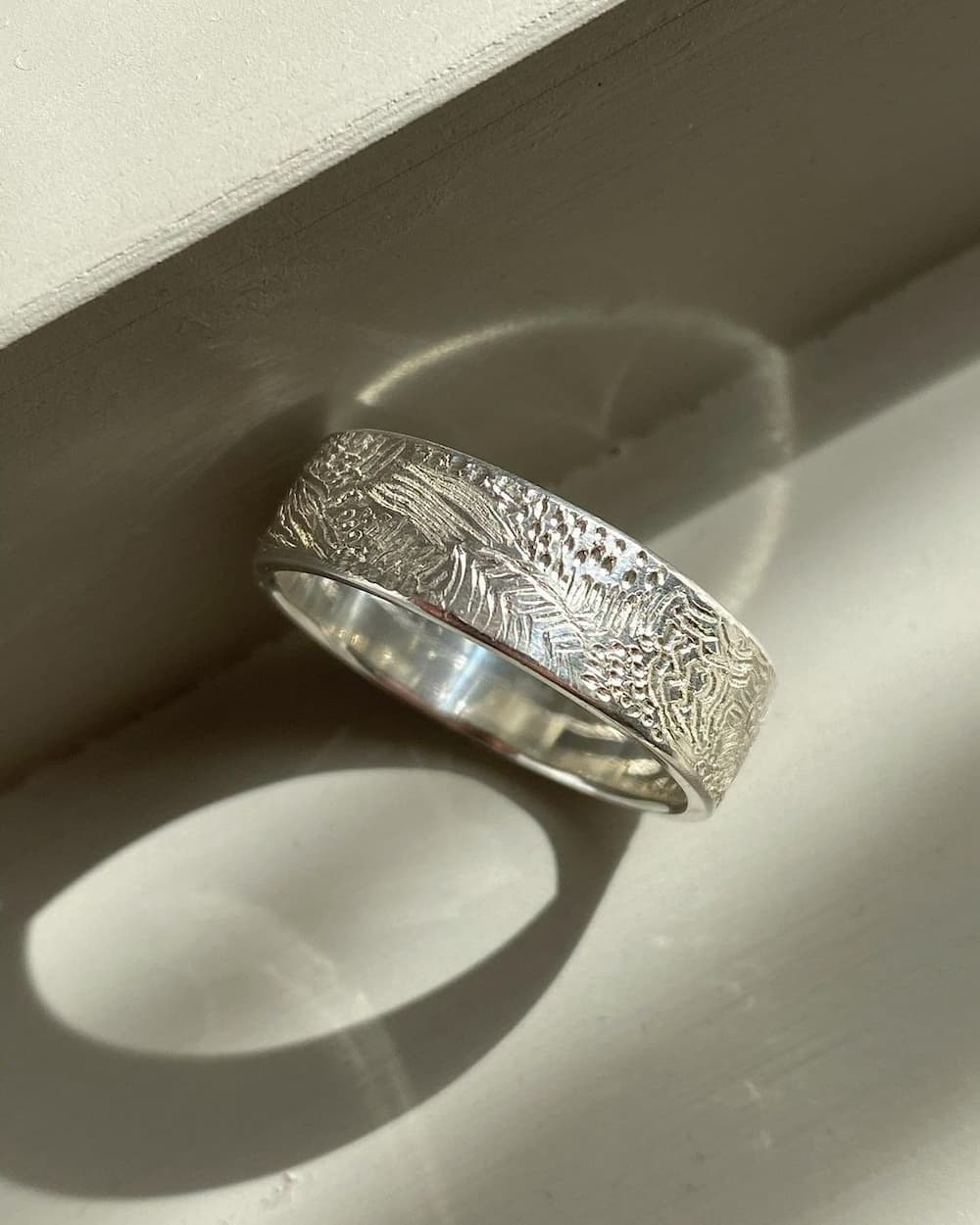 Copper and germanium are mixed with Argentium silver alloy to increase the bands' resistance to oxidation and ease to polish. Argentium is easily available; therefore, its bands are affordable and a better alternative to save money.
Fine silver rings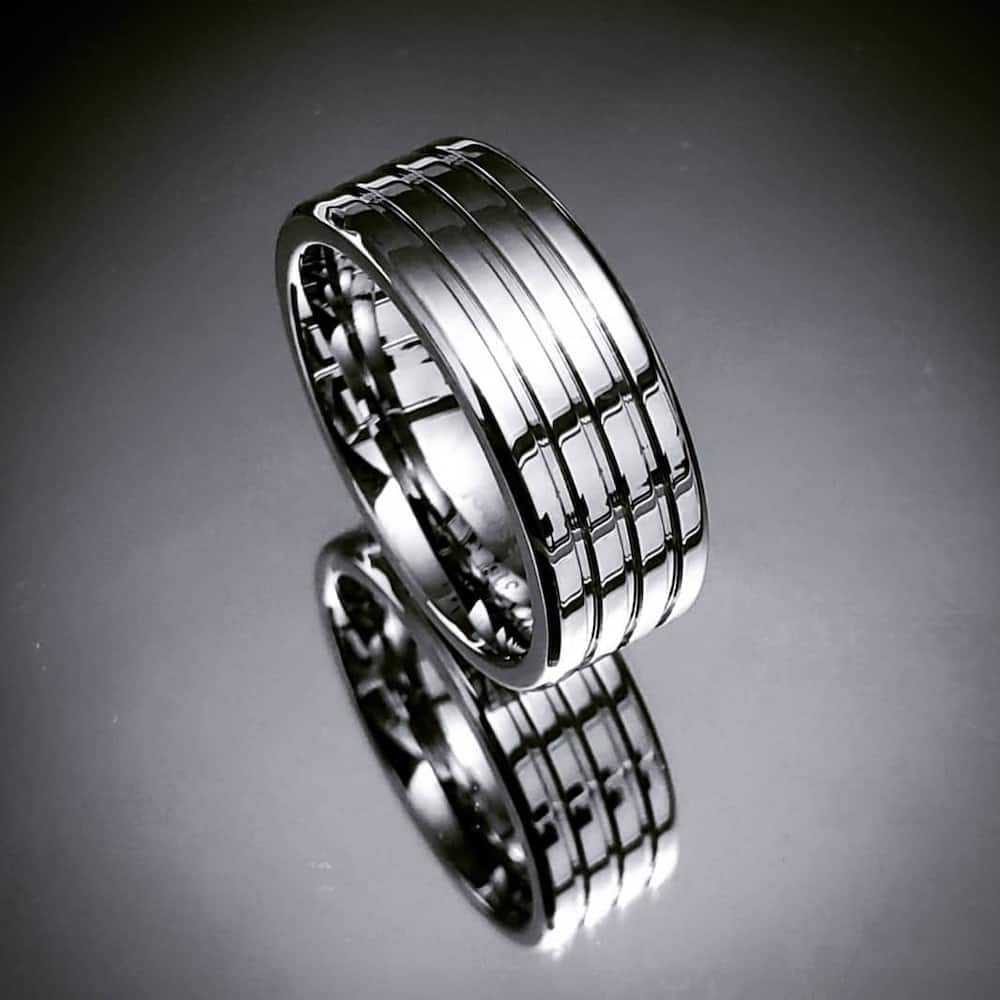 These bands are lustrous and white, but they change shape quickly. They are easy to resize; therefore, you should not get worried when they change shape. 99.9% of the ring is silver, while 0.1% is a mixture of other elements.
Rhodium wedding rings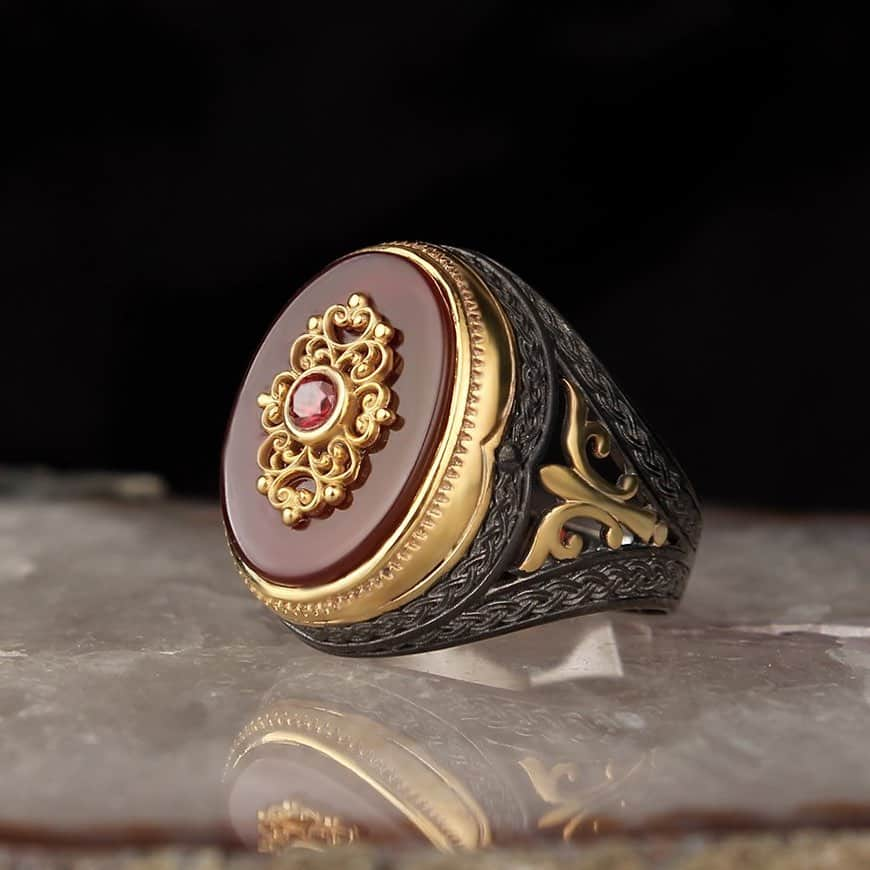 The difference between something good and great lies in the details of the designs. It requires a lot of expertise to plate a rhodium ring with different materials on different parts like the one in the image above.
Platinum wedding bands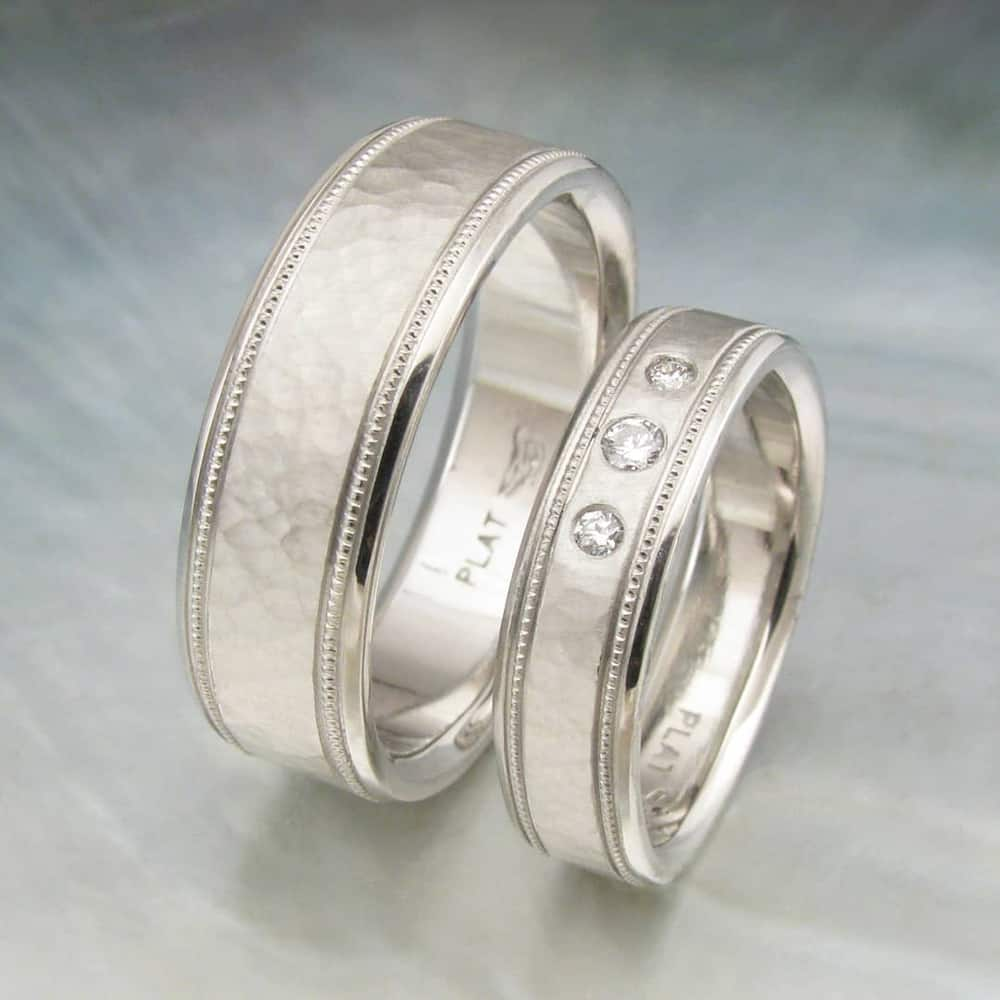 They signify physical beauty and class. Platinum rings are heavier but more durable than most wedding bands. Their white shininess compliments all types of gemstones. The metal is rarer to find than gold; hence its bands are more expensive than gold rings.
Titanium wedding bands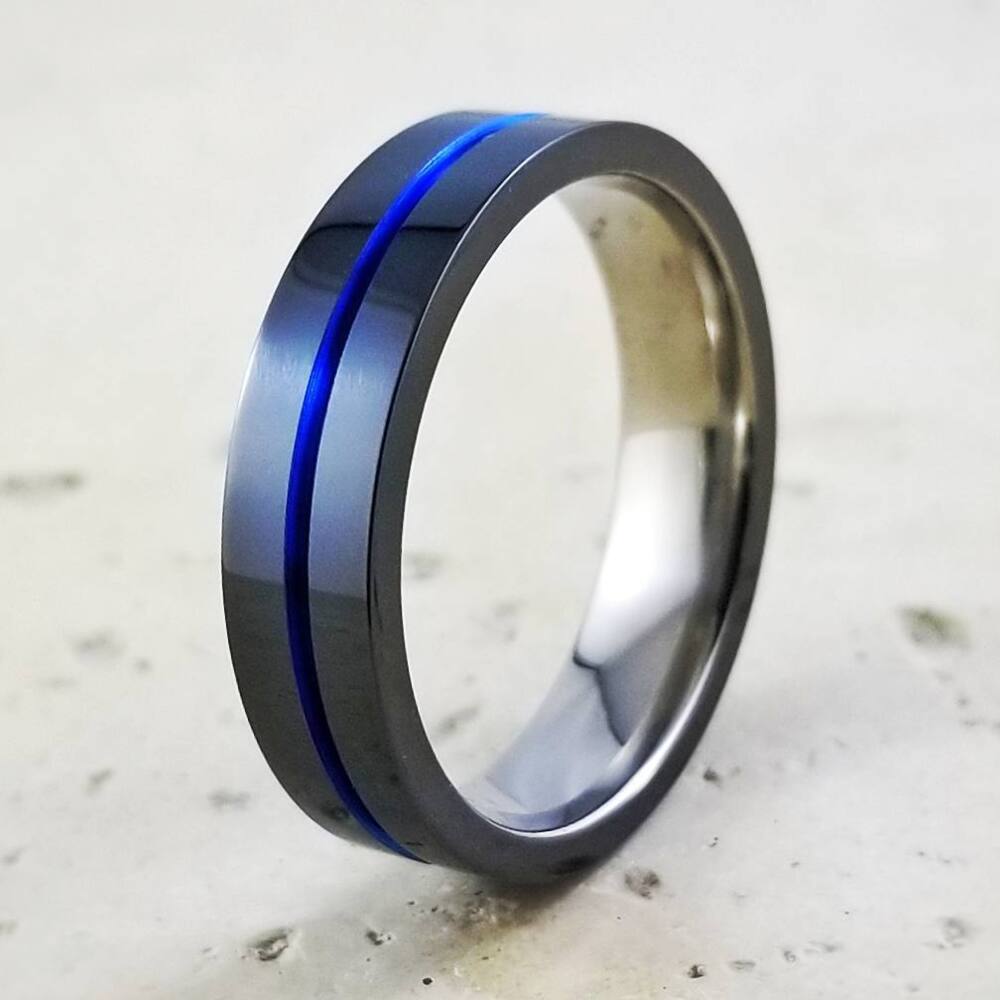 They are the most popular bands because they last longer than gold and silver. The rings neither rust nor crack, and they are hypo-allergic. Titanium is light in weight; therefore, it suits those who wear rings for long hours.
Palladium wedding rings
Palladium rings have low maintenance costs because they possess a non-tarnishing natural whiteness, and they are scratch-resistant. These bands are hypo-allergenic; hence you can wear them all the time without experiencing itchiness.
Tungsten wedding rings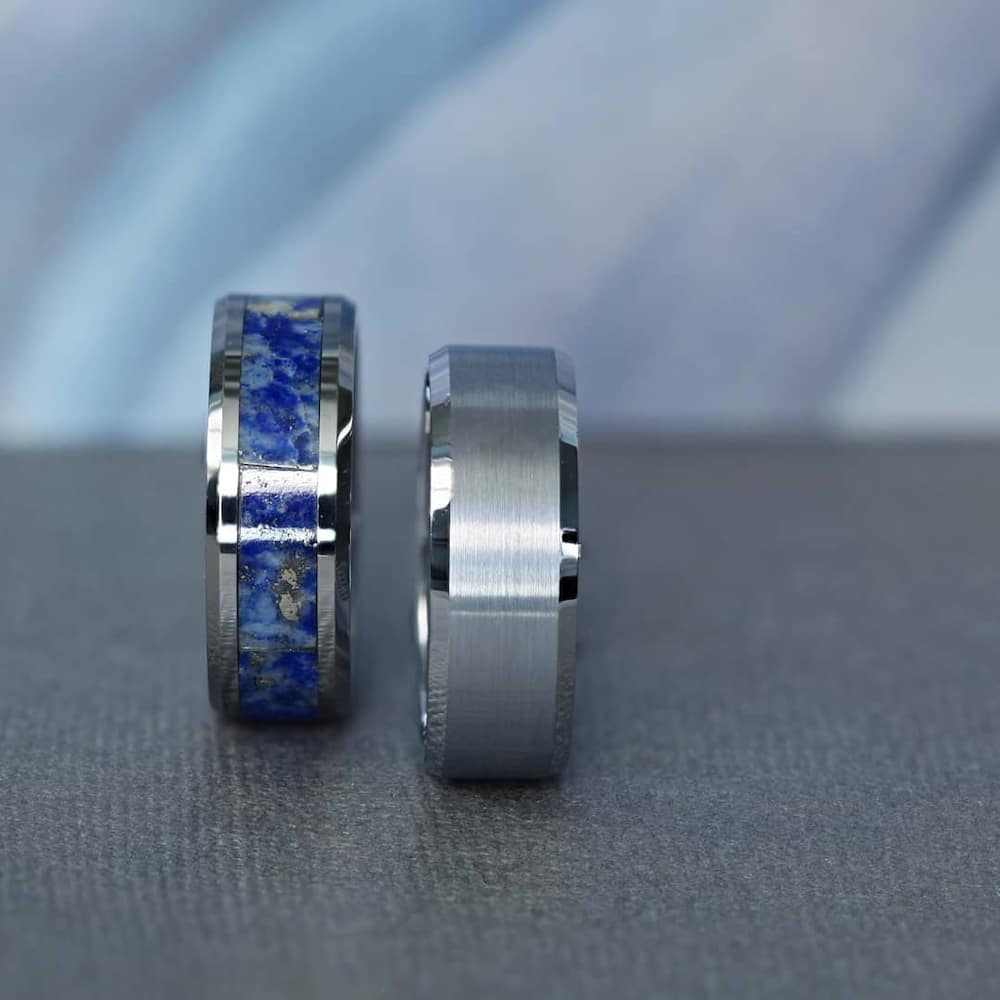 Tungsten is harder than titanium and platinum; hence it is hard to polish or engrave. The metal varies from steel-grey to white, and its wedding bands do not cause skin reactions. Get a perfect fit for titanium and tungsten rings because they cannot be resized. Mens tungsten wedding bands are popular because they do not show scratch marks.
Wooden wedding rings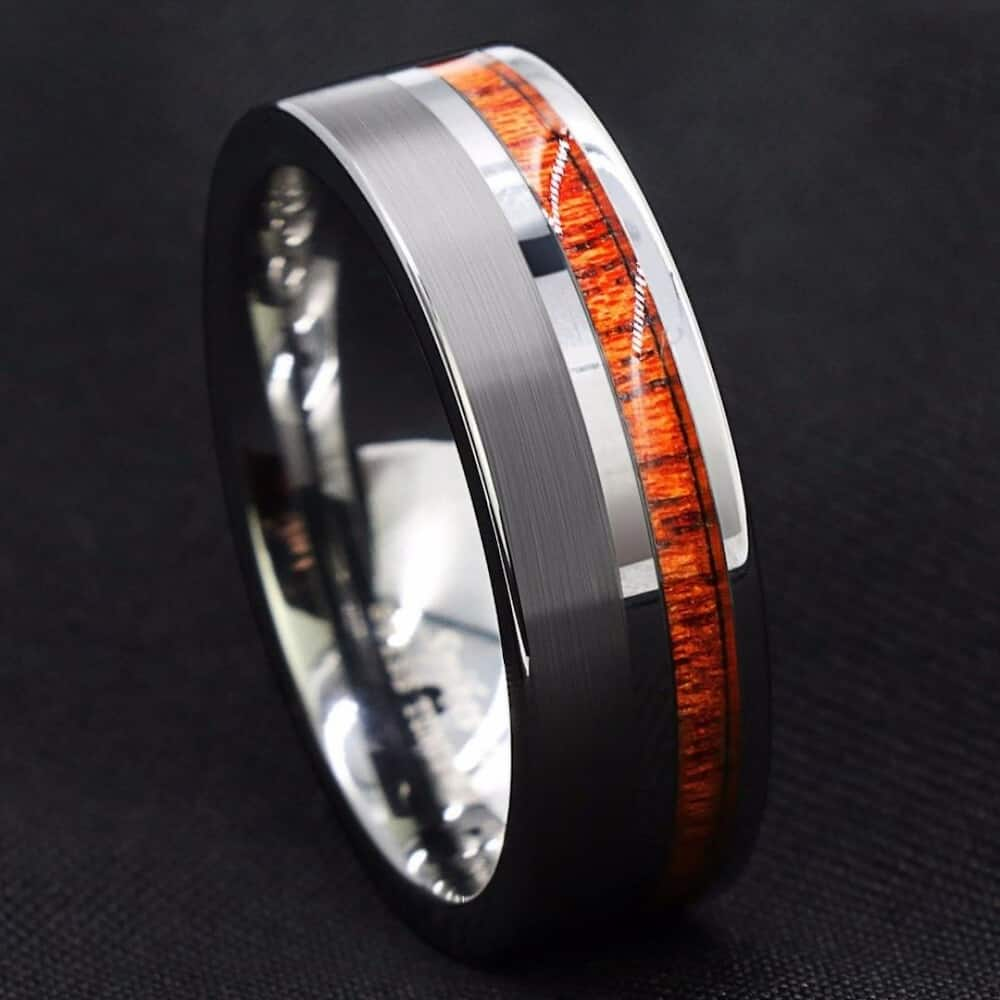 A combination of wood with metals makes trendy bands that are classy and comfortable to wear for days without taking them off the fingers. You can also choose to wears bands that are made of pure wood.
Stainless steel wedding rings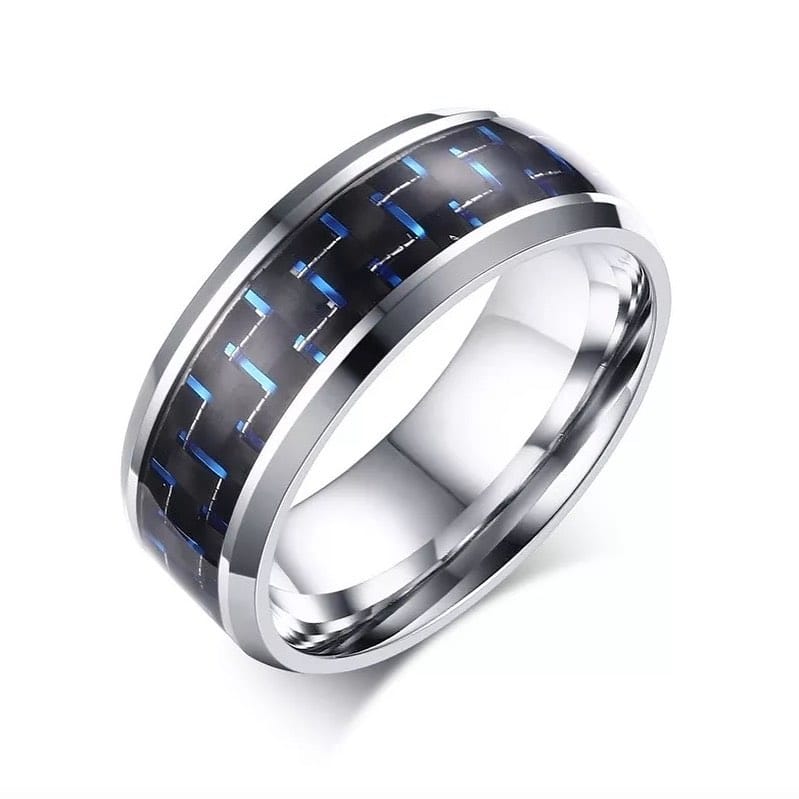 Would you wear these wedding bands on your special day? Stainless steel wedding bands are becoming popular because the metal is non-corrosive, scratch-resistant, cheap, and easy to maintain.
Exquisite finishes for rings
Consider the finishing of the ring beside the type of metal it is made of. Wedding ring designers create a unique finishing that matches their client's specifications. Below are the most common wedding ring finishing designs.
Polished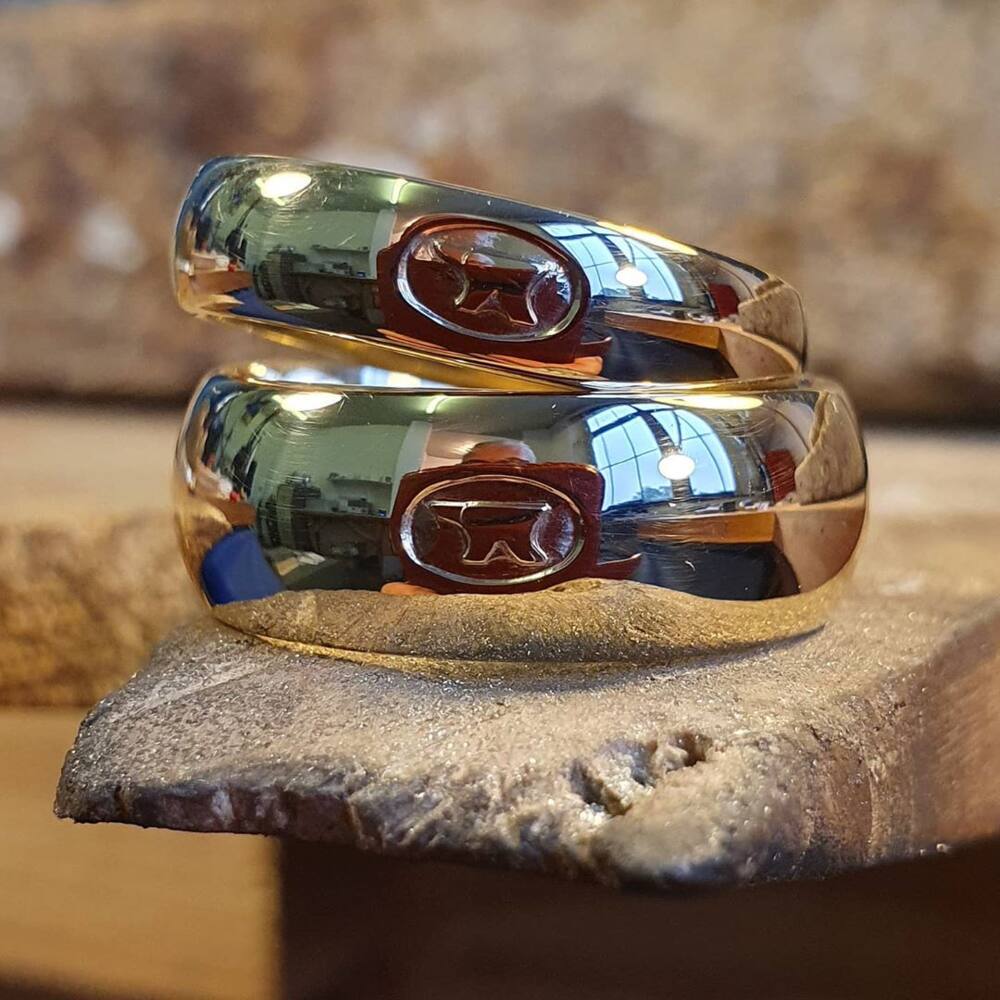 Its surface is smooth, shiny, and reflective, like a clear dressing mirror. The ring is easy to maintain if your hands rarely touch or work with rough surfaces. However, you can re-polish it whenever it loses its smooth and shiny look.
Satin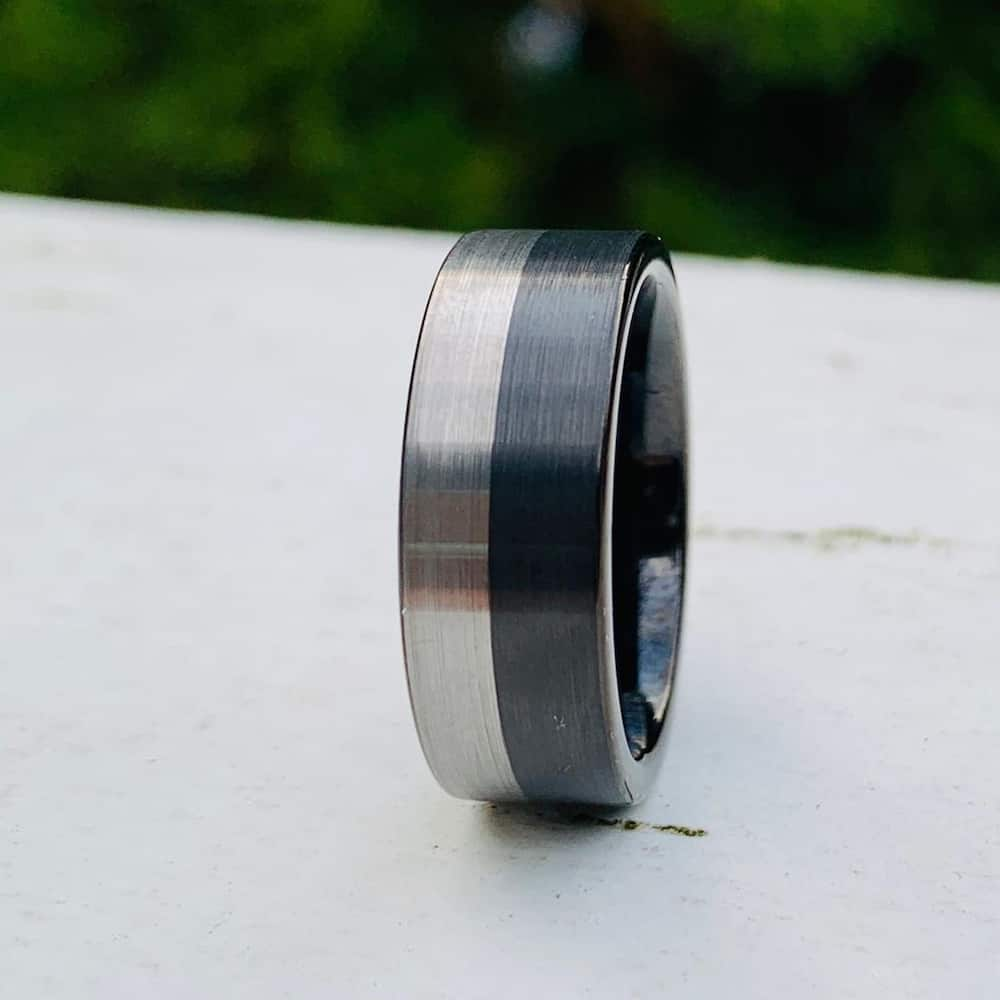 The band is smooth like polished rings but not shiny. You cannot see clear reflections of objects on it because the surface is like a fogged mirror. Scratches on the surface cannot distort its beautiful appearance.
Brushed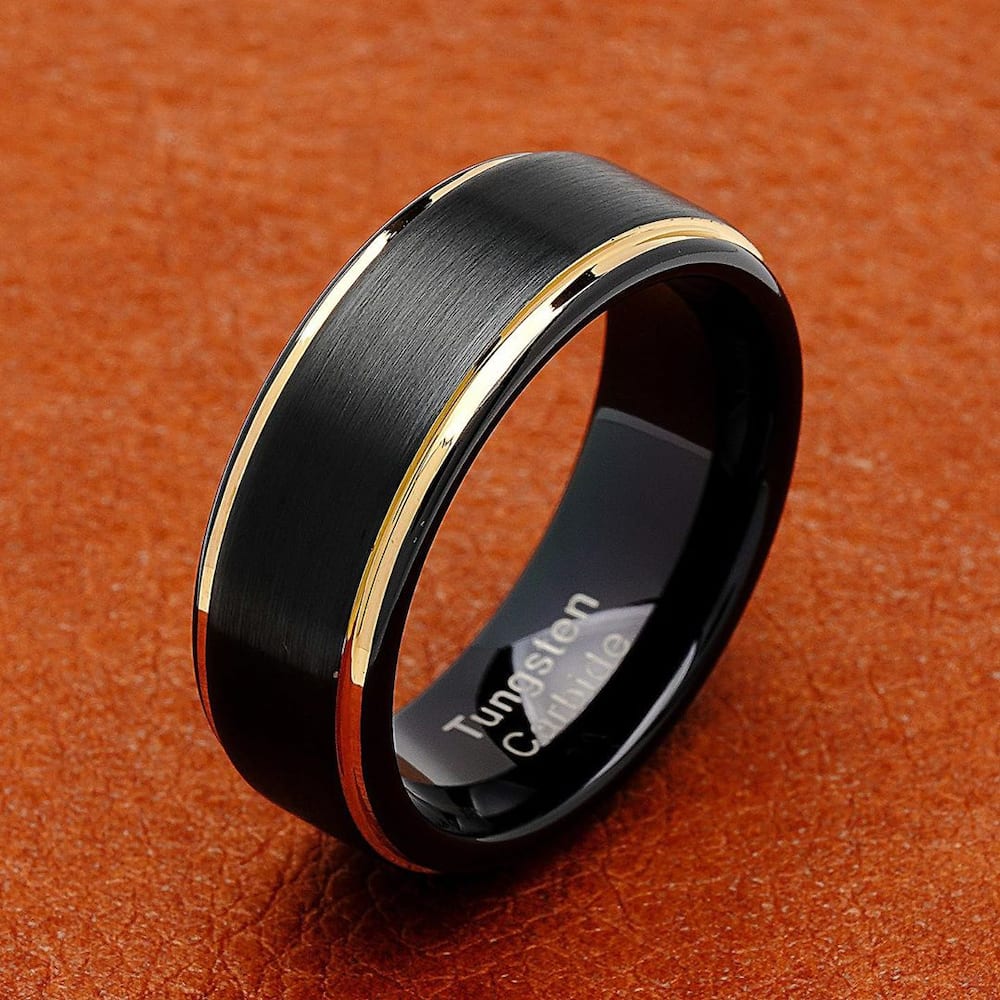 It appears to be as smooth as a satin ring, but you can feel the finishing's texture when you touch it tenderly. The ring's surface is not too rough to scratch your skin. Its interior is smooth and gentle on the finger.
Hammered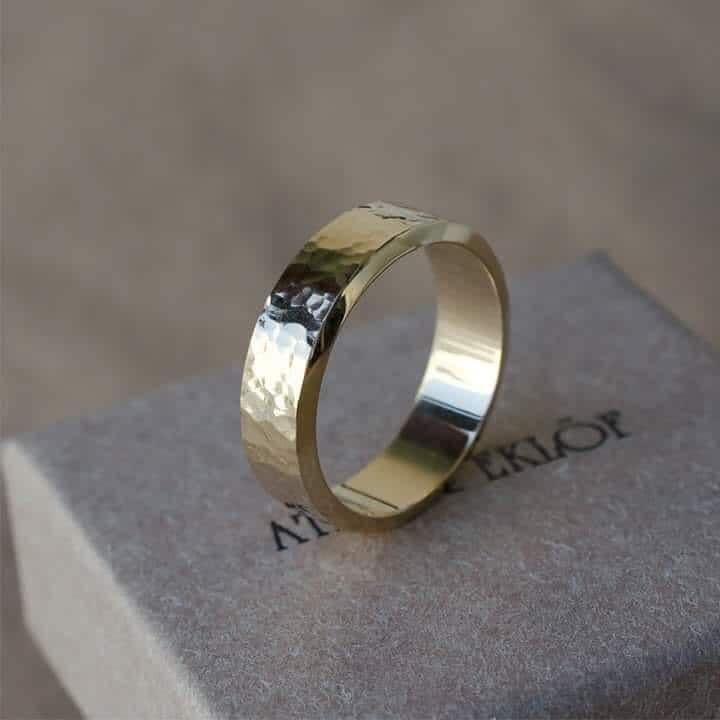 They are men's favourite rings because they are unique and non-shiny. The dimples on the bands' surfaces look like a hammer pounded them. They are the best wedding bands for couples that adore simplicity.
Wire-brushed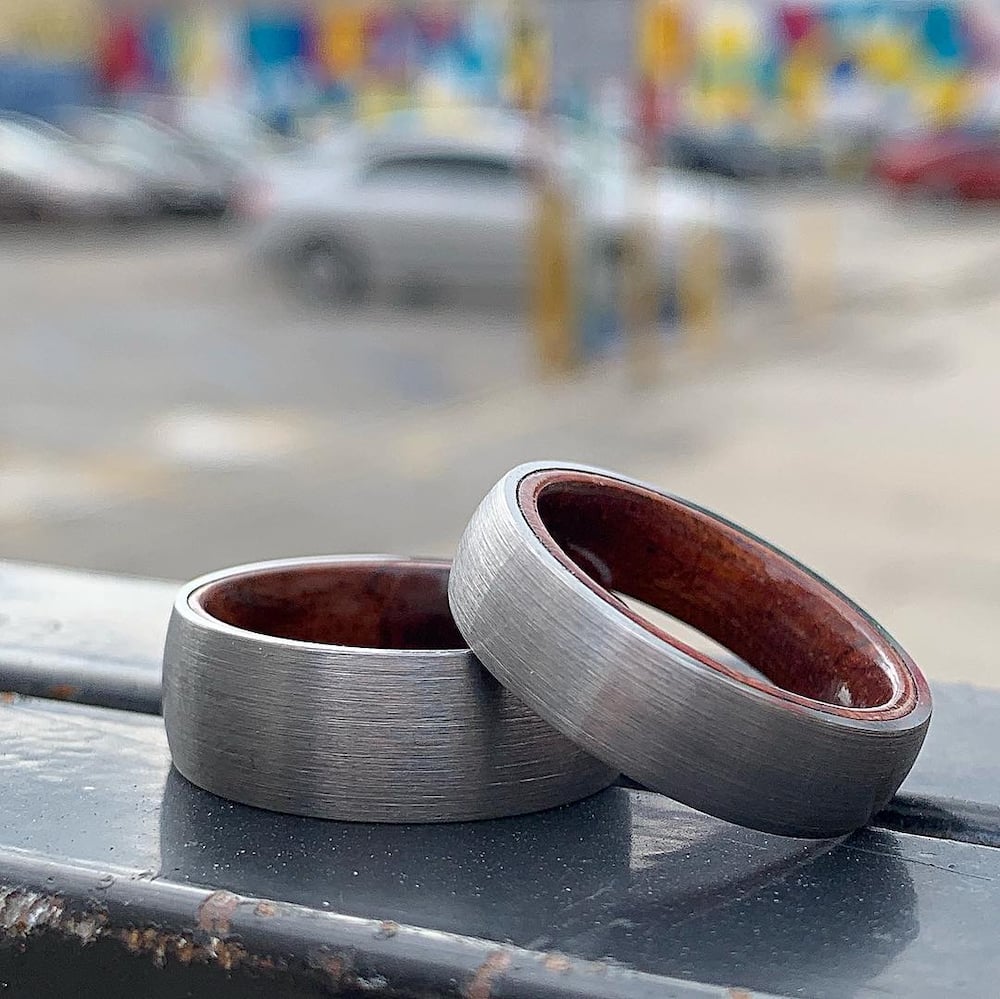 It almost resembles a brushed ring, and it is common among men. You can quickly and easily differentiate it from a brushed wedding band because a wire-brushed ring's cover is more visible than a brushed surface.
Sandblasted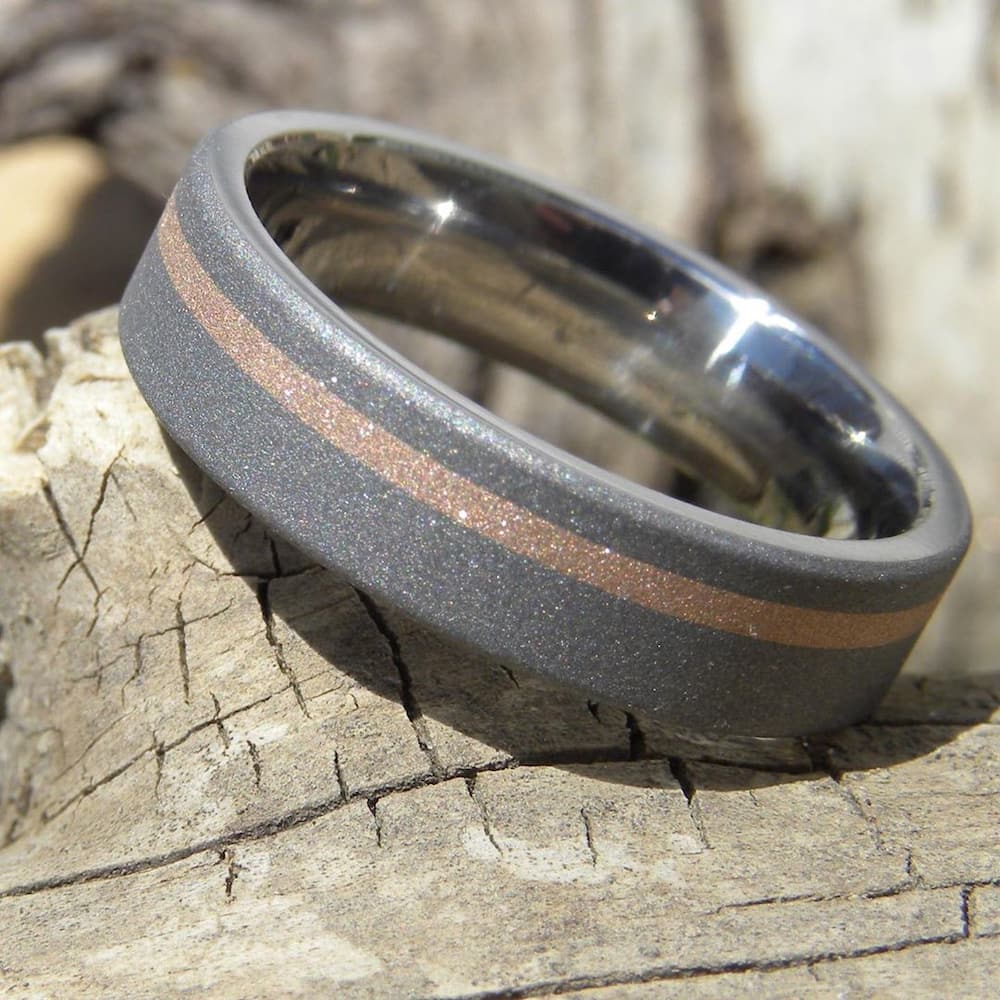 The ring stands out because of the intense rough finishing. You will feel an acute grainy texture on the outside when you run your fingertips on it gently. Although the surface of the wedding band is rough, it is simply irresistible to wear.
What are the most precious stones for rings?
People have been wearing gemstone rings from time immemorial, and the most precious gemstones for men rings are diamonds, rubies, emeralds, and sapphires. People avoid buying wedding bands that have gemstones because they assume that they are expensive. You can afford multiple gemstones that will not break your bank.
Diamonds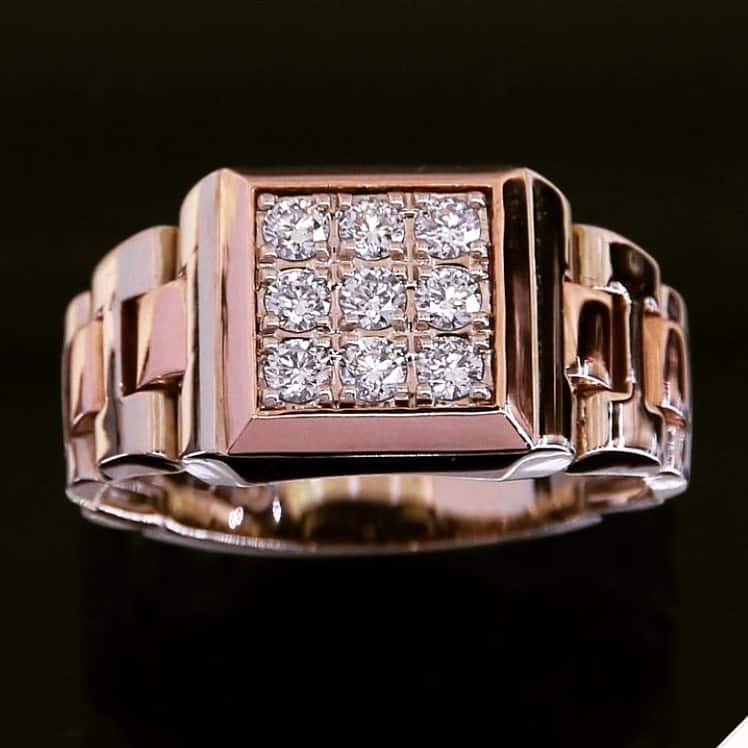 Although brides love black, champagne, and grey diamonds, diamond bands are not designed for females alone. Bands with diamonds are perfect for men who have an eye for classy and durable things.
Sapphire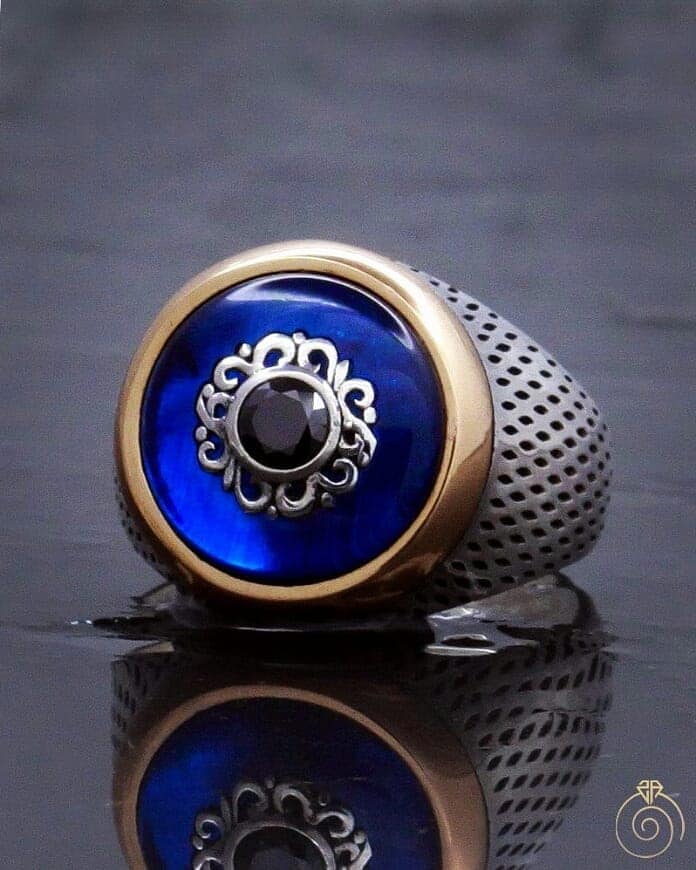 Common sapphire rings are rich blue, but there are more affordable peach, purple, green, and white sapphires. They cost lower than diamonds. If you cannot afford a sapphire on your wedding day, you can save up and buy it on your wedding anniversary.
Emerald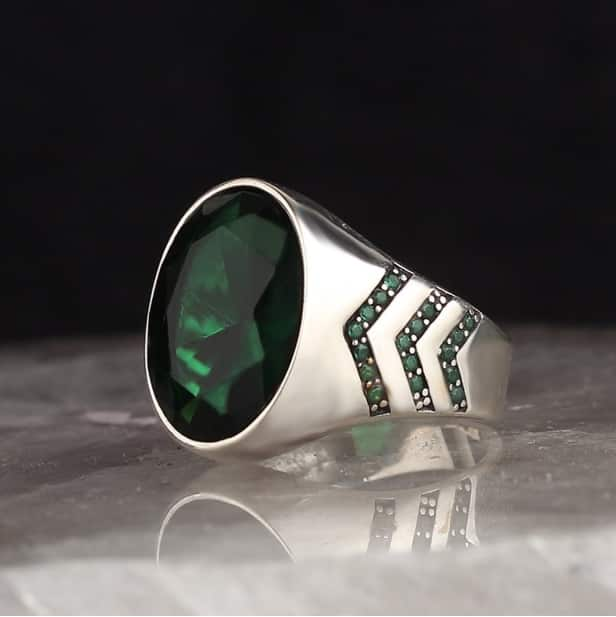 Green has strong associations with nature and the environment; therefore, it is seen as the colour of luck, freshness, and renewal. Emerald symbolizes emotional stability and harmony. In colour psychology, green promotes a sense of calmness in a person.
Aquamarine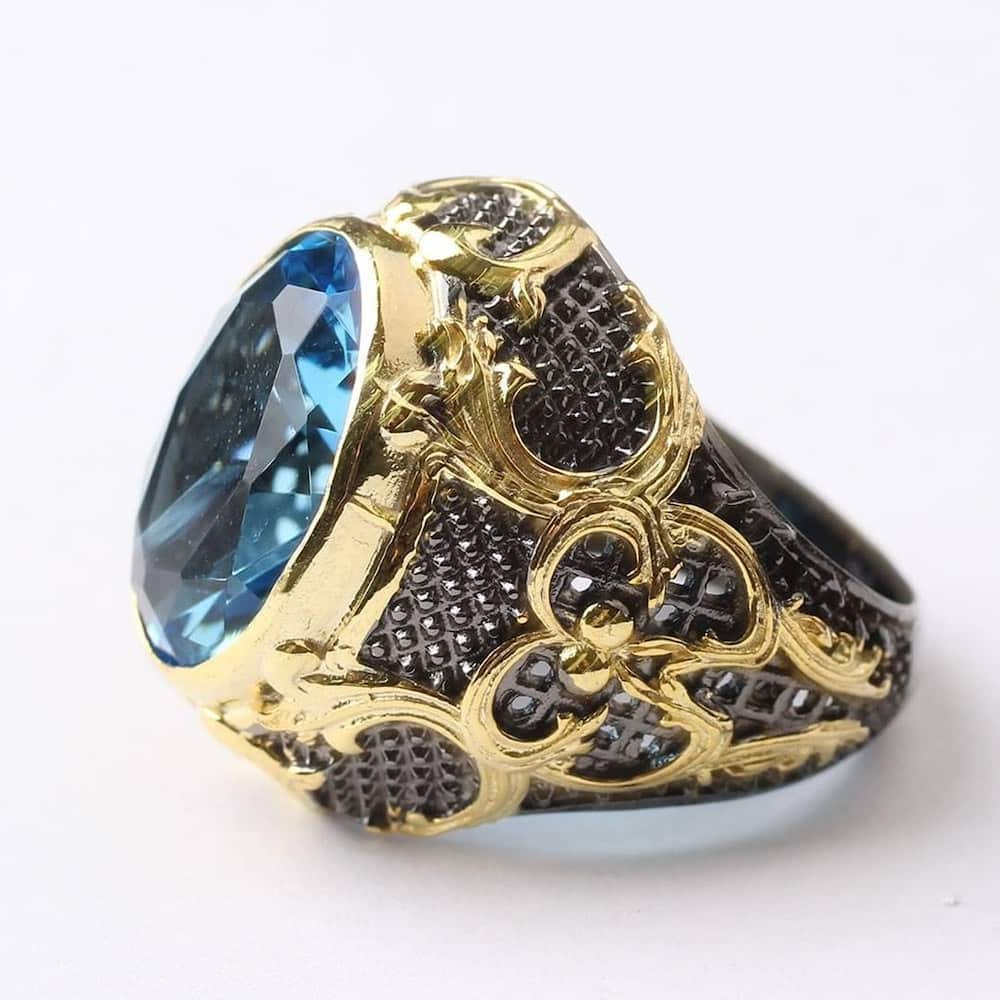 This immaculate striking blueberry stone is the best gift for the love of your life on your wedding day. The ring's beauty will become the centre of attention on your big day. Buy the best-designed aquamarine wedding band.
Onyx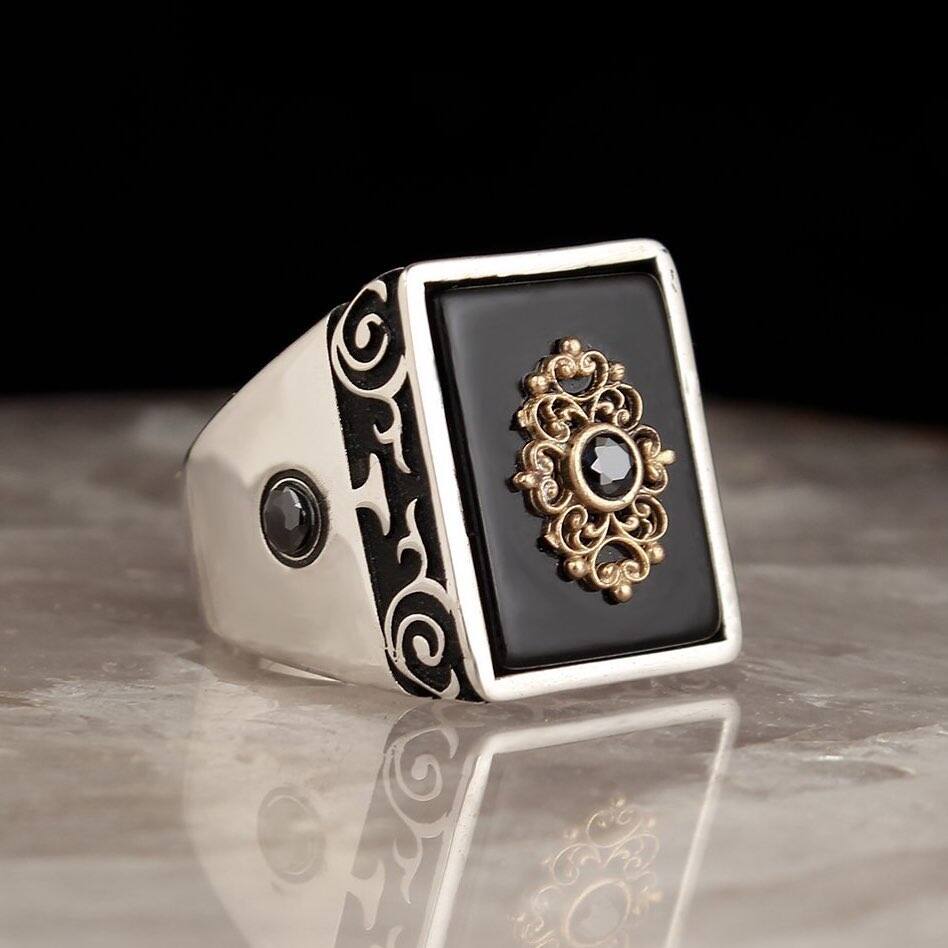 These polished black stones were famous in the 1900s, but they are back on the market. Onyx is a protective stone worn when facing adversaries. People believe that an onyx protects them from evil eyes. Based on folklore, onyx increased vigour, strength, stamina, and self-control to ancient people.
Online shops for mens wedding rings South Africa
You can buy a promise, engagement, anniversary, or birthstone rings beside wedding bands. You can buy mens wedding rings South Africa from the following online stores:
Does a wedding ring make a man more attractive?
A wedding ring does not have an impact on the attractiveness of a man. A man's attractiveness with or without a wedding band depends on the individual's intentions and preferences. It only means that these are married men.
What does it mean when a man wears a black wedding ring?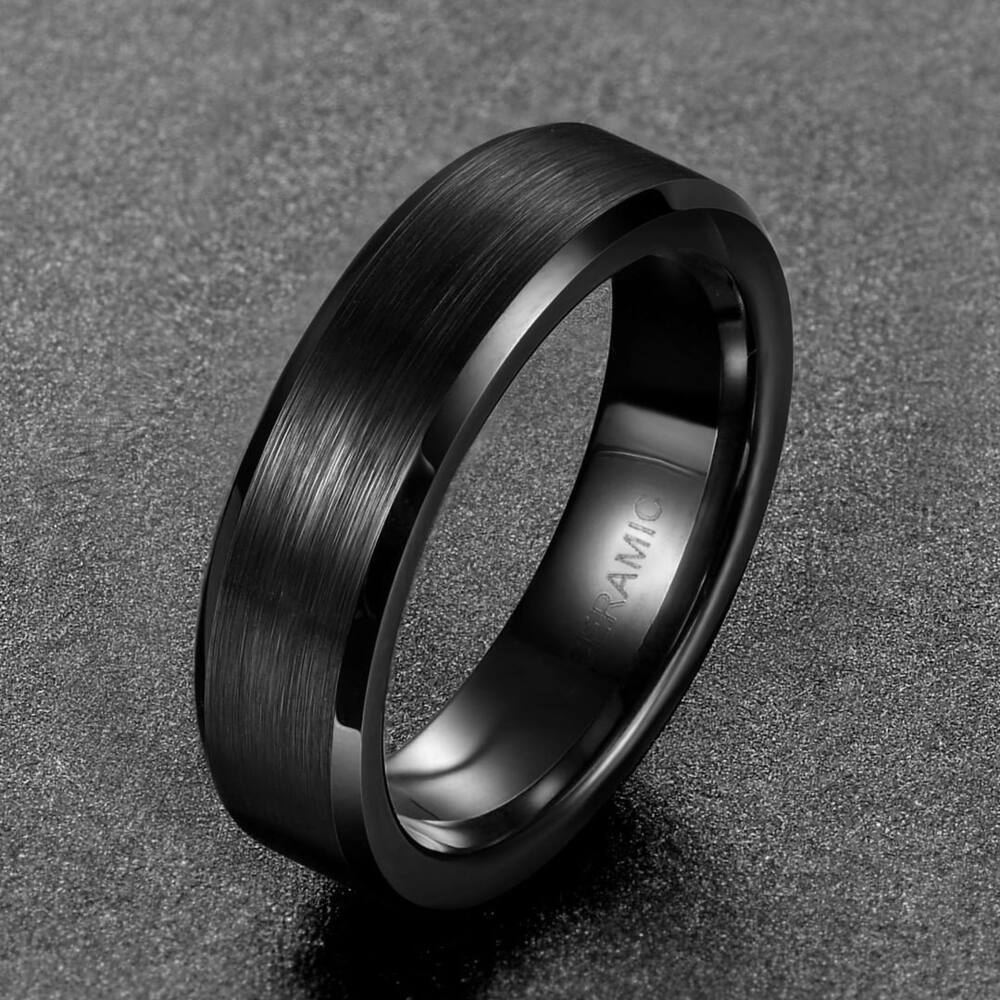 Black mens rings were made from quartz called black onyx by ancient Greeks and Romans. A man who wore a black wedding ring showed a great sense of commitment to his marriage. Today, people have turned them into mere fashion ornaments.
The information above about mens wedding rings is enough to help you find a suitable ring for him. You will hate buying a ring he will not like; therefore, get detailed advice about wedding bands from experts and seek his opinion before buying one.
READ ALSO: Prince Kaybee takes Zola Mhlongo home to meet his momma: Fans react
Mzansi is delighted by the progress Prince Kaybee and Zola Mhlongo are making in their romance. He shared on social media a picture of Zola and his mother hugging each other with beautiful smiles lighting up their faces.
Briefly.co.za was quick to note the reaction of Prince Kaybee's photo. Many people are anxious about the couple's marriage plans. Mzansi hopes that the two might walk down the aisle sooner than later.
Source: Briefly News