Meet the graduate using her degree to help her community fight malaria
- Takalani Makhanthisa is a local graduate trying to make a difference in the community she was born in
- Takalani is from Vhembe District, Limpopo and realised that this area has the highest cases of malaria in SA
- Takalani is now using her research to try to help and educate people living in her community
PAY ATTENTION: Click "See First" under the "Following" tab to see Briefly.co.za News on your News Feed!
Takalani Makhanthisa is a young lady striving to make a difference in her community. Takalani realised that more than half of South Africa's malaria cases occur in her home of Vhembe District in Limpopo.
She now hopes her master's research in entomology will make a difference in the lives of those in her community. Speaking about possible outdoor malaria vector control strategies, she said:
"The current malaria control strategies of bed nets and residual spraying are indoor strategies and do not protect people from malaria when they are outdoors. There is a need for the development and implementation of an outdoor malaria control strategy."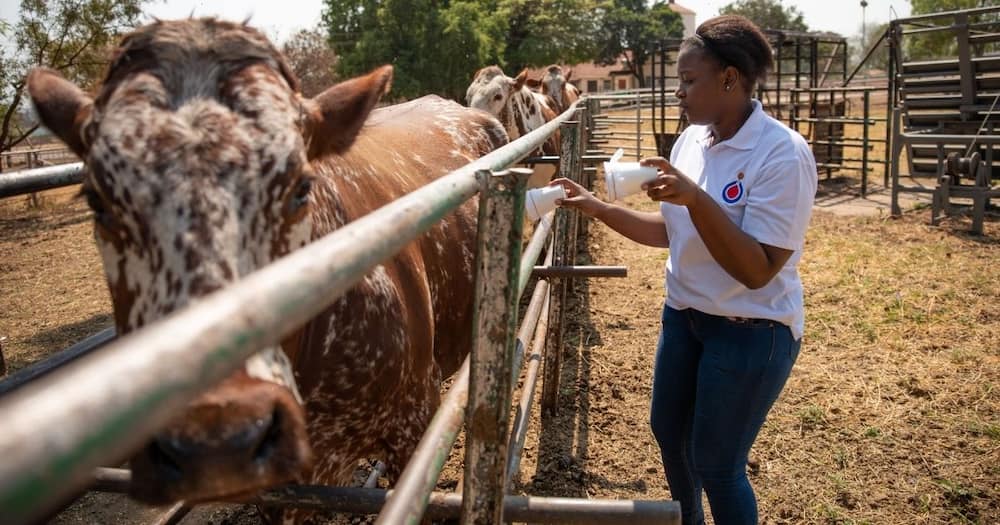 Takalani said that as she was growing up, she was aware of malaria but did not know it was affecting as many people until she got to university and started reading more about the disease.
"I was also made aware of its burden when I visited relatives in malaria-endemic villages. I would hear stories of family members' neighbours who had passed on because of malaria. It is devastating for families to lose their loved ones to malaria," she says.
During the course of her studies, Takalani realised that most malaria-endemic villages in the Vhembe District have lots of livestock. This prompted her to investigate malaria and vector-borne disease strategies as she thought this would be feasible in the region.
"My findings propose that cattle/livestock-administered endectocides could potentially be used as an outdoor malaria control strategy if used strategically. This strategy might work in malaria-endemic regions such as the Vhembe District in Limpopo where there are high livestock numbers," she says.
Endectocides are drugs already used to treat parasites such as ticks and worms in livestock and which Takalani says have been found to be effective against the survival and egg production of Malaria mosquitoes.
"Treating cattle and other livestock with these drugs in malaria-endemic regions might help reduce malaria-vector mosquitoes, and could potentially be implemented as a control strategy," she explained.
She explained that field studies investigating these drugs are limited, and much research is required before the strategy can be implemented. Takalani, who obtained her master's with a distinction, said she is pleased to have completed her master's and is grateful for the doors it has opened.
In other news about inspiring graduates, Briefly.co.za recently reported on a graduate who explained how she attended class a week after giving birth. Sometimes, things happen in life that derails our future plans.
More often than not, people put aside their aspirations when they become new parents - after all, your entire life revolves around that little bundle of joy. However, one lady, Sharon Mathevula, knew that in order to give her daughter the best life, she needed to work hard to get her degree.
At first, she wanted to take a year off to spend time with her baby but she realised that studying was going to be hard whether or not she's a parent. So, a week after having her little girl, Sharon started attending classes.
Enjoyed reading our story? Download BRIEFLY's news app on Google Play now and stay up-to-date with major South African news!
Source: Briefly.co.za