Jean Currivan Trebek bio: age, children, wife, wedding, career, net worth
Jean Currivan Trebek is the wife of Alex Trebek, a legendary game host show – Jeopardy. She came into the limelight after tying the knot with him three decades ago. The beauty is a notable businesswoman and former real estate project manager. How about you find out more about her?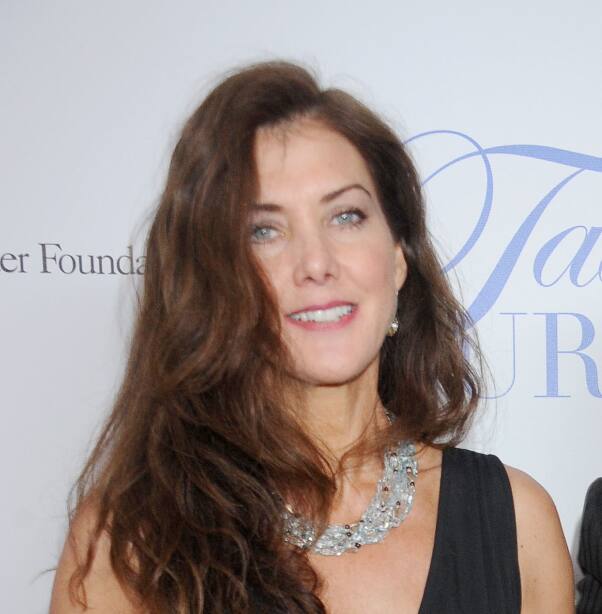 Jean Currivan is a successful woman with a beautiful and inspiring story to tell. She is not only a wife to a celebrity husband but also a career woman. Alex Trebek wife has been at the forefront, transforming the lives of others through religion – she is a professional religious practitioner, Reiki Master, and sound healer.
Profile summary
Birth name: Jean Currivan Trebek
Date of birth: 3rd September 1963
Place of birth: United States
Age: 57 years old (as of 2020)
Zodiac sign: Virgo
Spouse: Alex Trebek
Children: Matthew and Emily
Occupation: Former real estate project manager, religious practitioner, Reiki Master, sound healer
Nationality: American
Jean Currivan Trebek bio
The beauty was born on 3rd September 1963 in the United States. She was brought up in Long Island alongside her brother and sister. The names of Jean Currivan Trebek siblings are Chris and Audrey.
Sadly, Currivan Trebek's brother, passed on. He died in a road accident in 1994.
Jean attended Harborfields High School for her high school studies. Unlike her siblings, there is little about Jean Currivan Trebek parents. Also, she has a rich religious background.
How old is Jean Currivan Trebek?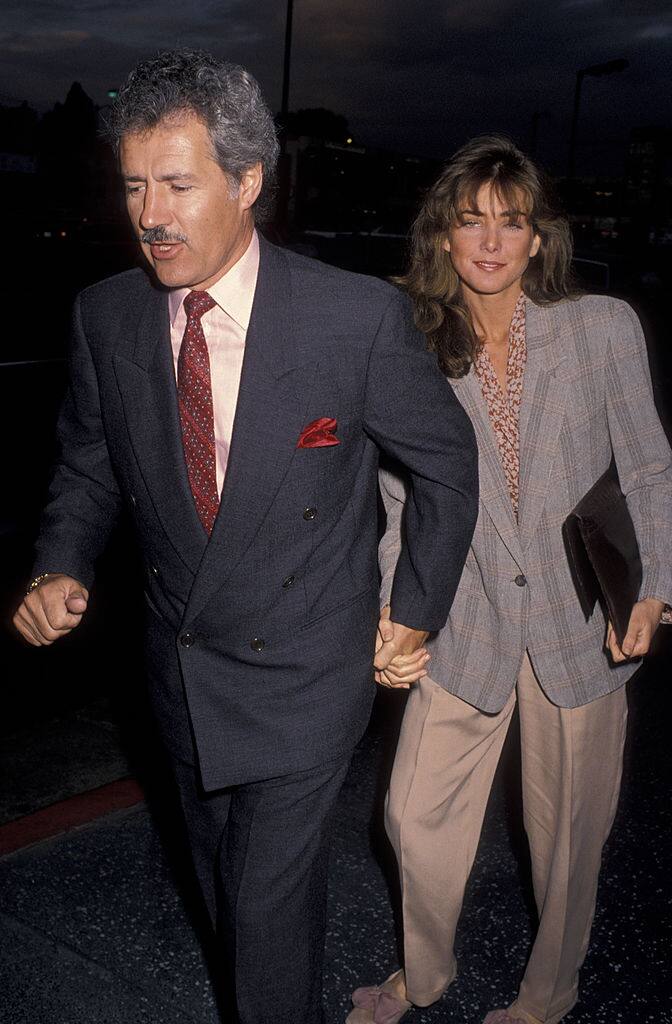 Jean Currivan Trebek age is 57 as of 2020. She recently celebrated her birthday, which is on 3rd September.
Dating, wedding, and marriage
The 57-year-old is one of the luckiest women when it comes to marriage.
She is married to Alex Trebek. The celebrity couple met in 1988 at a party several years after he had divorced his first wife. They dated for approximately two years before they made their relationship official.
Her first encounter with him was magical. She was nervous and hesitant because Alex was a highly respected public figure. In an interview with People magazine, she admitted,
I was afraid I'd mispronounce my own name!
In 1989, Alex went down on his knees to propose to Jean with a gorgeous and expensive emerald ring – Jean Currivan Trebek engagement ring was made of 16-carat sapphire enclosed with diamonds. Without hesitation, Jean agreed to be his wife.
Wedding ceremony
Later, Jean Currivan Trebek and Alex Trebek started to make marriage plans. The preparations took eight months.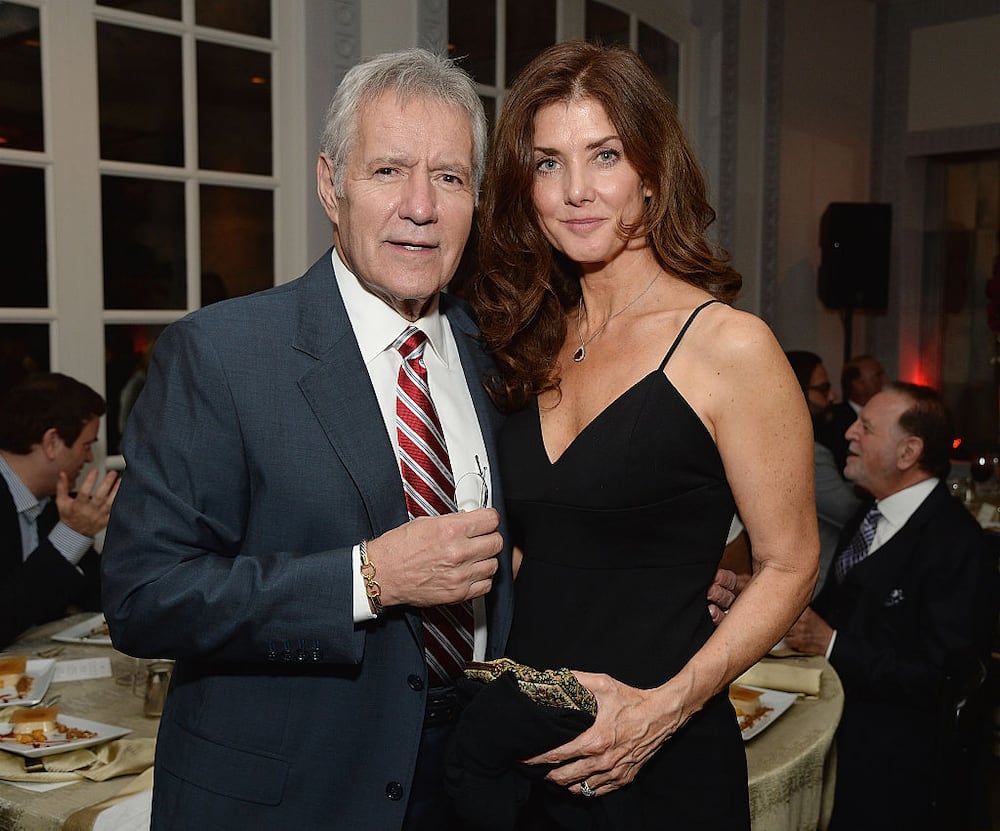 In April 1990, the pair tied the knot in a colourful wedding. Jean Currivan Trebek wedding was attended by 150 guests at L.A.'s Regency Club.
Jean Currivan Trebek husband was diagnosed with stage 4 pancreatic cancer in 2019. In March 2020, he updated his fans about his one-year progress. He went ahead to thank Jean Currivan for always being on his side.
Jean Currivan Trebek spouse is a happy man – he regrets not meeting Jean early. He once jokingly compared his marriage with that of the late President George Bush, who had been together with his wife for 73 years. He said,
Oh my gosh… if I'd just met Jean in my 20s, we could have had a longer life together.
Motherhood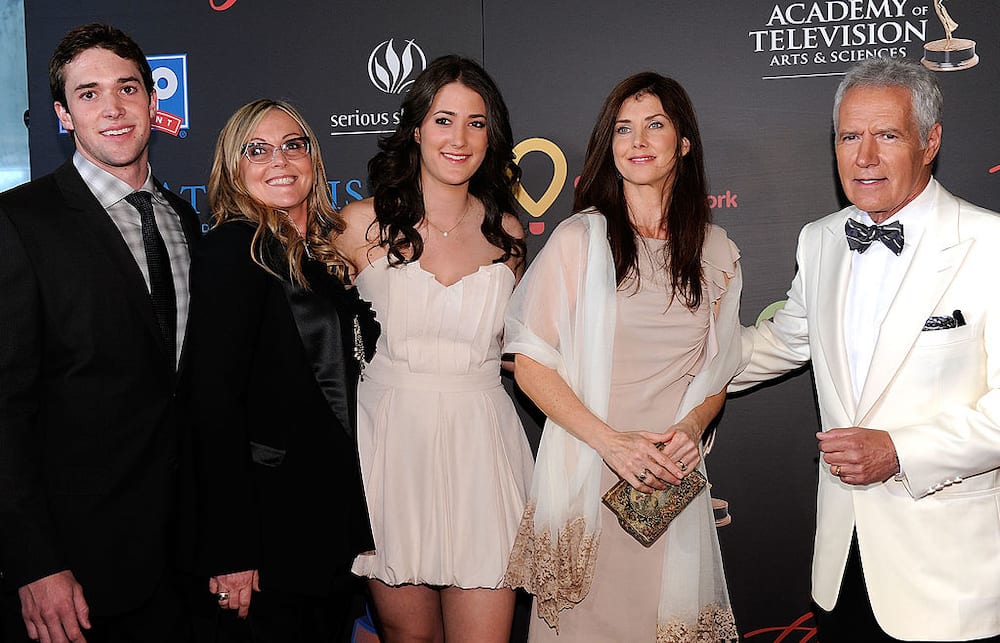 The beauty is a proud mother of two. Three weeks after their wedding, the couple announced that they were expecting a new addition to their family.
Currently, she is a mother of two grown-up kids: Matthew Trebek (30) and Emily Trebek (27 years old).
Career
She is a former real estate agent. She worked in the industry for some time before she called it quits.
The 57-year-old is also a professional religious practitioner, Reiki healer, and sound healer. She is a believer at the North Hollywood Church of Religious Science. Her role in the church is well-recognized, especially by its young believers.
She has been coaching them to understand spiritual enlightenment. She is also a Teacher Assistant (TA) for graduating practitioner students.
Her rich spiritual understanding, as a Reiki healer, has also come in handy in helping her husband, who has been battling stage 4 pancreatic cancer.
How wealthy Jean Currivan?
The former realator is among the wealthiest female celebrities in the US. She also comes from a wealthy family. There have been several speculations about Jean Currivan Trebek net worth, but she is yet to declare it publicly.
Frequently asked questions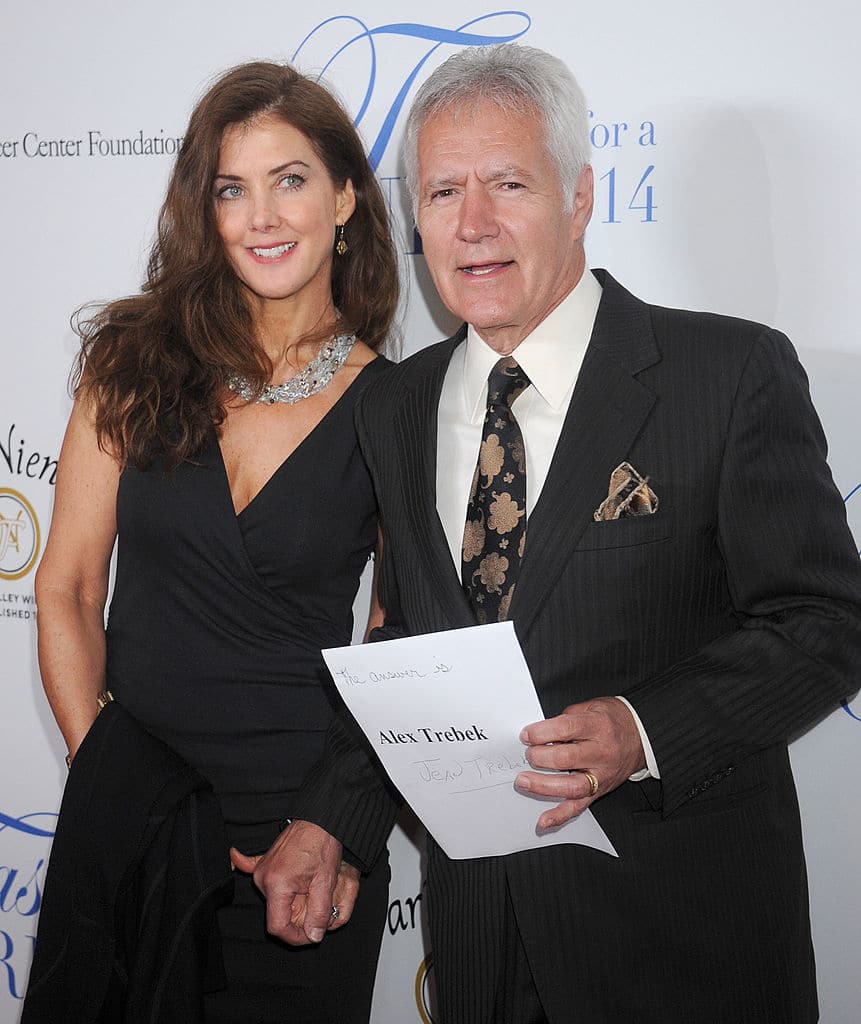 In addition to the above-discussed facts, you may consider learning more about Jean. These are the answers to the most frequently asked questions on the internet about her. They include:
What is the difference between Alex Trebek and his wife?
Jean Currivan Trebek spouse is 80 years old as of 2020. Jean, on the other hand, is 57 years old. Their age difference is 23 years.
How old is Jean Currivan Trebek?
The mother of two was born on 3rd September 1963. As of 2020, she is 57 years old. She is 23 years younger than her husband.
What is the net worth of Alex Trebek?
The Jeopardy host is among the richest celebrities in the US. As of 2020, Celebrity Net Worth estimates his net worth to be $75 million. He has been pocketing a salary of $18 million monthly.
Where did Alex Trebek meet his wife?
The two love birds met at a party in 1988. He invited her for a dinner date at his house. Afterwards, they started dating, and they become a couple two years later.
Indeed, Jean Currivan Trebek is a darling for many. Many love her because she is a smart, intelligent, religious, and loving woman. The mother of three has been married to Alex Trebek for thirty years.
READ ALSO: Pat Priest bio: age, children, spouse, parents, movies and TV shows, Elvis Presley, profile
On Friday, Briefly.co.za published an exciting and inspiring bio of Pat Priest, who is a celebrated American actress. She came into the limelight after winning a beauty contest in 1954. The actress portrayed Marilyn Munster in The Munsters.
Pat, before retiring, had appeared in many TV shows and movies. Some of them include The Lieutenant, Valentine's Day, Death Valley Days, Mission: Impossible, and Easy Come, and Easy Go. As of 2020, she has a net worth of $3 million.
Source: Briefly.co.za