AKA blows a gasket as his unreleased track Iron Duke gets leaked
- It seems that someone got hold of AKA's unreleased track, Iron Duke, and decided to leak it before the actual release date
- AKA had given DJ Kaymoworld the track as a favour and got taken for a total fool
- AKA took to social media to release his frustrations and call DJ Kaymoworld out for leaking his track
PAY ATTENTION: Click "See First" under the "Following" tab to see Briefly.co.za News on your News Feed!
AKA is not a happy chappy this Friyay. It seems that someone got hold of his unreleased track, Iron Duke, and decided to leak it before the actual release date. To say that AKA is fuming is putting it lightly.
It has been found that DJ Kaymoworld was the one who leaked the track and Supa Mega is coming for him. This is not something you do to any artist, especially AKA.
AKA had given DJ Kaymoworld the track as a favour, which he was told to obviously only play once the track had been released. Not cool!
After finding out that his track had been leaked, AKA took to social media and unleashed his wrath! Yazi guys, we can't even blame him this time.
"Oh HELLLLLL NAWWWW!!!!!"
"What am I supposed to do?!?! The shit is out now!!!!! Like WHAT MUST I DO NOW???? Worse part is that I gave the guy the record to PLAY IN HIS SETS!!!!!!!! Not to f**king leak!!!!!!"
"Why the hell would I leak an unfinished song?? Does that even sound like me?!?!?!?!?!"
"How can you leak this shit?! Without any shame dude. Smh. @GeminiMajor wasup with your mans?!?!"
Supa Mega eventually calmed down and realised there is absolutely nothing he can do about it now as the track is literally everywhere. We are sure that this is not where AKA is going to leave it though.
"Hayi, oh well ... you wanted Iron Duke. There it is smh."
"I heard it on SLIKOUR's insta live yesterday."
"Shit is already on YouTube even .... oh well."
Briefly.co.za previously reported that AKA has not even released and it is already taking number one slots. Apple revealed that AKA's unreleased album is sitting at number one on iTunes as the top selling project.
Putting his album out on pre-order, AKA proved that his large and loyal following are hungry for what is to come. Bhovamania is dominating already and we can only imagine what it is going to do when the big day actually comes.
Bhovamania is set to drop on 6 November and fans are counting down by the minute. AKA was not kidding when he expressed his confidence in this new album.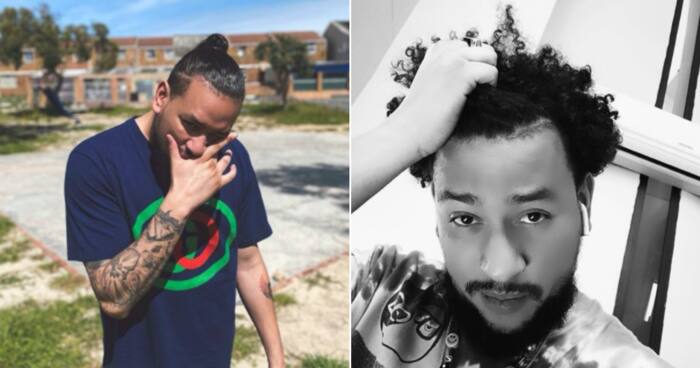 Enjoyed reading our story? Download BRIEFLY's news app on Google Play now and stay up-to-date with major South African news!
Source: Briefly.co.za