Exclusive: Kyle White, director of Jerusalema music vid, shares his experience
Kyle White grew up on Kenton-on-Sea in the Eastern Cape but has been living-and-based in Durban for the past 7 months. He is the video director of the Master KG song Jerusalema which has gained over 147 million YouTube views. Recently, three of Kyle's music videos were nominated for "Music Video of the year" at the 2020 SAMA awards.
Briefly.co.za caught up with talented director to chat about his successful career.
PAY ATTENTION: Click "See First" under the "Following" tab to see Briefly.co.za News on your News Feed!
1. You started off as a TV presenter, what made you venture into a career behind the camera?
Ever since Collin Moss hosted the first season of Idols South Africa, I had a fascination with being an on camera personality and presenter.
2. What has the transition from front-to-behind-the-camera been like?
It was quite seamless to be honest. Being a TV presenter allowed me access into the inner working of a production and taught me invaluable lessons. I learnt how to take direction and get the most out of my performance but most importantly I learnt how to work in a crew as a team.
3. After working on the Etv show 20Something, you became broke. Take us through how you ended up where you are today.
When my last show on e.tv. came to an end, I had to start going to castings again. After some months of doing this, without any luck I got into a position where I couldn't support myself financially anymore. I then picked up a job at a call centre which could provide more of a stable income for me. While I was working there I took an interest in the actual process of filmmaking through YouTube. After a couple of months of saving I bought myself an entry level DSLR camera. I then shot anything and everything and after doing a couple free videos I eventually got into a position where I could actually charge for my work.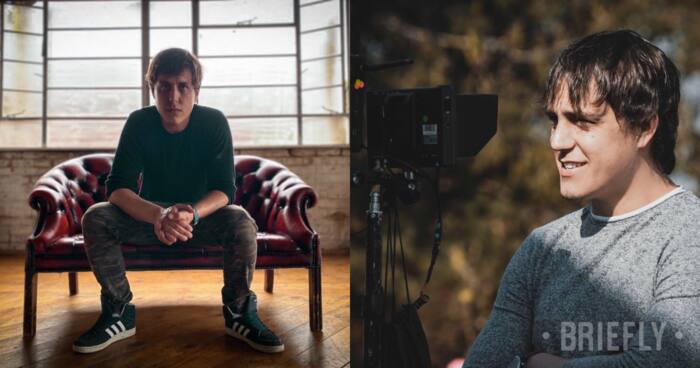 4. What are some of the lessons you have learnt about the entertainment industry?
Perseverance is one thing that has helped me. When all the cards feel as if they are stacked against you, things can turn in your favour so quickly. The talent and coinciding competition in this country is stiff so it's easy to be hard on yourself because you only have yourself to blame if things are not leaning in your favour. Lastly, being a person who other people want to work with I would say is the most important lesson I have learnt and share with many other people who are on their way through the ranks.
5. What is it like to be a part of the Jerusalema phenomenon right now?
I'm just so grateful to have played some part in a song that has taken the world by storm. The song has brought so many people together during this incredibly difficult time.
6. What was it like working with Master KG and Nomcebo?
I love working with them. The thing I love most about them is their "down to earth" natures. There is honestly nothing worse than shooting for clients who you can't have a conversation with and get to know.
7. What are your next projects lined up?
Summer is on its way and because of that I have been shooting loads of music videos as of late. This time of year is always quite hectic. I have some big ones ready for release and some in the edit suite that will soon be announced. I'm always careful of what I say I'm currently working on. I don't want to get into trouble.
8. What advice can you give someone who is down and out and waiting for their big break too?
Stay strong, focus on the goal at hand and surround yourself with good people. At the end of the day, your "big break" isn't simply going to lay itself gently in your lap. You need to go out there, find it and make it happen.
9. How did it come about for you to direct the music video?
I work on most of their record labels music videos and I have done so for years now. They initially started working with me a couple years ago when they were just starting out and we have managed to maintain a flourishing business relationship.
Briefly.co.za had previously reported that Master KG has had one whopper of a 2020 and it just seems to keep on getting better. He just topped another chart and received another lit nomination – Master KG is on fire.
Taking to social media with great pride, Master KG revealed that he is sitting at the top of the Top 10 African songs of United Kingdom Afrobeat Chart Top 20. Our guy has been smashing international levels this whole year.
Enjoyed reading our story? Download BRIEFLY's news app on Google Play now and stay up-to-date with major South African news!
Source: Briefly.co.za