US elections 2020: Trump insists winner should be declared on Tuesday
- Donald Trump has argued that a Supreme Court decision allowing some counties to count votes beyond the election day will cause voter fraud and violence
- He threatened to deploy a squad of lawyers in Pennsylvania in the event he feels dissatisfied with the balloting process
- At least 95 million people have cast their votes through early voting; the rest of US citizens head to the ballots today
- Trump, however, cast doubt on the credibility of the mail voting and hinted that the election could end up in a dispute in the Supreme Court
PAY ATTENTION: Click "See First" under the "Following" tab to see Briefly.co.za News on your News Feed!
US President Donald Trump has said the winner of the Tuesday, 3 November poll should be declared before Wednesday, 4 November. A remark that has been perceived as voter suppression and intimidation by a section of observers.
Trump made the remarks on Sunday, 1 November, during his tiresome homestretch campaign as he tried to solidify his support base and boost his reelection chances against his Democratic Party contender Joe Biden.
The US head of state also poked holes in a Supreme Court decision that allowed absentee ballots to be counted days after the election day, a rule that he claimed could snowball into violence.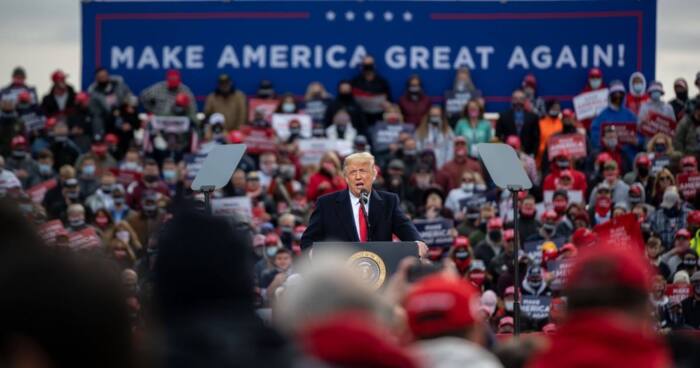 "The Supreme Court decision on voting in Pennsylvania is a very dangerous one. It will allow rampant and unchecked cheating and will undermine our entire systems of laws. It will also induce violence in the streets. Something must be done!" Trump wrote on Facebook this morning.
Twitter, however, flagged the same message after Trump shared it on the platform, terming it as disputed and potentially misleading.
Earlier, the Republican candidate had stated that he will deploy his lawyers to Pennsylvania in case he is not satisfied with the process. Trump also suggested that today's poll may end up in the Supreme Court where he has increased his conservative support at the top bench following the appointment of Judge Amy Coney Barret.
As of Monday, 2 November, at least 95 million Americans had cast their ballots through the early voting provision. A section of observers held most people who grabbed the early voting opportunity were leaning towards Democratic candidate Biden.
Trump supporters were, however, expected to turn out in large numbers and cast their ballots on the election day. The US president has been on the spot for questioning the credibility of mail voting arguing it was likely to encourage electoral malpractices.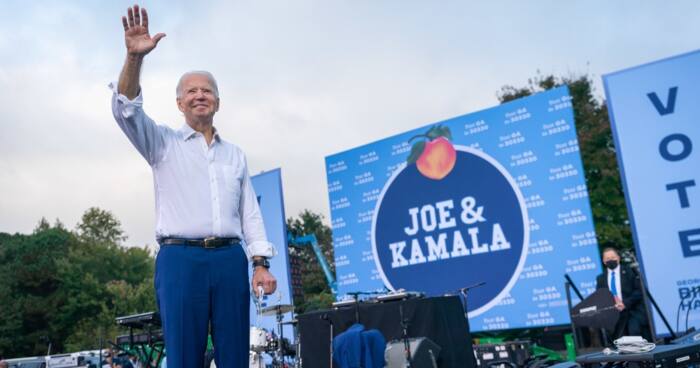 It is, however, important to note that Trump was among people who participated in the mail voting.
A US court in Texas was expected to rule on the credibility of about 127,000 ballots that were cast through drive-through facilities in Harris County. The case was filed by people believed to be Republicans.
Meanwhile, as the destiny moment unfolds in the US, the Covid-19 pandemic continues to rage on with daily cases nearing 100,000 mark and daily fatalities close to 1,000.
Joe Biden used Trump's handling of the global pandemic to discredit his re-election bid, stating that the only way the US could beat the disease was by sending Trump home since "Trump was the pandemic".
Biden's camp received a major boost from ex-US president Barack Obama who unleashed scathing criticism of Trump.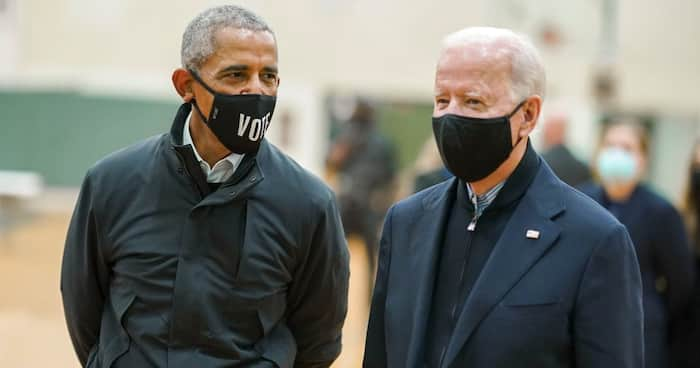 Trump, however, fired back at the ex-POTUS using his full name, Barack Hussein Obama. He also claimed Biden was planning to reintroduce lockdowns and auction the US to China if elected to The White House.
During the early stages of the campaign, Trump had claimed US citizens could go to the ballots with a Covid-19 vaccine, but this appears not to be the case if the current developments are anything to go by. He accused doctors of inflating Covid-19 numbers and the media for over-reporting about the pandemic.
"If someone dies of another disease, they say it is Covid19. Because they know they will get more money," Trump claimed.
"Everything reported is Covid-19. But wait for November 4. You will hear nothing much about it," Trump said, accusing the media of giving the pandemic "excessive coverage".
As Trump made the remarks, a section of his supporters chanted "Fire Fauci! Fire Fauci!". The president told them "not to tell anyone" promising to "look into it after the election". Anthony Stephen Fauci serves in Trump's Covid-19 taskforce and has been appearing to disagree with Trump's handling of Covid-19.
Fauci has been the director of the National Institute of Allergy and Infectious Diseases since 1984 and has been credited for playing an integral role in the fight against HIV/Aids and ebola.
In other election news, Briefly.co.za recently wrote about a report which shows how America's election campaigns have gulped over R135 billion. The report indicates that the Democrats spend more than the Republicans as they strive to unseat President Donald Trump and take over other major seats in the elections.
According to the report by MediaPost, the Republicans have spent $907 million.
Enjoyed reading our story? Download BRIEFLY's news app on Google Play now and stay up-to-date with major South African news!
Source: Briefly.co.za