Donald Trump laughs off Lady Gaga, Beyoncé, Jay-Z and Bon Jovi
- US President Donald Trump was not shy to shame celebrities Lady Gaga, Beyoncé, Jay-Z and Bon Jovi for supporting the Democratic Party
- Judging by the masses he has raked in despite big-name celebs going against him, Trump finds their attempts to fight against him rather amusing
- Trump directly shaded each celeb at a recent rally in Avoca, Pennsylvania
PAY ATTENTION: Click "See First" under the "Following" tab to see Briefly.co.za News on your News Feed!
US President Donald Trump was not shy to shame celebrities Lady Gaga, Beyoncé, Jay-Z and Bon Jovi for supporting the Democratic Party. Trump doesn't care what these celebs think of him, clearly.
Seeing Lady Gaga, Beyoncé, Jay-Z and Bon Jovi take a stand against him and for the Democratic Party, trump felt the need to make it known that he believes he does not need their support. Seeing the masses, he has raked in despite big-name celebs going against him Trump finds their attempts to fight against him rather amusing.
Recent footage of Trump at a rally in Avoca, Pennsylvania, shows him blatantly shading the celebs who don't support him. Trump has no chill!
"Now he's got Lady Gaga. I could tell you plenty of stories – I could tell you stories about Lady Gaga, I know a lot of stories. Lady Gaga."
He then moved on to shade Bon Jovi directly too.
"Every time he sees me, he kisses my ass. 'Oh, Mr President'. He'll get something out of it just like everyone is. He'll sing a song or two and then he'll leave and then the crowd will leave, and then Sleepy Joe's up there talking.
"That happened to Hillary too, right? They got Beyoncé and they got Jay-Z, right? He started using the f-word in front of the crowd and it was unbelievable. He was using the f-word, f-word, f-word. Then they left and the crowd left and Hillary was standing on stage with an empty place."
The clip has done its rounds on social media and no one is actually surprised as nothing less is expected from Trump.
Joe Biden made a surprise visit to the University of Pittsburgh's campus on Monday afternoon where he claimed to be pulling in voters at a rapid pace.
Lady Gaga was there by his side and urged the people to vote Biden and kick Trump out of power. Gaga reminded voters of all the uncalled for things Trump has done and said.
Briefly.co.za previously reported that in anticipation of a protest that might ensue after the outcome of the coming United States (US) elections, the government of the nation is expected to build a massive fence around the White House.
The same fence erected during heated protests earlier in 2020, will surround the entire park including the Eisenhower Executive Office Building, the Treasury Building, Ellipse and Lafayette Square.
According to a source who spoke with CNN, the structure will cover from the 15th Street to Constitution Avenue as well as the 17th Street.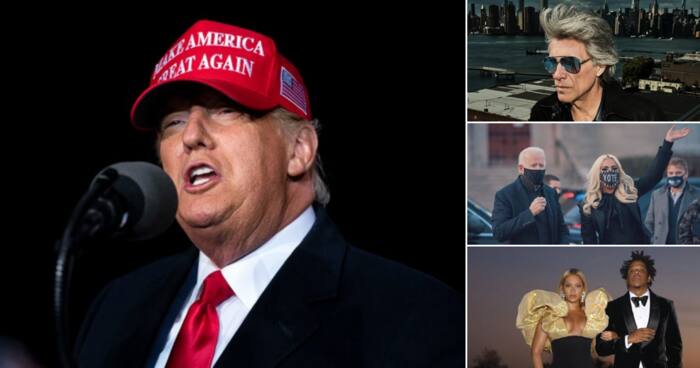 Enjoyed reading our story? Download BRIEFLY's news app on Google Play now and stay up-to-date with major South African news!
Source: Briefly.co.za