US election: 10 predictions that say Trump will win the presidential poll
The US presidential election is today, Tuesday, 3 November, with President Donald Trump seeking re-election back into the Oval Office in a keen contest against former vice president and senator, Joe Biden.
PAY ATTENTION: Click "See First" under the "Following" tab to see Briefly.co.za News on your News Feed!
There have been many online polls inferring that Biden, a 77-year-old Democrat challenger, may pull the magic and defeat the incumbent president.
On the other side of the coin are predictions that Trump will win the presidential race with a landslide victory. Having pulled a shocker in 2016 to hand Hillary Clinton, former secretary of state, a defeat, albeit via the Electoral College.
It is, however, noteworthy to state that since 1963, only 3 Democrats: Jimmy Carter (1965), Bill Clinton (1992 -1996) and Barrack Obama (2009-2017) have won the presidential election, with Republicans taking a dominant run in office.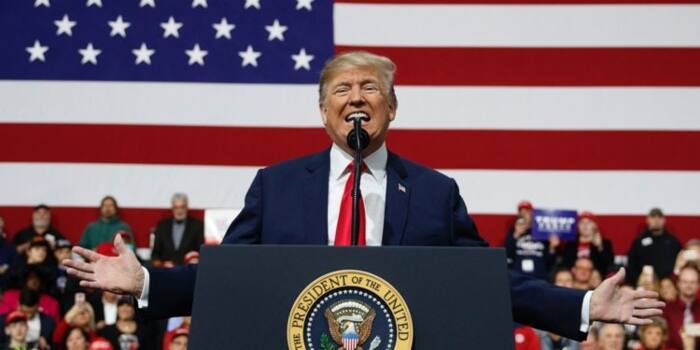 Over the last three months, numerous forecasters have predicted that Trump will do his magic again and win the 2020 election. Briefly.co.za has highlighted 10 out of the predictions as cited on CrowdWisdom360.
1. Halloween Mask Sales
Known for predicting each election accurately since 1984, Halloween Mask Sales has forecast that Trump will win the election based on the candidate masks sale this year (Trump has 66% while Biden had 34%).
2. Robert Cahaly
Cahaly, a former president of Trafalgar poll, declared that Trump will win the election through the Electoral College, the way he did in 2016.
"There is a lot of hidden Trump votes out there," Cahaly declared.
3. Helmut Norpoth
Relying on the results of the presidential primary, Norpoth stated that President Trump will sail to victory with a 91% chance.
4. Pew Research
A respected non-partisan platform, Pew Research, declared that Trump has a 50% chance of winning the election, while Biden has a 48% chance.
5. Jeffrey Gundlach prediction
Having successfully predicted the 2016 election, the Billionaire Bond investor, Jeffrey Gundlach, claimed that Trump will sail through again.
6. Mitt Romney
A bitter critic of Trump, Romeny declared that the incumbent president will defeat his Democratic challenger, citing advantage of incumbency.
7. British leader Nigel Farage
The BREXIT politician boldly declared:
"I'm willing to stick to my next out once again. Donald Trump will win on November 3, 2020."
8. Bela Stantic prediction
Using social media data, the Australian professor stated that Trump will narrowly win the election.
9. Steve Moore prediction
The pro-Trump economist stated that the president will win re-election because people are migrating out of "blue states", including New York, Illinois, California, Pennsylvania and others.
10. Arch Crawford prediction
The Wall Street astrologer also predicted that President Trump will defeat Joe Biden the same way he defeated Clinton in 2016.
In similar news, Briefly.co.za recently reported on three reasons why Trump may be re-elected for a second term. According to CNN, Trump is down by about 10 points nationally to Democratic presidential candidate Joe Biden as well as in almost all of the battleground states.
Due to the unique nature of the American voting system, gerrymandering and the electoral college, polls are not a definitive indication of the victory to come. Just as in 2016, Donald Trump's chances of winning cannot be ruled out. Briefly.co.za highlights some factors that may work in his favour in this analysis.
Enjoyed reading our story? Download BRIEFLY's news app on Google Play now and stay up-to-date with major South African news!
Source: Briefly.co.za