US Election: Global poll sees Joe Biden highlighted as favourite
- The wait for Joe Biden and Donald Trump is coming to an end amid the US elections
- The two candidates are eagerly awaiting the outcome of their bid to secure the top spot in the country
- A global poll took the opinion of nearly 20 000 people from over 20 countries into consideration to hear which candidate is favoured
PAY ATTENTION: Click "See First" under the "Following" tab to see Briefly.co.za News on your News Feed!
Presidential candidates Joe Biden and Donald Trump have run out of time to campaign for support in the race to the United States election.
The two candidates are now awaiting the outcome from their respective campaigns as voters take to the street to cast their ballots.
IPSOS, a global poll platform, was curious to find out how other nations viewed the respective candidates.
Over 20 000 people from across 24 different countries were asked for their opinions on the two men.
Democratic nominee Biden seems to be a firm favourite, earning nearly triple the 'votes' his competitor scored. IPSOS explained that:
"When asked who they would vote for in the 2020 U.S. Election, many more adults surveyed in most of 24 countries, not including the United States, say they would vote for Democrat candidate Joe Biden over Republican candidate Donald Trump – 48% would cast a ballot for Biden, while 17% would choose incumbent President Trump."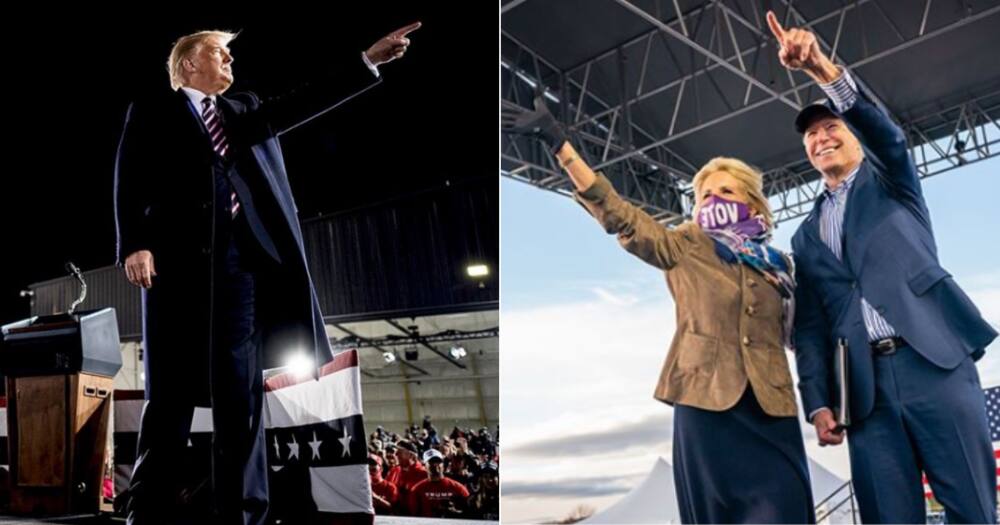 In South Africa, Biden seems to have won the approval of many, scoring over 50% approval while 28% weren't sure who to support. In comparison, Trump only scored 20%.
Results from Sweden proved that Biden enjoys immense support in this region, with 73% of the respondents giving him their vote.
While India gave Trump the highest number of votes (34%), Biden still came out on top with 38%.
Ironically, Mexico (7%) and Russia (13%) showed the least support for Trump ahead of the results of the election.
Earlier, Briefly.co.za reported that a report indicates that ballots have been mailed into the New York City Board of Elections in the name of dead voters.
The newspaper says that the records show that the elections board received an absentee ballot from Frances Reckhow of Staten Island, a registered Democrat.
The BOE mailed an absentee ballot requested by Frances M. Reckhow of Bedell Avenue on September 24.
According to the report, Reckhow supposedly mailed the ballot back on October 6 and the BOE received it and declared it valid on October 8.
However, Reckhow, who was born on July 6, 1915, and would be 105 on Tuesday, November 3, died in 2012, according to an obituary filed with The Staten Advance.
Reckhow's daughter, Carol Huben, a registered Republican according to voting records, is listed as residing at the same address as her late mother.
Enjoyed reading our story? Download BRIEFLY's news app on Google Play now and stay up-to-date with major South African news!
Source: Briefly News