Joe Biden: Ex-US vice president and wife Jill have built a R144 million fortune
- Joe Biden has made his money as a political leader, author and business investor
- His wife, Jill Biden, is a published author and a renowned public speaker
- Upon leaving the White House in 2016, the couple made a staggering $15 million (R240m) in book tour events and public speeches within two years
- According to Forbes, the combined nett worth of Biden and Jill is $9 million (R144 million)
America's veteran politician and currently Democratic Party Presidential Candidate Joe Biden is a classic example of a towering leader who has risen from grass to grace.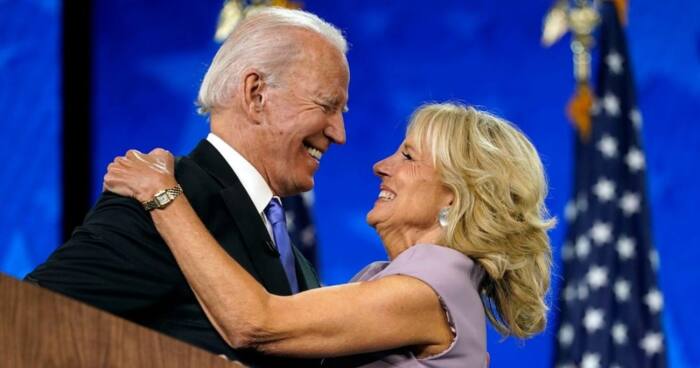 Humble upbringing
Born and raised in Scranton in Pennsylvania 77 years ago, Biden has built his political career and financial muscles almost in equal measure.
Despite the fame, reputation and powerful position he has held, the Democratic presidential aspirant has struggled.
According to prevention.com, Biden's parent's struggled financially and at some point, the veteran politician was forced to stay with his paternal grandfather, who provided for him.
The politician's grandfather was a wealthy man but his father failed to manage what was given to him, subjecting the family to poverty. He attended a private high school near Wilmington, DE and often participated in a work-study programme in order to pay for his tuition fees.
Bright future
Glimmers of hope started shining when he joined the University of Delaware where he double-majored in history and political science and later obtained his law degree from Syracuse University.
He returned to his home town of Wilmington where he started working as an attorney at a local firm. His active role in leadership, legal issues and activism earned him a name in the society and paved way for his entrance in politics.
At the age of 29, Biden made history as one of the youngest senators to have ever been elected in the Senate. He represented Washington DC. His starting salary was a cumulative $42 500 per year, this is equivalent to R4 million today. It is his income as a senator that has largely sustained his finances.
He married his current wife, Jill, in 1977 after his first love, Neilia Hunter died in a road accident. Hunter was an English professor at various community colleges and is said to have significantly contributed to Biden's financial growth during their marriage.
Obama moment
At the age of 66 having served as a senator for 37 years, Biden joined former US president Barrack Obama as his running mate in the quest to replace George Bush.
The pair won the election and served for two terms, leaving office in 2016. By the time he left the Senate, Biden had been making $169,300 (R2.7 million) per year.
He published his first memoir in 2007 which earned him R1.1 million in royalties and another R152 000 for "audio book rights".
In 2013, Jill too published a children's book called Don't Forget, God Bless Our Troops.
Book tour events
After leaving the White House in 2016, the couple made a staggering R28.8 million in book tour events and R38 million in public speeches.
In public speaking alone, Jill made R11 million within a span of two years. At the same time, the former vice president received R12 million from the University of Pennsylvania to lead the Penn Biden Center for Diplomacy and Global Engagement.
The couple has also been receiving substantial funds from pensions and social security benefits as well as rental income.
According to Forbes, the combined nett worth of Biden and Jill is R144 million, including two homes in Delaware, cash and investments and a federal pension.
Enjoyed reading our story? Download BRIEFLY's news app on Google Play now and stay up-to-date with major South African news!
Source: Briefly.co.za