US election: 3 reasons why Trump may be re-elected for second term
Against major predictions and analysis, President Donald Trump may shock the world again and come out victorious in the forthcoming presidential election in the United States.
PAY ATTENTION: Click "See First" under the "Following" tab to see Briefly.co.za News on your News Feed!
According to CNN, Trump is down by about 10 points nationally to Democratic presidential candidate Joe Biden as well as in almost all of the battleground states.
Due to the unique nature of the American voting system, gerrymandering and the electoral college, polls are not a definitive indication of the victory to come.
Just as in 2016, Donald Trump's chances of winning cannot be ruled out. Briefly.co.za highlights some factors that may work in his favour in this analysis.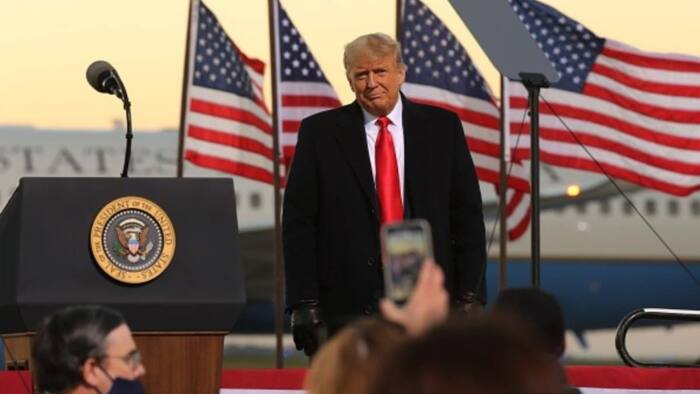 1. Electoral College
Unlike South Africa, the US does not determine the winner of its presidential election through popular votes. It makes use of a more complex system called the Electoral College.
In 2016, President Trump lost the popular vote to his Democratic challenger, Hillary Clinton, but emerged the winner via the electoral college.
An analysis by CNN's Harry Enten also indicates that President Trump still stands the chance of winning, no matter how slim.
2. US Economy
Despite the criticisms, the US economy appears not to be doing badly under the Trump administration; though there are arguments all the credits do not belong to him.
For instance, ahead of the November presidential election, a survey by Gallup has indicated that the majority of Americans believe their lives are better off under President Donald Trump.
The survey shows that 55 per cent of the respondents say that they are 'better off' than they were four years ago.
The survey gives President Trump the hope of achieving the second term bid as, according to Statista, "the economy and the perceived economic prosperity of Americans under a president is often cited as the key factor in achieving reelection."
3. Trump's stance on tax
President Trump's stance that Americans should pay less in taxes could also endear him to many voters.
According to, Scott Jennings, a CNN contributor and Republican campaign adviser, Trump deserves to be re-elected as he "believes our taxes should be lower, not higher -- and signed into law sweeping tax relief for businesses and the vast majority of federal income tax filers."
Briefly.co.za reported on how the candidates have been making their last efforts before election results come in.
America and the world are only hours away from hearing who will be America's new president. For months before now, both Trump and Biden, the two strongest candidates in the election, have been going all out to secure votes. It seems that both Presidential candidates are not done trying to get in some last minutes votes.
Just hours ago, both Biden and Trump took to popular social media app, Instagram to call on voters to vote for them. While President Trump opted for a lights camera action approach - sharing a clip of himself shaking hands with important American public figures, jeering crowds and spending time with family - Biden headed down a more simple road, only sharing a picture of himself and Obama with a humble caption that read:
"12 years ago, I was given the honour to serve you as Vice-President alongside President @BarackObama.We accomplished so much, but I'm not done yet. Today, I'm asking you to put your faith in me once again — I won't let you down."
Both posts racked up hundreds and thousands of likes and comments from American citizens who are understandably anxious about what the results will yield. Trump received 236,987 views, while Biden secured 338 145 likes for his post.
Enjoyed reading our story? Download BRIEFLY's news app on Google Play now and stay up-to-date with major South African news!
Source: Briefly.co.za