Zondo left astounded as Yakhe Kwinana's testimony at Inquiry continues
- Yakhe Kwinana has risen to infamy due to her appearance before the Commission of Inquiry into State Capture this week
- The former SAA board member was probed over her participation in an allegedly illegal bid to have 30% of awarded contracts to suppliers set aside for BEE companies
- Treasury had instructed the board that this endeavour was illicit and stop come to a swift end
PAY ATTENTION: Click "See First" under the "Following" tab to see Briefly.co.za News on your News Feed!
Deputy Chief Justice Raymond Zondo has had his hands full hearing the testimony of former South African Airways board member.
Zondo is currently investigating an allegedly illicit strategy by the SAA which saw board members participating in the illegal motion to have 30% of awarded contracts to supplier set aside for BEE companies.
Treasury itself had warned the board that this was against the law and instructed the board to immediately stop the strategy.
Despite an earlier witness claiming to have held a meeting with Kwinana and former SAA chair Dudu Myeni, during which the witness had allegedly been convinced by the pair to draw up the agreement, Kwinana denied the allegations.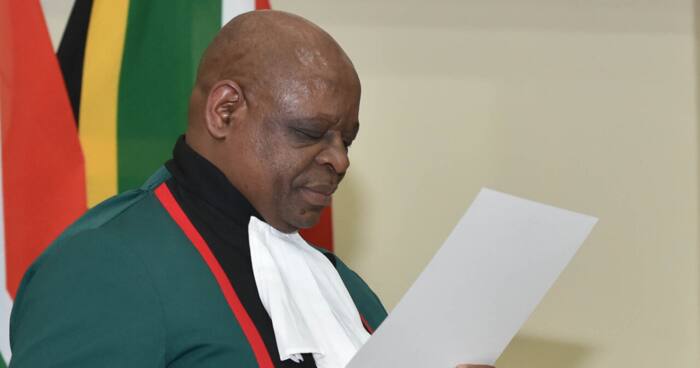 Adding to the drama is the fact that Kwinana wrote to Myeni demanding that the witness, former head of procurement at SAA Dr Masimba Dahwa, be disciplined.
Zondo expressed his disbelief in this denial despite evidence to the contrary, telling Kwinana that Dahwa had shared common ground in his own political struggles:
"You want me to believe you did not have strong feelings towards Dahwa when you wrote an email in such strong negative terms? Dahwa is a brother from Zimbabwe and also an African. Our brothers and sister in Zimbabwe also suffered."
In response to Kwinana insisting that Dahwa had ulterior motives for denying to set up the illegal contract, Zondo summed up what the former board member was attempting to convince him happened:
"So, you are saying he is doing his best to keep African people in economic bondage? You say he is part of a sinister retrogressive agenda aimed to reverse the transformation agenda of the present government and his actions smack of insubordination and conspiracy against the SAA board? He has suffered just like the African people in SA! Sjoe!"
Earlier, Briefly.co.za reported that Yakhe Kwinana left Mzansians annoyed and confused after she testified that she was unaware of some of the things she was signing off on as chairperson of South African Airways Technical after she signed off a 2016 ground-handling contract on behalf of SAA.
Testifying before the Zondo Commission yesterday, Kwinana said that she was unaware that the five-year-long contract was being given to Swissport despite the company not following any tender processes.
Judge Raymond Zondo, the inquiry chairperson of the commission, subsequently found himself explaining to Kwinana what a contract was:
"Ms Kwinana, you cannot know the terms and conditions of a contract and not know the contract," he said.
Meanwhile, shook South Africans shared their thoughts on Kwinana's apparent cluelessness.
@thegodmother_K said: "For me its when the chair had to remind her that she is a chartered accountant. Disappointingly stating, "Miss Kwinana, you are a chartered accountant." If I was Kwinana, after this I'd just retire. #ZondoCommission"
Enjoyed reading our story? Download BRIEFLY's news app on Google Play now and stay up-to-date with major South African news!
Source: Briefly.co.za