Meet women dubbed angels for giving kids free palliative care
- Two Durban health professionals have been dubbed angles for helping terminally ill children overcome the pain of their dreaded diseases through their NGO, Umduduzi
- The women offer their services for free but are sad to note that their NGO only helps a small percentage of children who are in need of palliative care
- Hannah, 11, of Phoenix, Durban had turned to Dr Julia Ambler and Tracey Brand for assistance after being diagnosed with a tumour in the eye
PAY ATTENTION: Click "See First" under the "Following" tab to see Briefly.co.za News on your News Feed!
By Neesha Maharaj - Freelance journalist
Doctor Julia Ambler and Tracey Brand (a social worker) have been dubbed angels on earth by parents who have turned to them for palliative care for their ailing children.
The two Durban women have helped hundreds of children in pain over the past seven years through their NGO, Umduduzi. They have offered free palliative care to children diagnosed with terminal illnesses.
Palliative care does not mean death
Dr Julia Ambler said there was a misconception about the help Umduduzi offers to children:
"We are not the death squad that steps in to assist children in the last stages of life. We offer palliative care to children diagnosed with deadly diseases because this is so important from the early stages of diagnosis.
"A doctor will diagnose a child's disease but not deal with the stress a child or parent experiences as a result of the painful diagnosis. This is where we step in and advise parents on the comfort their children require and help parents who are also in pain and helpless witnessing their children suffering."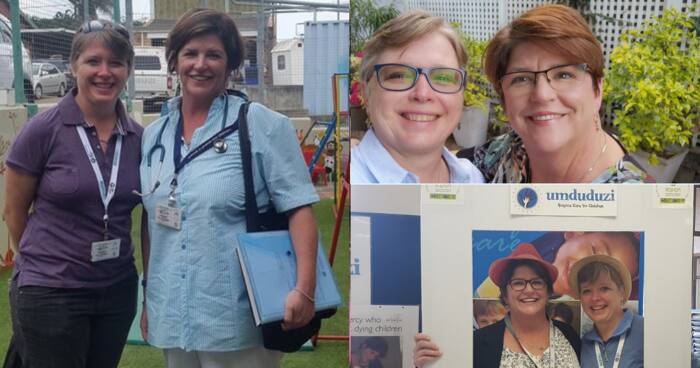 While working in their respective health fields the women discovered the need for an organisation to help children manage the pain associated with various diseases, hence they created Umduduzi.
Their services are personalised and over the last seven years, they have brought comfort to children, to overcome the pain they experience after they have been diagnosed with cancer, heart conditions, liver diseases or burns.
Brand and Dr Ambler feel rewarded that their help has made a positive difference in the lives of vulnerable children and stressed-out parents.
Where did it all start?
Dr Ambler said people hear of their services through word of mouth and it was sad to know that they help only a small percentage of children in need of palliative care.
"The demand is far greater than what we can offer. I worked as a junior doctor during the height of HIV in South Africa when there was no clear plan on helping infected people in pain and when there were no ARVs.
"I would be certifying people dying due to Aids daily. I decided to go to the UK where I found myself working at a hospice catering for palliative care for HIV-infected people. This is where I learnt more about palliative care for the terminally ill," said Ambler.
Thankful Durban mom shares how Dr Ambler and Brand helped her 11-year-old daughter
A child who has benefited from Umduduzi is 11-year-old Hannah, whose mother Sandra Loganathan reached out to Ambler and Brand for help three years ago when her daughter was diagnosed with optic lipoma, a tumour in the eye which spread to her brain.
Unhappy with the diagnosis she received from the doctor and at the end of her tether, Loganathan turned to Umduduzi for assistance and upon reflection says she would have had a nervous breakdown had it not been for Ambler and Brand, who have been pillars of strength.
"If it weren't for them I would have had a nervous breakdown by now. At 2am or 3am my child will scream out in pain and I would feel helpless and call Dr Ambler, who would take my call and advise on how I should help Hannah. They have been a pillar of strength to me and helped my child immensely. I am thankful to them."
The doctors had given my child six months to live in 2017 and I was told she would lose her memory. However, Hannah is a fighter, is persistent and has a will to survive.
"I have given up hope on my child ever recovering. Hannah, however, refuses to give up hope. I take each day as it comes and enjoy every moment with my child.
"I gave up my job to look after Hannah. She feels something will happen to her if I'm not at home. She also refuses to go out thinking something bad will happen. I draw my strength from God and my child," said Loganathan.
Ambler and Brand have plans to build a centre where patients can come to them for help. Presently they go out to their patients.
Meanwhile, Briefly.co.za recently reported that Manda Roos took to the Facebook group #ImStaying to post a story about a young boy called Joshua who is working tremendously hard for a good cause.
He is making and selling hamburgers. While most kids might be trying to raise money for the latest Xbox or Playstation, Joshua is raising money for a soup kitchen to help the less fortunate.
Those burgers do look delicious, Manda captioned the post with a touching message about what Joshua is doing.
"Another busy day for Joshua. Smoking patties and other ingredients to make hamburgers. Then selling the hamburgers to get income for his soup kitchen to enable him to help his little friends that need it," Manda captioned the post.
Enjoyed reading our story? Download BRIEFLY's news app on Google Play now and stay up-to-date with major South African news!
Source: Briefly.co.za