Exclusive: Mpumi Mlambo chats about her career, international gig and Covid-19
Mpumi Msakazi Mlambo is a woman on the rise in the Mzansi entertainment industry. Her radio slot in one of top stations in Ghana and she recently hosted popular #LockDownHouseParty. When she isn't doing all that, Mpumi can be heard on Power FM.
PAY ATTENTION: Click "See First" under the "Following" tab to see Briefly.co.za News on your News Feed!
Briefly.co.za sat down with Mpumi to chat about her career, the impact of Covid-19 and how she came about landing her gig in Ghana.
1. You have worked as an actress, a DJ, a brand influencer and voiceover artist, which of these crafts do you enjoy the most?
I enjoy all of these crafts but radio remains my first love
2. What are some of the lessons you have learnt about the entertainment industry?
I have learnt that as a female, you need to work twice as hard to be taken seriously.
3. What is it like having your show in one of the top slots in Ghanaian radio?
Having a show in Ghana is an honour and a privilege, I am exposed to a new culture and I get to share SA music with new people outside of SA. It is a blessing.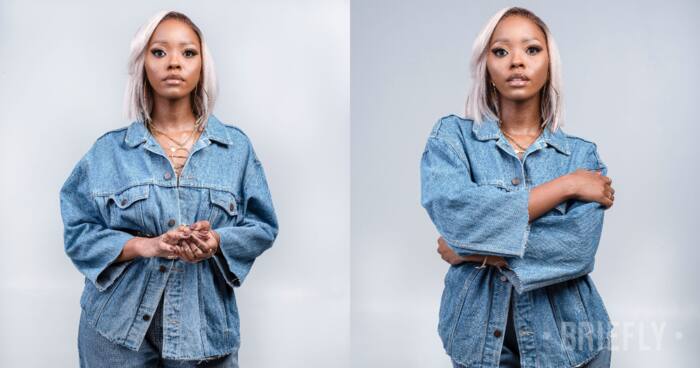 4. How did this arrangement come about?
After interviewing one of the biggest artists in Ghana, Stonebwoy, and another Ghanaian superstar, Efya, on PowerFM, I started being followed by Ghanaian influencers in the entertainment space and they made it happen. A big shout-out to radio personality Antoine Mensah from that side.
5. You recently hosted #LockdownHouseparty, how was that experience for you?
#LockdownHouseParty was such a fun job, I met some really dope artists and I had the coolest bosses. It wasn't a job at all, I got paid to have fun. I miss it.
6. Do you believe that the world is headed towards more virtual events like this in a post Covid-19 society?
Yes, we have seen a lot of virtual events after #LockdownHouseParty but the country and the world is opening up, I see things going back to normal soon.
7. What are your views about reopening the entertainment sector amid rising infection numbers and the prospect of a second wave of Covid-19?
It's obviously scary that we could be losing more lives again but it's also scary to see people in not just the entertainment industry lose their homes, cars, not bring able to put food on the table because of job losses. It's a very tricky situation... but I believe it's not just the entertainment industry that bleeds but other industries that work hand-in-hand with the entertainment industry bleed too and it's sad to watch.
8. What are you currently working on?
I am excited to be working with Shimza again, I can't reveal on what yet but we are on a project together.
8. What advice can you give someone who is pushing and trying for their big break in the industry?
The best advice I can give to young people who wish to be in this space is to have a teachable spirit and not be caught up in the hype.
Meanwhile in other news, Briefly.co.za had previously reported that Kyle White grew up on Kenton-on-Sea in the Eastern Cape but has been living and based in Durban for the past seven months.
He is the video director of the Master KG song Jerusalema which has gained over 147 million YouTube views. Recently, three of Kyle's music videos were nominated for "Music Video of the year" at the 2020 SAMAs.
Briefly.co.za caught up with talented director to chat about his successful career.
Enjoyed reading our story? Download BRIEFLY's news app on Google Play now and stay up-to-date with major South African news!
Source: Briefly.co.za